Rohit Sharma – The 200-run man completes 200 appearances in ODI cricket
Rohit Sharma featured in his 200th ODI game against New Zealand on Thursday at the Seddon Park in Hamilton.
Updated - Feb 1, 2019 3:34 pm
572 Views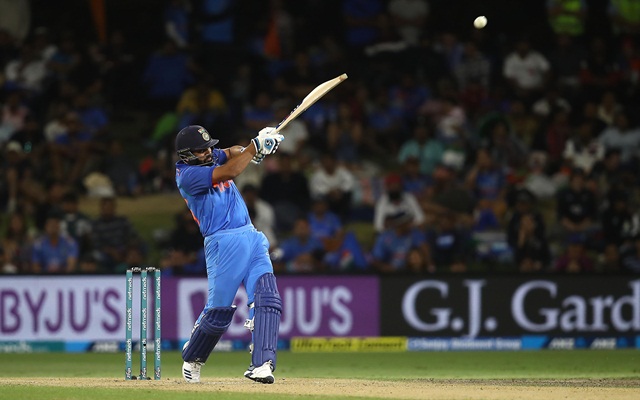 Follow us on Google News
Rohit Sharma has made a special name for himself by scoring as many as three ODI double centuries while there are only five other players in Men's ODI cricket who have scored at least one 200. But Rohit's achievement in ODI cricket over the years isn't only about those rare double hundreds. His consistency as an opener puts him at the top as the best ODI batsman after Virat Kohli. Not many would have given him a chance to succeed in this format until 2012, at the time he was struggling to find his feet in the middle-order.
The decision by the then captain MS Dhoni to promote Rohit has done wonders for the batsman and the Indian team as well. However, this move also left an unfilled void in India's middle order. Whenever Rohit plays long, he allows Shikhar Dhawan and Kohli to take the charge initially and then he goes just crazy in the 2nd half of the innings. His template batting style reduces pressure on the incoming batsmen who would otherwise have to score at least 8-9 runs an over from the go.
If Rohit is out there batting in the last ten overs, he usually is striking at 200 and ensures India score at least 100 runs in that period. His consistent returns in this format boosted his batting average to 47.88 at the end of his 200th ODI which is currently the 6th best among the players who featured in 200 ODI matches. His batting average was only 31.79 at the end of 100th ODI which was the 6th worst among the Indians with 2000 runs.
Rohit Sharma's ODI career by period: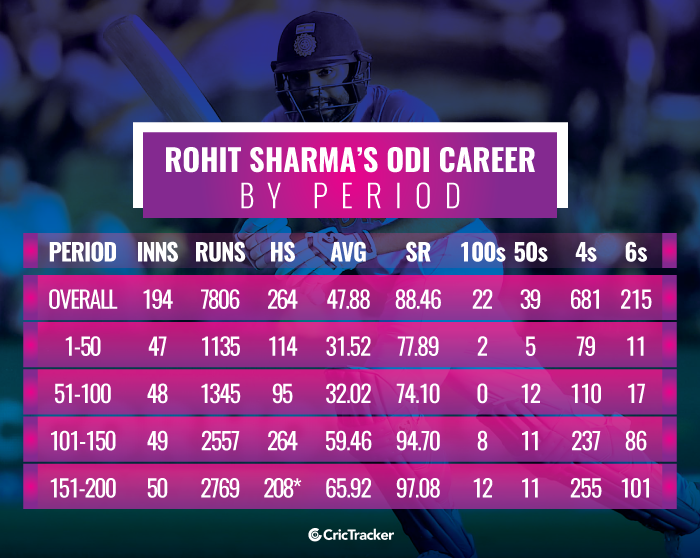 This was due to his consistency in the last 100 ODIs that he has managed to score 5326 runs with 20 centuries compared to two tons he had in the first 100 matches. Since the start of 2013, Rohit has aggregated 5828 runs which is only behind Virat Kohli's 6628 runs. Rohit's 20 centuries with a batting average of 59.46 in this span is again only next to Kohli. The Indian opener had averaged more than 50 in each of the previous six calendar years in this format.
Most prolific run-getters in ODI cricket since the start of 2013: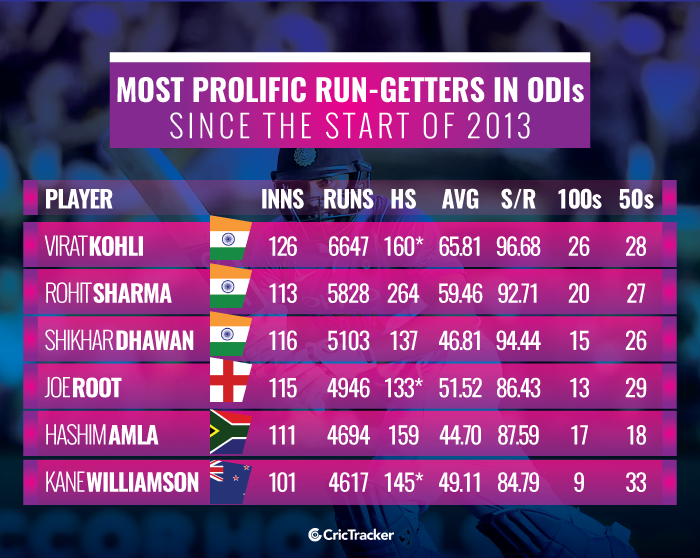 Additional numbers:
7 – Rohit Sharma has a batting average of 50+ in seven different calendar years in ODI cricket where he scored over 500 runs. He and AB de Villiers are the only players to have had seven such years in ODI format. Rohit averaged more than fifty in 2011 and for six years between 2013 and 2018. He is also the only player with 50+ ODI batting average in six consecutive calendar years.
---
7 – Number of 150+ scores in ODI cricket for Rohit Sharma; easily the most by any other player. Sachin Tendulkar and David Warner have five each. Rohit ended up converting three of those seven scores into 200s including the ODI record of 264. He is also the only player with more than one double ton in this format.
---
10 – Rohit has scored a century in each of his last ten ODI series/tournaments starting from the Champions Trophy in 2017. The streak could end if he fails to score one in the final ODI in Wellington. The next best streak is of six series by Virat Kohli in 2012.
---
145 – Rohit's average returns while scoring a century in ODI cricket; the highest for any player. Among the players with 10 or more ODI centuries, David Warner's average score of 135.93 is the next best. [Average score = (Runs scored during 100s)/(Number of 100s)]
Most runs after first 200 matches in ODI cricket: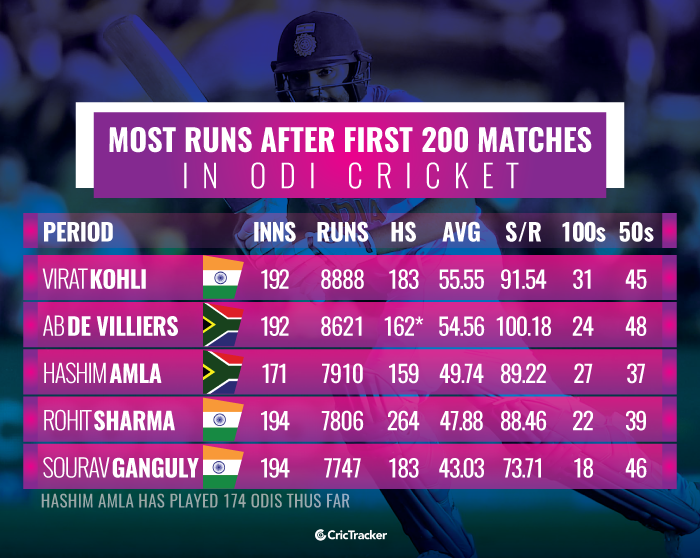 Talking about his numbers as an opener, Rohit could well end his career as the greatest opener in ODI history, if he continues to maintain his pace until 2023. As on date, he has 5839 runs as an opener at an average of 57.81 which is well ahead of any other player. In these six years, he also improved his hitting ability. His capability of striking sixes at will has played the crucial role in his success while playing the long innings despite a high dot ball percentage.
The 31-year-old developed into a six-hitting monster and began to make many records with his sixes in ODIs and International cricket as well. The stand-in Indian captain could hold the Indian records for most sixes in ODIs and International cricket as early as March. Rohit could have them in his hand this Sunday if he produces a big one in the final ODI in Wellington to keep his streak of most consecutive ODI series/tournaments with at least one century intact.
Highest batting average as an opener in ODI cricket: (Min: 2000 runs)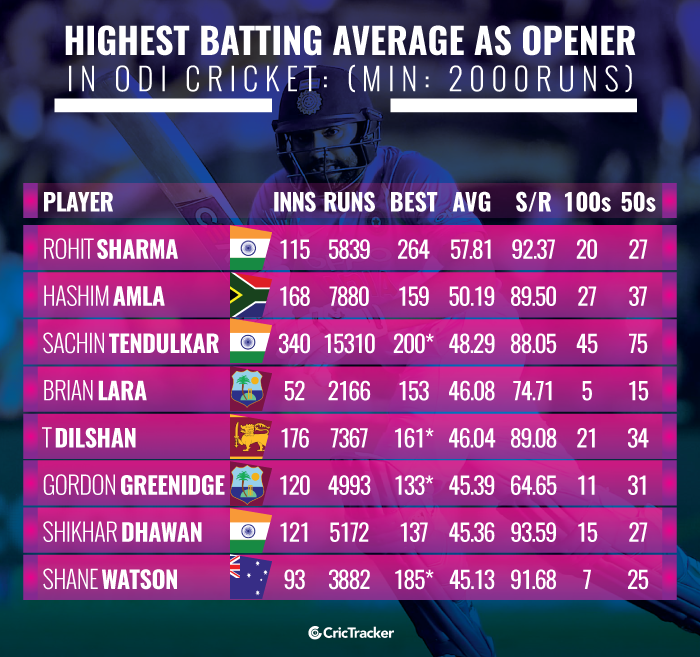 (Stats as on January 31, 2019)
Follow us on Telegram