Rookie opener Keaton Jennings hopeful of an English comeback in Mumbai
Updated - Dec 6, 2016 2:22 pm
37 Views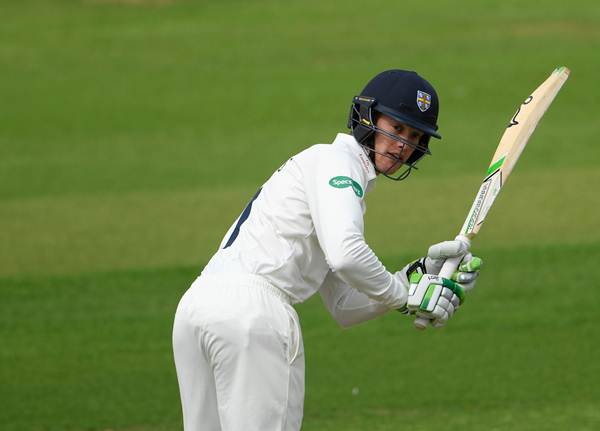 Rookie opener Keaton Jennings who was drafted into the England squad following Haseeb Hameed's injury in the 3rd Test conceded that the visitors are under immense pressure after being 0-2 down in the series but the uncapped player said he was optimistic that his side will make a comeback in the 4th Test in Mumbai which starts on Thursday.
"It's pressure but I have always been taught that pressure is a privilege, sort of a thing my dad tried to infuse into me as a kid. I like to think that I bring positive energy and a smile to the group. I am generally quite a happy guy (person). But again, it's 2-0 down and gets into a tougher position. So, hopefully, we can throw a few jibes and throw some punches back," said Jennings ahead of their must-win encounter in Mumbai.
Keaton is the son of South Africa's Ray Jennings who is a popular face in Indian cricketing circles having coached Royal Challengers Bangalore in the IPL for 5 years. Keaton who played his junior level cricket in South Africa later moved to England and committed to play for the England national team. He has qualified to play for his adopted country following a four-year residence in England.
The English team is currently trailing 0-2 in the series after losing the 2nd and the 3rd Test in Vizag and Mohali respectively. The visitors were the better side in the opening encounter t Rajkot which ended in a draw.
Jennings stated that he would be humbled if he manages to come out on top against the Indian spin-trio of Ravichandran Ashwin, Ravindra Jadeja, and Jayant Yadav.
"I leave that to you to answer in a couple of days of play. There is no better place to come and challenge yourself.
If I can play and come out with some sort of success, that would be humbling," the left-handed batsman said.
"If I don't play then I will carry drinks, but I am looking forward to getting involved."
Speaking about his relationship with his dad Ray Jennings, Keaton said, "I have got quite a good relationship with my dad (Ray Jennings), from the playing point of view, my dad asked me to enjoy the process and culture of India. I have been told to drink a lot of water and to ensure that the bottle is closed," Jennings said.
"Previously, in 2009-10, I came with my dad to the IPL, (more so) as a tourist, really enjoyed and I am coming back to the place which I loved," he told reporters after the team's practice session at the Wankhede stadium here.
"When I was 9-10 years old, we (me and my dad) were into the nets, we were kind of training and those were some of the days, when I decided not to listen. First ball I got out, second ball I got out, and he said one more time and you are going out, the third ball , I got out and he put his bag down and walked off," he added.