SA vs IND: Rain predicted to have a say in the fifth ODI as well
In spite of rain earlier in the day, the weather in evening is expected to witness cloud cover.
Updated - Feb 12, 2018 3:21 pm
6.6K Views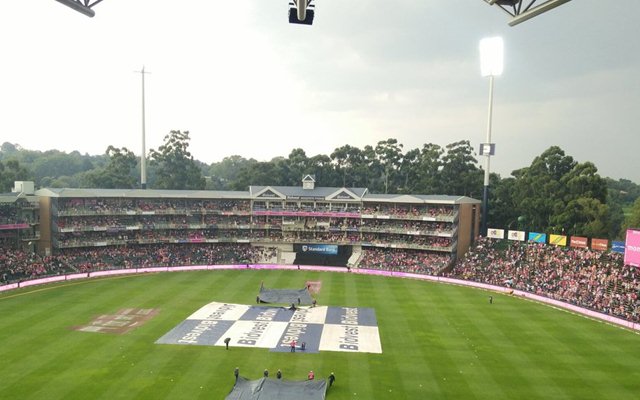 The South African team finally managed to pull one back after suffering three consecutive losses in the ongoing ODI series against India. With the win in the 4th ODI, the Proteas maintained their unbeaten Pink Day record streak at the Wanderers. The loss in the fourth match should only be a blip in what has otherwise been India's series so far, one in which they've dominated the opposition with the ball as well as the bat.
The hosts got fortunate with a stroke of luck as the rain god joined in the action. The curtailed game post-shower interruptions required South Africa to chase 159 runs off 21.3 overs and the hosts shifted into the T20 mode to get to the target. However, the win ensures that the six-match series will continue to retain its competitive edge going into the fifth game in Port Elizabeth, which will now act as the decider.
Following lightening and showers in Johannesburg, the weather in Port Elizabeth, won't be much different as 49% showers are expected before the start of the fifth ODI. In spite of rain earlier in the day, the weather in evening is expected to witness cloud cover.
Shikhar Dhawan blames no ball for Jo'burg defeat
The spin duo Yuzvendra Chahal and Kuldeep Yadav failed to breakthrough the batting lineup of the hosts, as the young spinners were taken to cleaners this time around. And luck seemed to strongly favour South Africa as big-hitting batsman David Miller got saved not once, but twice.
First, he got dropped and then got bowled on a no-ball. Speaking on the same lines, India opener Shikhar Dhawan feels Miller's early dismissal would've certainly given this chase an altogether different dynamic as India's wrist spinners struggled to get a grip of the wet ball once play resumed.
After the conclusion of the ga, "The main reason was, we dropped a catch, then a wicket off no-ball, from there the momentum changed. Otherwise, we were in very good position. The rain had an impact too. Our spinners couldn't turn the ball or grip the ball the way they did in the last three matches. That's the reason (for the loss)."