SA vs IND: Sunil Gavaskar details Mayank Agarwal's poor technique
Mayank Agarwal's overseas numbers have been comparatively poor than the home series numbers.
Updated - Jan 11, 2022 8:21 pm
1.5K Views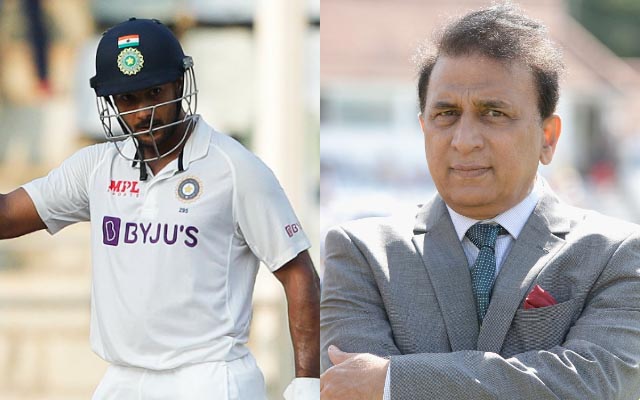 Follow us on Telegram
Sunil Gavaskar wasn't much convinced with the Indian opener Mayank Agarwal while facing the new ball. Agarwal was lucky to survive on 0 when he was dropped by Keegan Petersen but he couldn't capitalize on it and was sent back to the pavilion for 15 by Kagiso Rabada. The mode of dismissal for the right-hander became a talking point as he has been going hard at the new ball in the outside off-stump area which he could have left alone. Agarwal has been getting starts in the series but hasn't managed to make a big score yet bearing the 60 he got in the first Test.
The South African bowlers found the length and lines to perfection in the first hour and got rid of both the openers quickly with just 33 on the board. Skipper Virat Kohli and Cheteshwar Pujara built a slow partnership and took India into the lunch without losing any more wickets. However, Pujara fell post the lunch session after a well-made 43 while Ajinkya Rahane was also sent back quickly for just 9 with a peach of a delivery from Kagiso Rabada.
Sunil Gavaskar feels Agarwal's bat speed has got him into trouble
Gavaskar felt that Agarwal has been pushing at deliveries that have shown movement and picked his bat speed to be the main cause of his dismissals. The 30-year-old came into the tour with an excellent century in the home series against New Zealand and his form has not been a question mark so far while his technique has been.
"Agarwal is a very good player when the ball is hitting the middle of the bat, for the simple reason that he's got that lovely little push but when the ball moves a little bit, that bat speed gets him into trouble. We have seen that edge when he was on 0, that would have been a terrific catch. Look at that, see how hard he has pushed at the ball."Gavaskar told on the commentary panel
Gavaskar added that Agarwal should have had his bat closer to the pads which could have got him a reprieve and explained the importance of leaving deliveries in the longer format. He also weighed in about the mental adjustments that could do a world of good for the batters while playing different formats.
"Really if the bat and pad were together, he would have played and missed it. But because he went for it. He has gone for the ball and in Test cricket, there is an aspect of leaving the ball. Leave it as much as you can in the first hour. Just look where the bat has gone. Had it been close to the pad, he would have been fine."
"To a great extent, yes, but then it has got to be the mental adjustment more than anything else. Don't you make mental adjustments from Test to 50-overs to T20 cricket? That is what needs to be done," Gavaskar added
Follow us on Google News