Sachin Tendulkar Centuries | List of Sachin Tendulkar Test, ODI And IPL Centuries
Millions played before him, alongside him, and there will be as many after him, but there never was, and never will be, another Tendulkar.
Updated - May 14, 2021 11:16 am
849 Views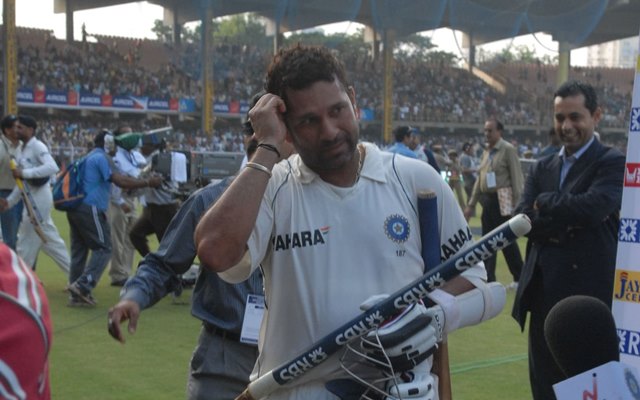 Follow us on Telegram
Sachin Tendulkar has been the gold standard of batsmanship in the sport of cricket. Unarguably the most complete, technically sound, and hungriest batsman of the world, there is no list of cricketing records even remotely related to batting that would not feature the name of the Little Master.
Born on 24th April 1973, in Bombay, to a Maharashtrian family, Sachin showed keen interest in cricket at an age of merely four. Taking inspiration from India's World Cup triumph under the leadership of Kapil Dev, Sachin developed a keen interest in the sport. As a three-year-old, he witnessed brother Ajit play cricket with his friends, and that is how he got himself introduced to the sport.
Early days
To help curb his brother's mischievous side, Ajit took the 10-year-old to Ramakant Achrekar, a club-player turned renowned cricket coach. Impressed by the wunderkind's potential, Achrekar advised Ajit to shift Sachin's schooling to Sharadashram Vidyamandir High School in Dadar, due to the latter's notable cricket team. A high-spirited and arduous student from the onset, he started his toil under the aegis of coach Achrekar and he would practice at the Shivaji Park in the mornings and evenings.
In no time, the tender-aged Sachin made a reputation for himself as a prodigy and became the talk of the town. He went on to play for the Cricket Club of India, and at the age of 14, and subsequently reached the MRF Pace Foundation to learn the nuances of fast bowling. The legendary Dennis Lille, however, suggested that Sachin should lay focus on his batting.
The teenager showed that he was a cut from a different cloth in the Lord Harris Shield match between Shardashram Vidyamandir and St Xaviers when he piled a mammoth 664-run stand alongside his childhood friend Vinod Kambli. Such incredible exploits in school cricket led him to Mumbai's Ranji Trophy team for the 1987-88 season, and he was officially selected on November 14, 1987.
Even though he did not feature in any of the matches, he was often seen actively participating in the games as a substitute fielder. On December 11, 1988, Sachin finally played his first match for Mumbai (against Gujarat) at his home ground, aged only 15 years and 232 days.
The then-Bombay-captain Dilip Vengsarkar had witnessed a youngster comfortably maneuvering arguably the finest seam produce of India – Kapil Dev. Impressing everyone without exception through immensely incredible abilities, Tendulkar earned inclusion in the eleven and scored an unbeaten 100 to become the youngest Indian batsman to have scored a century on first-class debut. Following this with centuries in his first Deodhar and Duleep Trophies, the Little Master became the first and the only player to score a century on debut in all three of his domestic first-class tournaments (the Ranji, Irani, and Duleep Trophies).
Despite only a single Ranji season under his belt, the selectors were interested in selecting Sachin for India's tour of the West Indies in 1988. Although, given the deadly and dominant fast bowling of the Caribbean bowlers at that time, he was avoided for selection. Tendulkar finally played his first tour with the Indian team to Pakistan in 1989 in Karachi, as a 16-year-old, and the rest is history.
He showed to the world what he was made of, in the very first series he ever played. In the fourth Test of his debut series against Pakistan, he continued batting like a warrior, with blood oozing out of his nose after taking a hit. But there was no stopping to the Master. He was never meant to stop.
The brand of Sachin Tendulkar
There is no combination of words in the world that could describe the legacy, the phenomena, of Sachin Ramesh Tendulkar. 15th November 1989 – 16th November 2013 is arguably the golden-most phase of cricket. Twenty-four years and a day is an era, and to play an international sport for is as indescribable as Sachin's on-field feats. 664 international appearances, 34,394 runs, 100 centuries, 164 half-centuries, and countless records later, Sachin became the synonym of belief, courage, and conviction.
Over those 2.4 decades, he made innumerable records, garnered unparalleled love, became the definition of the sport, and quite deservingly, earned for himself the status of the "God of cricket". People followed cricket only to witness the Little Master wield his magical wand. His dismissal meant the turning off of televisions for millions. His arrival at the crease meant deserted streets.
He mastered his craft like none other, demolishing the mightiest of all. From Courtney Walsh, Curtly Ambrose, Wasim Akram, Waqar Younis, Shane Warne, Muttiah Muralitharan to Makhaya Ntini, James Anderson, Stuart Broad, Dale Steyn, you name it and he has conquered it all.
On 24th February 2010, the 36-year-old Sachin reached a territory that was never touched (not for the first time) when he scored a double century against South Africa in an ODI game. He dreamt to win the World Cup for his nation ever since he was a child. Having played 6 of those – the joint-most for any player – Sachin Tendulkar added that feather in his feather-filled cap in 2011, by contributing heavily himself before lifting the coveted trophy under the night sky at Wankhede Stadium, his home ground.
The painful goodbye
The ravages of time led to a shaken belief in his ability to play further. However, at Mirpur against Bangladesh, in the 2012 edition of the Asia Cup, amidst the growing voices of "Endulkar" while he was stranded on 99 international centuries for more than a year, he showed that a lion might be old, but is a lion nonetheless as he finally breached the unthinkable barrier by recording his 100th international century. A 51-run knock against Pakistan in the same tournament eventually turned out to be his last appearance in the 50-over game as he announced his ODI retirement in the following December.
He continued to represent the nation in the longest format for another year before he declared that the West Indies' 2013 tour to India would be his last. In that series, Tendulkar named himself another unequaled record that might go onto last till eternity – he played his 200th Test at Mumbai, and on 16th November 2013, he left billions, including himself, in tears as he waved the one final time as an international player.
The greatest ambassador of the game, Sachin was the pinnacle of success, although his career witnessed countless downs too. But every time he faced a challenge, whether on the field or off it, he spectacularly straight drove it with the straightest bat in the world for a boundary. Over these 24 years, the chants of "Sachin… Sachin" became a beloved anthem for every Indian. Millions played before him, alongside him, and there will be as many after him, but there never was, and never will be, another Tendulkar.
Here is a list of all of Sachin Tendulkar's centuries in cricket
Sachin Tendulkar Test Centuries
| | | | | | |
| --- | --- | --- | --- | --- | --- |
| S.No. | Date | Against | Score | Venue | Result |
| 1 | 9-Aug-1990 | England | 119* | Manchester | Drawn |
| 2 | 2-Jan-1992 | Australia | 148* | Sydney | Drawn |
| 3 | 1-Feb-1992 | Australia | 114 | Perth | Lost |
| 4 | 26-Nov-1992 | South Africa | 111 | Johannesburg | Drawn |
| 5 | 11-Feb-1993 | England | 165 | Chennai | Won |
| 6 | 27-Jul-1993 | Sri Lanka | 104* | Colombo | Won |
| 7 | 18-Jan-1994 | Sri Lanka | 142 | Lucknow | Won |
| 8 | 1-Dec-1994 | West Indies | 179 | Nagpur | Drawn |
| 9 | 6-Jun-1996 | England | 122 | Birmingham | Lost |
| 10 | 4-Jul-1996 | England | 177 | Nottingham | Drawn |
| 11 | 2-Jan-1997 | South Africa | 169 | Cape Town | Lost |
| 12 | 2-Aug-1997 | Sri Lanka | 143 | Colombo | Drawn |
| 13 | 9-Aug-1997 | Sri Lanka | 139 | Colombo | Drawn |
| 14 | 3-Dec-1997 | Sri Lanka | 148 | Mumbai | Drawn |
| 15 | 6-Mar-1998 | Australia | 155* | Chennai | Won |
| 16 | 25-Mar-1998 | Australia | 177 | Bangalore | Lost |
| 17 | 26-Dec-1998 | New Zealand | 113 | Wellington | Lost |
| 18 | 28-Jan-1999 | Pakistan | 136 | Chennai | Lost |
| 19 | 24-Feb-1999 | Sri Lanka | 124* | Colombo | Drawn |
| 20 | 10-Oct-1999 | New Zealand | 126* | Mohali | Drawn |
| 21 | 29-Oct-1999 | New Zealand | 217 | Ahmedabad | Drawn |
| 22 | 26-Dec-1999 | Australia | 116 | Melbourne | Lost |
| 23 | 18-Nov-2000 | Zimbabwe | 122 | New Delhi | Won |
| 24 | 25-Nov-2000 | Zimbabwe | 201* | Nagpur | Drawn |
| 25 | 18-Mar-2001 | Australia | 126 | Chennai | Won |
| 26 | 3-Nov-2001 | South Africa | 155 | Bloemfontein | Lost |
| 27 | 11-Dec-2001 | England | 103 | Ahmedabad | Drawn |
| 28 | 21-Feb-2002 | Zimbabwe | 176 | Nagpur | Won |
| 29 | 19-Apr-2002 | West Indies | 117 | Port of Spain | Won |
| 30 | 22-Aug-2002 | England | 193 | Leeds | Won |
| 31 | 30-Oct-2002 | West Indies | 176 | Kolkata | Drawn |
| 32 | 2-Jan-2004 | Australia | 241* | Sydney | Drawn |
| 33 | 28-Mar-2004 | Pakistan | 194* | Multan | Won |
| 34 | 10-Dec-2004 | Bangladesh | 248* | Dhaka | Won |
| 35 | 10-Dec-2005 | Sri Lanka | 109 | New Delhi | Won |
| 36 | 18-May-2007 | Bangladesh | 101 | Chittagong | Drawn |
| 37 | 25-May-2007 | Bangladesh | 122* | Mirpur | Won |
| 38 | 2-Jan-2008 | Australia | 154* | Sydney | Lost |
| 39 | 24-Jan-2008 | Australia | 153 | Adelaide | Drawn |
| 40 | 6-Nov-2008 | Australia | 109* | Nagpur | Won |
| 41 | 11-Dec-2008 | England | 103* | Chennai | Won |
| 42 | 18-Mar-2009 | New Zealand | 160 | Hamilton | Won |
| 43 | 16-Nov-2009 | Sri Lanka | 100* | Ahmedabad | Drawn |
| 44 | 17-Jan-2010 | Bangladesh | 105* | Chittagong | Won |
| 45 | 24-Jan-2010 | Bangladesh | 143 | Mirpur | Won |
| 46 | 6-Feb-2010 | South Africa | 100 | Nagpur | Lost |
| 47 | 14-Feb-2010 | South Africa | 106 | Kolkata | Won |
| 48 | 26-Jul-2010 | Sri Lanka | 203 | Colombo | Drawn |
| 49 | 9-Oct-2010 | Australia | 214 | Bangalore | Won |
| 50 | 16-Dec-2010 | South Africa | 111* | Centurion | Lost |
| 51 | 2-Jan-2011 | South Africa | 146 | Cape Town | Drawn |
 Sachin Tendulkar ODI Centuries
| | | | | | |
| --- | --- | --- | --- | --- | --- |
| S.No. | Date | Against | Score | Venue | Result |
| 1 | 9-Sep-1994 | Australia | 110 | Colombo | Won |
| 2 | 28-Oct-1994 | New Zealand | 115 | Vadodara | Won |
| 3 | 11-Nov-1994 | West Indies | 105 | Jaipur | Won |
| 4 | 9 Apni 1995 | Sri Lanka | 112* | Sharjah | Won |
| 5 | 18-Feb-1996 | Kenya | 127* | Cuttack | Won |
| 6 | 2-Mar-1996 | Sri Lanka | 137 | New Delhi | Lost |
| 7 | 5-Apr-1996 | Pakistan | 100 | Singapore | Lost |
| 8 | 15 Apni 1996 | Pakistan | 118 | Sharjah | Won |
| 9 | 28-Aug-1996 | Sri Lanka | 110 | Colombo | Lost |
| 10 | 14-Dec-1996 | South Africa | 114 | Mumbai | Won |
| 11 | 9-Feb-1997 | Zimbabwe | 104 | Benoni | Won |
| 12 | 14-Mar-1997 | New Zealand | 117 | Bangalore | Won |
| 13 | 7-Apr-1998 | Australia | 100 | Kanpur | Won |
| 14 | 22-Apr-1998 | Australia | 143 | Sharjah | Lost |
| 15 | 24-Apr-1998 | Australia | 134 | Sharjah | Won |
| 16 | 31-May-1998 | Kenya | 100* | Kolkata | Won |
| 17 | 7-Jul-1998 | Sri Lanka | 128 | Colombo | Won |
| 18 | 26-Sep-1998 | Zimbabwe | 127* | Bulawayo | Won |
| 19 | 28-Oct-1998 | Australia | 141 | Dhaka | Won |
| 20 | 8-Nov-1998 | Zimbabwe | 118* | Sharjah | Won |
| 21 | 13-Nov-1998 | Zimbabwe | 124* | Sharjah | Won |
| 22 | 23-May-1999 | Kenya | 140* | Bristol | Won |
| 23 | 29-Aug-1999 | Sri Lanka | 120 | Colombo | Won |
| 24 | 8-Nov-1999 | New Zealand | 186* | Hyderabad | Won |
| 25 | 17-Mar-2000 | South Africa | 122 | Vadodara | Won |
| 26 | 20-Oct-2000 | Sri Lanka | 101 | Sharjah | Lost |
| 27 | 8-Dec-2000 | Zimbabwe | 146 | Jodhpur | Lost |
| 28 | 31-Mar-2001 | Australia | 139 | Indore | Won |
| 29 | 4-Jul-2001 | West Indies | 122* | Harare | Won |
| 30 | 5-Oct-2001 | South Africa | 101 | Johannesburg | Lost |
| 31 | 24-Oct-2001 | Kenya | 146 | Paarl | Won |
| 32 | 4-Jul-2002 | England | 105* | Chesterle-Street | No Result |
| 33 | 11-Jul-2002 | Sri Lanka | 113 | Bristol | Won |
| 34 | 23-Feb-2003 | Namibia | 152 | Pietermaritzburg | Won |
| 35 | 26-Oct-2003 | Australia | 100 | Gwalior | Won |
| 36 | 15-Nov-2003 | New Zealand | 102 | Hyderabad | Won |
| 37 | 16-Mar-2004 | Pakistan | 141 | RawalpIndi | Lost |
| 38 | 12-Apr-2005 | Pakistan | 123 | Ahmedabad | Lost |
| 39 | 6-Feb-2006 | Pakistan | 100 | Peshawar | Lost |
| 40 | 14-Sep-2006 | West Indies | 141 | Kuala Lumpur | Lost |
| 41 | 31-Jan-2007 | West Indies | 100* | Vadodara | Won |
| 42 | 2-Mar-2008 | Australia | 117* | Sydney | Won |
| 43 | 8-Mar-2009 | New Zealand | 163* | Christchurch | Won |
| 44 | 14-Sep-2009 | Sri Lanka | 138 | Colombo | Won |
| 45 | 5-Nov-2009 | Australia | 175 | Hyderabad | Lost |
| 46 | 24-Feb-2010 | South Africa | 200* | Gwalior | Won |
| 47 | 27-Feb-2011 | England | 120 | Bangalore | Tied |
| 48 | 12-Mar-2011 | South Africa | 111 | Nagpur | Lost |
| 49 | 16-Mar-2012 | Bangladesh | 114 | Mirpur | Lost |
Sachin Tendulkar IPL Centuries
| | | | | | |
| --- | --- | --- | --- | --- | --- |
| S.No. | Date | Against | Score | Venue | Result |
| 1 | 15-April-2011 | Kochi Tuskers Kerala | 100 | Mumbai | Lost |
Follow us on Google News