Sachin Tendulkar closed his eyes to Shoaib Akhtar's bouncers: Mohammad Asif
It was also the time when the Master Blaster was suffering from a tennis elbow.
Updated - May 27, 2020 1:29 pm
747 Views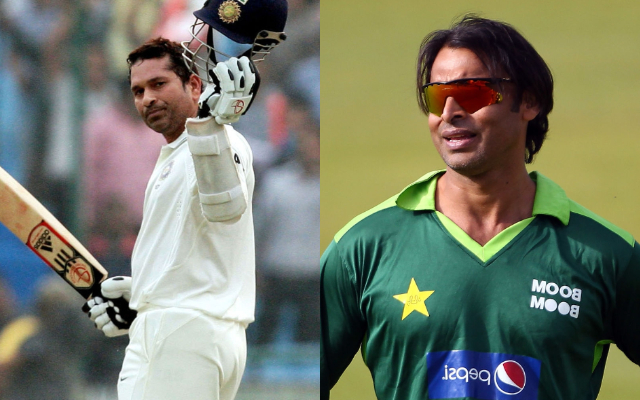 Follow us on Google News
Sachin Tendulkar's battle with Pakistan speedster Shoaib Akhtar created a lot of buzz. Even as Sachin tormented the Rawalpindi Express with some scorching shots, the latter didn't forget to return the favour either. Back in 2006, the Master Blaster had his travails when India toured Pakistan for a Test series. So much so that he played Akhtar's vicious bouncers bounces with closed eyes.
Mohammad Asif, the former Pakistan pacer, made the revelations. As per Asif, the incident took place in the third Test at the National Stadium in Karachi. It was the same match when Irfan Pathan churned out a hat-trick in the very first over of the game. Asif explained how Shoaib's attacking approach restricted India from taking a first-innings lead.
Shoaib Akhtar bowled at express pace in that match
"When the match started, Irfan Pathan claimed a hat-trick in the first over itself. Our morale was down. Kamran Akmal scored a century lower down the order. We scored around 240 runs," Asif was quoted as saying in the Burgerz show.
"When we started bowling, Shoaib Akhtar bowled at express pace in that match. I was standing at square leg near the umpire and I myself saw that Tendulkar closed his eyes while facing one or two bouncers bowled by Shoaib. The Indians were playing on the back foot and we didn't allow them to score even 240 in the first innings. We snatched victory from jaws of defeat," he stated.
Pakistan went on to win the match by 341 runs. Kamran Akmal, who bailed the hosts out of jail with 113 runs in the first innings, was given the Player of the Match award. For Tendulkar, the series was a roller-coaster ride. In three games, Sachin could only get 63 runs. It was also the time when he was facing the issue of the tennis elbow.
Asif also remembered the time when Virender Sehwag smashed the triple ton in Multan and India had a power-packed batting unit. "If you remember the Indian team that came to Pakistan in 2004, they had a solid batting line-up. Dravid was scoring plenty of runs, Sehwag smashed us at Multan," Asif added.
Follow us on Telegram