Sachin Tendulkar reveals a hilarious gesture from a young Virat Kohli that left him embarrassed
Kohli was at the receiving end of the pranks played out to him by Yuvraj Singh.
Updated - May 17, 2021 1:40 pm
1.2K Views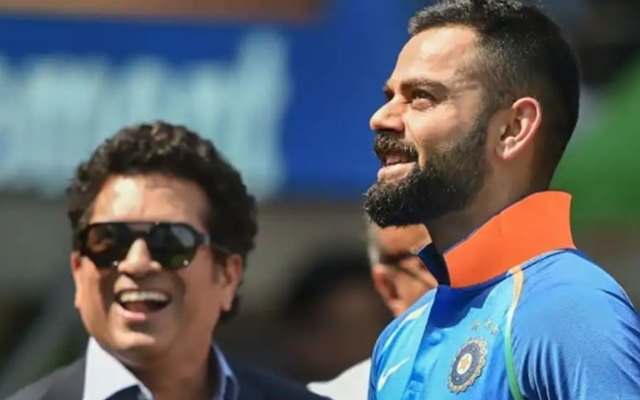 Follow us on Google News
Master Blaster and legendary India cricketer Sachin Tendulkar on Saturday 15th May 2021 went back to his playing days and recalled a funny incident involving current Indian skipper Virat Kohli.  There was no shortage of pranks in the Indian team as the team had quite a few of pranksters within the team such as Yuvraj Singh, Munaf Patel Irfan Pathan and Harbhajan Singh.
Kohli was at the receiving end of the pranks played out to him by Yuvraj Singh. In the year 2017, he had revealed that Singh, Patel and Pathan knew about Kohli's fascination of speaking to his idol Tendulkar. The trio hatched a plan and made Kohli believe that he can only get a chance to speak with Tendulkar by seeking his blessings and touching his feet.
Kohli was so focused on meeting Tendulkar that he could not pay heed to whether his teammates were lying or fooling him around. He simply followed the instructions and obliged by doing what was told to him by the senior players. Confirming the same, Tendulkar was shocked and surprised by what Kohli did only to see the trio was laughing at how their prank played was a successful one.
"I didn't know what was happening. I asked him 'what are you doing?' Told him that there was no need for this and such things don't happen. Then he got up and we looked at those guys, they started laughing," Tendulkar said on YouTube show LegendsWithUnacademy.
Kohli had spoken about this hilarious incident during the chat show Breakfast with Champions to sports presenter Gaurav Kapoor.
When Tendulkar was afraid of being dropped during victory lap
On the other hand, Tendulkar recalled one more incident which had occurred during the 2011 World Cup victory, terming it the "best cricketing moment" of his career. The legendary batter was scared as he felt that Kohli and Yusuf Pathan would drop him while carrying him onto their shoulders during the victory lap at the Wankhede Stadium. India lifted the World Cup after 28 years and fulfilled Tendulkar's dream of bowing out as a World Cup winner.
"When I saw Kapil Dev lifting the World Cup in 1983, it was an unbelievable experience, I enjoyed it with my friends and I wanted to chase my dream. I decided what may come, I have to focus and chase my dream of lifting the World Cup. In Mumbai at Wankhede, it was just unbelievable, it was the best cricketing day of life. How many times you have the country celebrate, many few things are there which the entire country celebrates," he said.
Follow us on Telegram