Sachin Tendulkar turns 45 and he is still India's darling
The 'Little Master' has been one of the best things that has happened to Indian cricket.
Updated - Apr 24, 2018 11:36 am
237 Views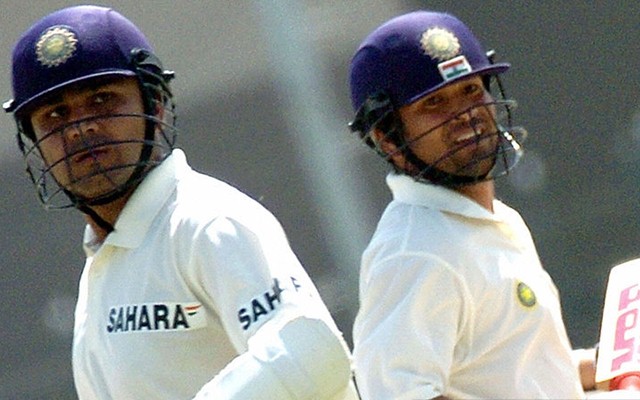 Follow us on Telegram
Sachin Tendulkar turned 45 on Tuesday, April 24, 2018. The batting maestro's birthday was trending on the social media as countless wishes poured in for the most celebrated Indian sportsman of modern India (yes, keeping in mind the likes of Virat Kohli and MS Dhoni).
An extraordinary fact about Tendulkar is that he has played for 24 years of his 45-year-long life till this point of time while he hasn't played for 21 years. And these figures stand almost after five years of the man's retirement. Incredible, isn't it? True, there were people a century or so back who played for more years than Tendulkar and their playing years exceeded the non-playing ones when they died but none bore the pressure as Tendulkar did.
Wilfred Rhodes, Brian Close and Frank Woolley – all Englishmen – and West Indian George Headley, the 'Black Bradman', played for a longer period than Tendulkar but the number of their combined Tests is 166. The Indian maestro played 200 Test matches and then there were the 450-plus one-dayers and also a number of T20s besides scores of first-class games and what not. Yet, the man did not miss much of matches during his long career, despite suffering from occasional injuries.
If sustainability was Tendulkar's defence against those who rated Sunil Gavaskar more than him for the standard of bowling the latter faced, his significance also lies in the fact that he came at a time when India needed a hero.
In 1989, Tendulkar emerged as a fresh air
Life in India is dominated by three major disciplines – cricket, films and politics. In 1989, when Tendulkar was setting is the foot in the 22 yards as a 16-year-old, all the three disciplines were witnessing a period of lull.
In cricket, while one Indian role-model of the time Gavaskar bid goodbye to the game, the other Kapil Dev slipped from the high pedestal after losing the semi-final of the 1987 World Cup to a 'sweeping' Graham Gooch. In film, the glorious era of Amitabh Bachchan was over and the Khans were still not visible fully on the horizon.
In politics, Rajiv Gandhi, grandson of Jawaharlal Nehru and son of Indira Gandhi – two of India's darling statesmen – found himself buried under serious corruption charges and the dominant Congress suffered a massive blow. And there was no ready alternative for the people of the country to embrace with a happy frame of mind.
In came Sachin Tendulkar like a fresh air. He made a heroic debut against Pakistan in their den where he survived a bloodied broken nose caused by a fierce Waqar Younis to continue his batsmanship. He even lashed veteran Pakistani spinner Abdul Qadir for consecutive sixes in an exhibition match after the real game was abandoned because of bad pitch conditions. Even Qadir who had mocked Tendulkar as a "kid" ended up praising himself.
But it was perhaps the breaking of the nose by a Waqar delivery which had catapulted Tendulkar to his earliest status of stardom – a darling of Indian nationalism who did not back out from facing the canons of tearaway fast bowlers of an 'enemy' country even at the age of 16!
Tendulkar – the master batsman with a lion heart who also knew how to entertain – had arrived and continued with this legacy for over two decades that he served his country and the fans.
Tendulkar was special in the early years of his career because he stood as an attacking batsman in an otherwise ordinary batting line-up who took the battle to the opposition. There was a time when the exit of Tendulkar meant the end of the game, even if it was in the first over. True, there were gifted batsmen like Mohammed Azharuddin; technically equipped Sanjay Manjrekar; a gritty Ajay Jadeja or a talented Vinod Kambli, but Tendulkar was simply the most trusted Mercedes among the Marutis.
Tendulkar united the country in those ordinary times
Tendulkar did not win as many matches as the Kohlis and Dhonis do nowadays but his greatness lies in another factor. In the late 1980s and early 1990s, India's socio-economic life was witnessing trouble – polarisation on religious lines and many incidents that made the average Indian nervous and fearful.
The assassination of Rajiv Gandhi in May 1991 and the demolition of the Babri Masjid in December 1992 dealt a blow to the 'peaceful' Indian life of those pre-liberalisation days and it was Tendulkar who had emerged as a pan-Indian figure and filled the dangerous vacuum which was being created in the common Indian's life. Tendulkar had gone to Australia in end 1991 and his two majestic hundreds in Perth and Sydney revealed the potential he had. It was said that Manjrekar had gone to Australia but Tendulkar returned. It was true and India got its next role model.
In the 1990s, as the standard of India's politics and films failed to impress many, it was Tendulkar who was seen as the only hope for the future. The dream of winning the World Cup was dashed yet another time as soon as Tendulkar was stumped by an agile Rumesh Kaluwitharana in the semi-final of the mega event in Kolkata in 1996. That was symbolic. India breathed as long as Tendulkar breathed.
This scenario had changed with the arrivals of Sourav Ganguly and Rahul Dravid and a generation of top cricketers in the future but Tendulkar never got lost in the crowd because he never lost his focus. Even with the advent of the liberalisation, Tendulkar never allowed the market to dominate his take on the game. He never endorsed a product which had a potentially bad impact on the society and this only reaffirmed the trust of the moralistic Indians on him: A son of a middle-class family, deeply influenced by the teachings of his humble father who never courted any controversy and remained committed to his game and team no matter what.
This made Tendulkar the biggest brand. It was not just his superior game but also his conduct in life that made him immortal. Kohli under all likelihood will break Tendulkar's cricketing records but if there is a fair play award for the career-long conduct, Tendulkar is beyond the reach of any of his contemporaries (except perhaps the likes of Rahul Dravid and Anil Kumble) or successors.
It was true that Tendulkar could have hung up his boots the moment he achieved his final dream of winning the World Cup in 2011. Perhaps he was chasing his next dream of 100 international hundreds. His exit from cricket was not as a fairy tale as his career was. His departure from the one-day internationals was abrupt while his exit from Test happened with a dull series against a poor West Indies side. But yet, Tendulkar remains close to our heart till this day, when he turns 45 and is happily marching towards 50.
Follow us on Google News