Saleem Malik wanted to hit me with a bat after I sledged him: Kiran More
More also narrated an incident from Javed Miandad's 100th Test match at the Gaddafi Stadium in Lahore.
Updated - Jul 10, 2020 5:52 pm
617 Views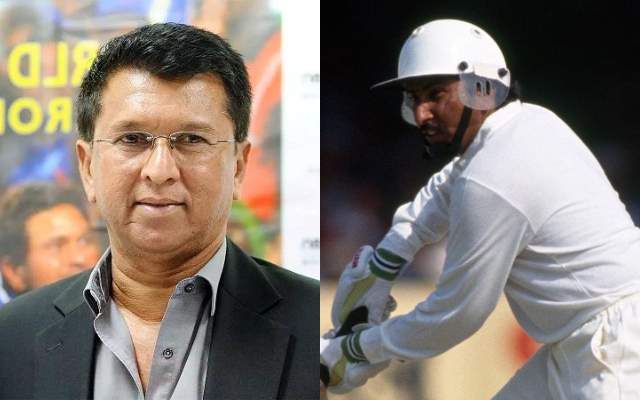 Former Indian cricketer Kiran More has revealed how Pakistan batsman Saleem Malik once wanted to smash him with the bat. He said that the occurring took place in India's Test against Pakistan at the National Stadium in Karachi way back in 1989. It was also the game where the legendary Sachin Tendulkar and Waqar Younis made their debuts in the longest format of the game.
Recalling the incident, More said that he tried to get under Malik's skin after which the latter threatened him. More mentioned that he used Malik's native language to ruffle him. Moreover, he reckons that the existence of microphones during those times could have made the sport much more interesting and hilarious.
I wish that there were microphones: Kiran More
"Whenever an India-Pakistan series takes place, sledging happens. In Pakistan when we went in 1989, I sledged Salim Malik in the Karachi Test and he came to hit me with the bat. I said to him a very nasty word in Punjabi because we speak the common language.
"Actually, it's so much fun and I wish that there were microphones all around the ground because it will be hilarious for everyone," More said on The Greatest Rivalry podcast. The Test was eventually drawn after India played out 96 overs in their second innings, losing only three wickets.
Malik scored 36 in the first innings and followed it up with an unbeaten 102 in the second. For More, he got 58 first time around and didn't get to bat in the second innings. More also revealed an incident from Javed Miandad's 100th Test match at the Gaddafi Stadium in Lahore.
"Javed was playing his 100th Test match at Lahore. He came out to bat and Maninder Singh was bowling. Third or fourth over he was plumb leg before. It was a beautiful arm ball from Maninder and the ball rapped him below the knee roll.
He said to me 'why are you appealing. This is my 100th Test match, I am going to score a century and go home," he added. The match was drawn, but Miandad got 145 off 289 balls with 10 fours before Ravi Shastri got rid of him.