Sania Mirza will be present in the crowd during the Champions Trophy Finals
Sania had in the past made her loyalties pretty clear.
Updated - Jun 18, 2017 1:40 pm
6.2K Views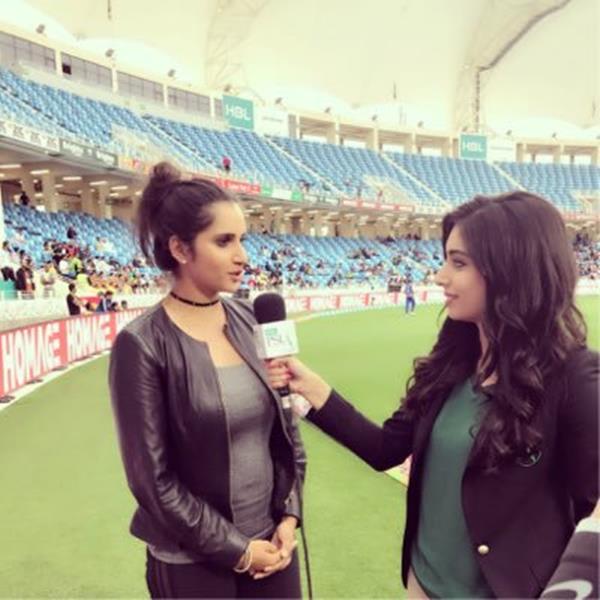 Undoubtedly one of the biggest matches in the cricketing history and arguably the most intense of rivalries on the pitch when India takes on Pakistan later today in London. Sania Mirza, who also happens to be the favourite child for the media on both the sides of the border is set to be present at the venue later on in the day where her husband Shoaib Malik will be in action. The cameras will not do the mistake of avoiding a shot of her during any gestures.
The cameras will be eagerly waiting to grab her reactions right through the game. The Indian tennis ace has never had the ambiguity of support when it comes to the clash of India-Pakistan, though she wants her husband to excel for the opposition her loyalties will always be with the Indian team since she continues to represent the country in her sport.
Will always remain an Indian
"I am married to Mr. Shoaib Malik, who is from Pakistan. I am an Indian, who will remain an Indian until the end of my life," she had once posted on Twitter.
The controversy did not end then; the Indian tennis star has been attracting the headlines, with former Indian cricketer Sourav Ganguly reportedly calling her a Pakistan supporter. Sania was seen cheering for her husband in the first semi-final between England and Pakistan in Cardiff recently. Ganguly, commentating during the match, apparently made the uncharitable remark during the course of the match.
Sania congratulated Malik on completing his 250th ODI and praised his commitment to the game. "It shows his commitment to Pakistan and to cricket. I have always known him as someone with passion who loves playing and representing his country. It's a proud moment for all of us, for his mother, for his brother and sisters and for myself too. We are very proud of him and everything he has achieved," she was extensively quoted in the media as saying.
Alongside Sania Mirza, Indian business magnate Mukesh Ambani and his wife Nita Ambani and many other Indian VIPs are expected to take the stands during the clash for the title, between the arch-rivals.