Sanjay Manjrekar and Shaun Tait pick between Virat Kohli and AB de Villiers
Both batsmen are quite evenly matched when it comes to plying their trade
Updated - May 8, 2018 1:13 pm
2.7K Views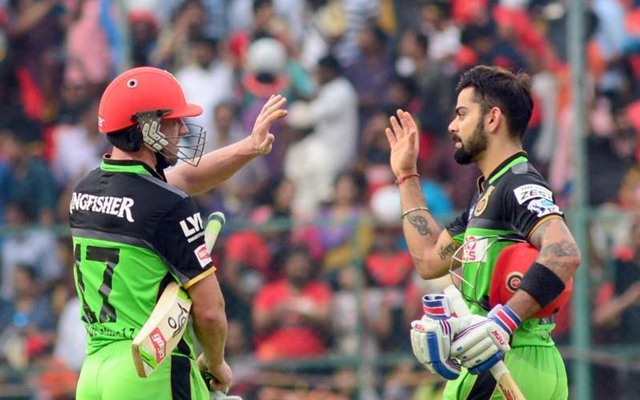 Follow us on Google News
Virat Kohli and his Royal Challengers Bangalore teammate AB de Villiers have excelled their game to a level where nobody can be seen close to them. The two have performed consistently for their franchise as well as the national side. However, comparing the two has been a long time trend among the fans and former cricketers.
On Tuesday, ahead of the RCB's must-win encounter against Sunrisers Hyderabad, former India batsman Sanjay Manjrekar and Aussie pacer Shaun Tait expressed their contradicting views on the topic. The two were discussing the topic during a show on ESPNcricinfo. With the Indian Premier League going on, the two former players were comparing the two on their T20 abilities.
De Villiers has an edge over Kohli in T20s: Manjrekar
The 52-year old Manjrekar opted to choose AB de Villiers a better batsman than Virat Kohli in the T20 cricket. Adding to his views, Manjrekar suggested that while he will choose Kohli over the South African batsman in Tests and ODIs, for T20 cricket Manjrekar felt that AB has an edge over Kohli.
"When it comes to Test match cricket I don't think there is any dispute at this stage of their respective careers, Virat Kohli is the better batsman for me. In 50-overs cricket, Kohli is among the all-time greats. But in T20s and especially IPL, AB has the edge of Kohli," said Manjrekar. Jokingly, Manjrekar added that after his statement, he will have to tighten his personal security.
Can't find a weakness in Kohli's batting: Tait
However, the former Aussie pacer was quick to differ from Manjrekar's views. Talking from his own experience, the 35-year old Tait felt that finding a weakness in Kohli's batting is difficult while same is not the case with the South African. "I have unfortunately bowled to both these batsmen and unsuccessfully. And I found personally that bowling to Virat is a lot tougher. It is difficult to find a weakness with Kohli in T20s, while AB sometimes gives you options" said Tait.
The two continued the tussle as Manjrekar added that Kohli himself will accept that de Villiers is a better T20 batsman than him. Adding to his thought, Manjrekar said that the unorthodox range of shots makes AB a difficult player to bowl in pressure situations.
Bowling to de Villiers tougher ask: Manjrekar
"Bowling to AB will be more difficult in pressure situations because of his unorthodox gameplay. AB, for once he goes from leg stumping to outside off stump when the bowler bowls which is something Virat doesn't do," said the commentator. Manjrekar added that T20 is a power game. Backing the statement the Mumbai-born Manjrekar said that "T20 is about power game and in this season of IPL the longest six has come for 111m and it is AB who had struck that."
Manjrekar giving the reason for which he puts AB ahead of Kohli said that AB comes and destroys the bowlers. The former India batsman termed De Villiers as a Juggler but added that he fails to take the team through. Tait finding an opportunity to put his thought about the Indian skipper said that that's where Kohli gets ahead of the South African.
[interaction id="5af077e369f1ea5c3e6f62ed"]
Stay updated on 'today's cricket news' with CricTracker.com
Follow us on Telegram