Sanjay Manjrekar gets roasted on Twitter for his tweet after India's loss at Edgbaston
Ashwin, Ishant and Shami bowled well at Edgbaston and complimented Kohli's efforts.
Updated - Aug 5, 2018 1:33 pm
1.3K Views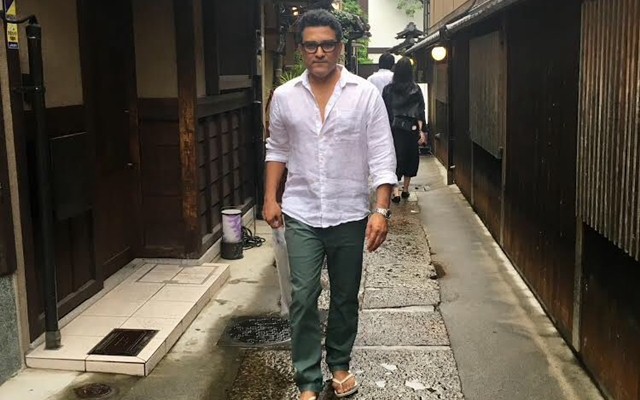 Team India heartbreakingly lost the thrilling Test match at Edgbaston against England by 31 runs. Virat Kohli's heroic efforts with the bat went in vain as his fellow mates never came to the terms with the moving ball in the game. Many felt that it was the contest between Kohli and England and when he was dismissed in the second innings, the chase was botched up by the visitors. However, Sanjay Manjrekar also tweeted about the same and stressed the fact that cricket is a team game only to get trolled on Twitter.
As far as the performance of the batsmen in concerned, Manjrekar is indeed spot on as none of the Indian batsmen contributed more than 31 in both the innings apart from the Indian skipper. But the bowling attack was relentless and ruthless when it came to picking 20 wickets which are a must to win a Test match.
Bowlers compliment Kohli
So, when it came to the team effort, the likes of Mohammed Shami, Ishant Sharma and Ravi Ashwin complimented Kohli beautifully. While Shami was penetrative whenever the ball was handed over to him, the world witnessed new Ashwin with more variations. Ishant Sharma also bowled like a dream in the second innings and picked a five-wicket haul to keep the hosts on the tenterhooks.
However, Sanjay Manjrekar, in his tweet, indirectly took a dig at the whole team and went on to say that the team effort from England won them the game and for India, only Kohli gave his best. "When it's a contest between a team and an individual the team generally wins. #INDvENG," he tweeted.
When it's a contest between a team and an individual the team generally wins. #INDvENG

— Sanjay Manjrekar (@sanjaymanjrekar) August 4, 2018
Manjrekar's words were perfect for the home side as different players stepped up for them at crucial junctures of the match. Sam Curran, Ben Stokes, Joe Root and Jonny Bairstow performed well. But the former Indian cricketer overlooked the effort of the Indian bowlers which irked many fans and lashed out at him for his tweet. They reminded him of their efforts and told him that it was not only a Kohli show at Edgbaston.
Here's how he was trolled:
Wish you had know this when u were in the team with Tendulkar… we would have won much earlier as well!

— Vignesh Shankar (@bigvig21) August 5, 2018
A bit unfair to Ishant and Ashwin at least! Funny how underappreciated bowlers are even in a low scoring match.

— Ali Ahmed Khan (@Alihappy92) August 4, 2018
Oh please‌ Spare a thought for bowlers who took 20 wickets out there

— R.Vasudev (@vasudevramesh19) August 4, 2018
India is world's no.1 Test team, they aren't because of an individual. I know you're talking about Kohli 🙄

— JAY (@TheBouncerBall) August 4, 2018
Sir apse naa ho payega.. aap achhe vishleshak nahi hai ..puri duniya ko pata hai..siway apke … ashwin, sharma and kohli were stars for india so yeah .. batsmen setup matches bowlers win you games n our bowlers did that so yeah comment is just one sided #ENGvIND

— saurabh kukreti (@SaurabhKukreti) August 4, 2018
Yes, unless it's a team made of 11 Sanjay Manjrekars.

— Abhishek (@Sajjanlaunda) August 4, 2018
Says the India's Ramiz Raja. This man always speaks from the heart. I don't know what happened to his mind. The bowlers were fantastic for India. Kohli was dropped twice very early in the first innings. Also, most of the batsmen in England team didn't perform well. Think & tweet.

— C/o Platform (@batmanzoned) August 4, 2018
So true. Sachin replaced by kohli and others like manjerekar, siddhu, azhar replaced by vijay, dhawan, rahane.

— boomerang_baz (@boomerang_baz) August 4, 2018
Don't blabber it was an excellent contribution from Ashwin and Ishant. The blame is on batsmen.. Mr. Mumbaikar the entire batting unit failed.. Kholi was dropped in first innings too regardless his marvelous efforts..

— Adhivan Vikram (@upplikanth) August 4, 2018
But if you analyze closely bowlers from both teams bowled excellently. Indian batsmen faltered a bit more than English batsmen hence lost. In fact English batsmen batted as badly.

— mohan (@mohansunderam) August 4, 2018
Day you stop commentary India will win even with a individual #panothi

— Saz (@onlineshark) August 4, 2018
You have denied the credit to our bowlers..they did their best whereas our batsmen hv completely let us down..hence ur comment shud be a contest between a half team(ind)and full team(eng), full team always wins

— ram narayanan (@ramk70) August 4, 2018
It's time other batsmen raise their hands and start applying…It can't be one batsmen playing in both the innings…….I also hope the question mark about kohlis failure in England is now stopped…

— Sasibhushan (@Sasi2079) August 4, 2018
[interaction id="5b655ca0afc9e42acf1ca194″]
Keep following CricTracker for more news and updates