Sanjay Manjrekar unhappy with Bhuvneshwar Kumar's recent performances
The 53-year-old fears Bhuvi's ODI career might not blossom in the coming days if he doesn't change his approach.
Updated - Nov 4, 2018 10:45 am
3.3K Views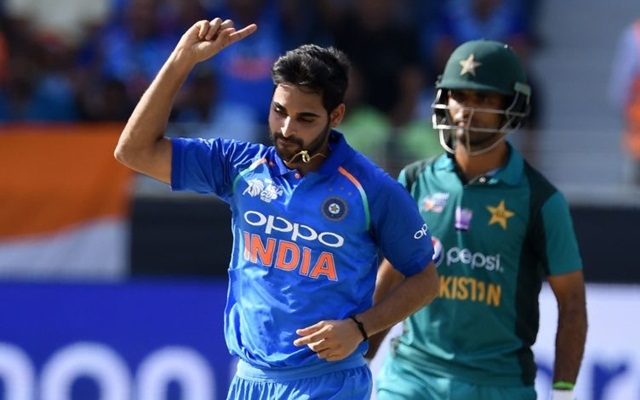 Follow us on Telegram
Former Indian cricketer Sanjay Manjrekar was clearly dissatisfied with the way premium fast bowler Bhuvneshwar Kumar has been performing recently in ODIs. The speedster from Meerut has been shy of wickets and is conceding too many runs at the start and at the death.
Lately, Manjrekar lashed out at the Indian bowling unit for not assisting their best bowler Jasprit Bumrah in an appropriate manner. His primary target was Bhuvneshwar Kumar, who according to the former Indian cricketer, is not focusing enough on his swing.
As many have noticed in the 28-year-old's recent performances, he is preferring to hit the deck hard rather than bowl full and trouble the batsmen with his swing. This approach according to the Star Sports commentator is a bothering sight for Indian cricket and he should get back to his old ways of bowling.
"Barring Bumrah, none of the others will walk into a one-day side on merit. Yes, Bhuvneshwar until recently would have done, but I am not quite enjoying the Bhuvneshwar we have been seeing of late in 50-overs cricket. While acknowledging his recent injury and its after-effects, his approach bothers me.
We know the white ball does not swing much, but that does not mean Bhuvneshwar should become a "hit the deck" bowler, delivering short of length most of the time. In his recent comeback matches against West Indies, that's what he did. There is a tendency in all of us to not appreciate and value what comes as natural gift to us, or what we can easily do, and it seems this has happened to Bhuvneshwar too," he was quoted as saying in ESPNcricinfo.
Bhuvi is a player every captain wants: Manjrekar
After rating Bhuvneshwar as an earnest cricketer who every captain would want in his side, the 53-year-old fears that his ODI career might not blossom in the coming days if he doesn't change his approach.
"If he gets preoccupied with hit-the-deck kind of bowling, the kind that big, strong South African bowlers bowl, I fear his one-day career might not blossom too much. This would be such a shame, for he is so earnest as a cricketer, whether batting or bowling – the kind of player every captain wants in his side," he added.
Bhuvneshwar was expensive against Pakistan in the Asia Cup group match when he was taken apart by Asif Ali. He also came under the pump against Jason Holder's Windies.
Follow us on Google News