Sanjiv Goenka affirmed Steve Smith has a sharper mind than MS Dhoni
The one mind ahead of Dhoni's is Smith's: Sanjiv Goenka.
Updated - May 20, 2017 12:30 pm
3.2K Views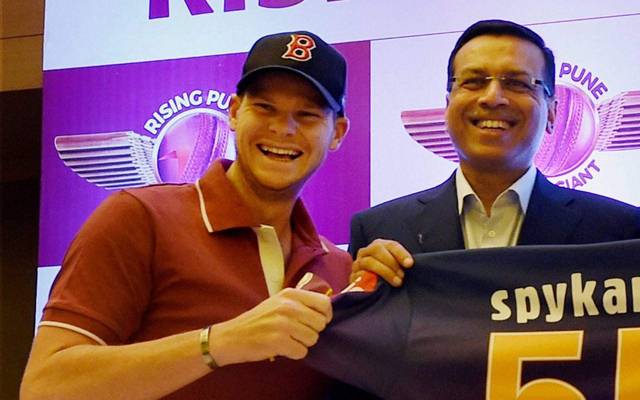 Rising Pune Supergiant owner Sanjiv Goenka added fuel to the already lit fire by his brother Harsh Goenka by mentioning that out of Steven Smith and MS Dhoni, the Australian has a sharper mind in comparison to arguably the greatest captain to have ever played for India.
MS Dhoni despite his sluggish form this season played a couple of vital knocks which propelled the Rising Pune Supergiants to the finals of this edition of IPL. His knock against the Sunrisers Hyderabad inspired a winning streak which led them to reach the Playoffs.
There again, it was the cameo from MS Dhoni which resurrected Supergiant's innings and propelled them towards a competitive target of 161 out of nowhere. His performances came in the backdrop of constant humiliation from co-owner Rajiv Goenka, who took to Twitter to comment that Steve Smith is the real king of the jungle and backed their decision to sack MS Dhoni as captain of the Pune team.
Here's the Story
In a recent no hold barred interview, Sanjiv Goenka controversially stated that even though MS Dhoni is the best wicketkeeper in the game, it is Smith's mind which is one step ahead of the former Indian captain. "MS is one of the greatest minds I have interacted with. And he is the best wicketkeeper in the world. The one mind ahead of Dhoni's is Smith's. My brief to Smith was: win the championship," quoted Goenka according to Hindustan Times.
Setting the example of few of the notable instances from his captaincy, Goenka asserted that his tact and leadership methods are second to none.
Citing examples to back his words on MS Dhoni and Steve Smith
"It's difficult to believe the way he has planned some dismissals, the tact, and firmness with which he has dealt with tricky situations and the win-or-nothing attitude he has been able to infuse into the team, get them to gel as a unit. And he's gone out in the strategic timeouts to tell batsmen to either score 30 off the next 12 balls or get out. If we had a bad start, it was because Smith was out with food poisoning," quipped the owner of the franchise.
He concluded by stating that he wished his players such as Steve Smith, Jaydev Unadkat, and Rahul Tripathi to do well in the all-important IPL finals, as they are such wonderful people.