Sanju Samson reveals the reason why he and Steve Smith call each other 'chachu'
Sanju Samson and RR's spin bowling consultant sh Sodhi were live recently on Instagram.
Updated - May 6, 2020 12:08 pm
716 Views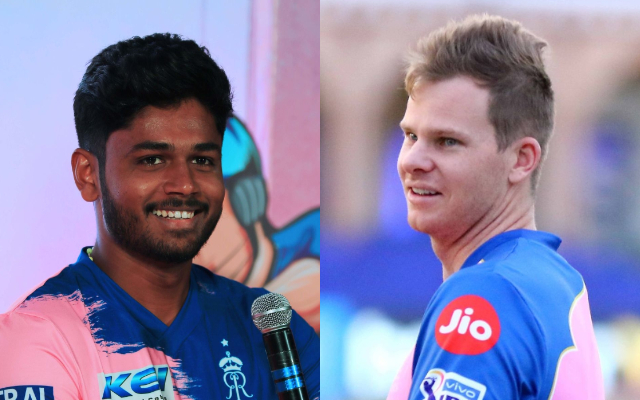 Sanju Samson has been known as 'Chachu' and this is not something new. However, the origin story of this strange nickname was unknown. The Rajasthan Royals batsman recently caught up with the side's spin bowling consultant Ish Sodhi in a podcast, where the two players talked about several things in length.
During the podcast, Samson finally revealed how he got the nickname 'Chachu'. He stated that it was Australian batsman Brad Hodge who first called Smith with the name. The wicket-keeper further recalled that after Hodge left the team, he started calling 'Chachu' to Steve Smith. Apparently, the Australian batsman started calling Samson with the same name in return and that is when he got the nickname.
"It started with Brad Hodge, he used to call Smith 'Chachu', then when Hodgy left, I started calling Smith 'Chachu'. In return, Smith also started calling me 'Chachu'. We both really enjoy and continue calling each other that," said Samson during the conversation with Ish Sodhi.
He is one of the best brains in world cricket, Samson says about Steve Smith
Talking about the current Rajasthan Royals captain, Sanju Samson said that he shares a good relationship with the former Australia captain. He credited Smith to have one of the best brains in world cricket and also clarified that all the members of the Royals enjoy playing under the Australian.
"I share a very good relationship with him. He is one of the best brains in world cricket and we all enjoy a lot playing under him," Samson said. The 25-year-old also said that he observes Jos Buttler closely as both of them have a similar skill set.
"I observe Jos especially given he too is a wicketkeeper-batsman. He's always working on his skills and his game and never sits idle. He's either working on his keeping, batting in the nets or running around the park. I love to observe and know-how he thinks and prepares as a keeper before a game," added Samson.
During the conversation, the Kerala batsman also picked his knock of 91 against the Royal Challengers Bangalore (RCB) in Bengaluru in 2018 IPL was his favourite.