Sawai Mansingh Stadium set to welcome India after eight years, curator reveals about special preparations
Going by the statistics, this venue has favored India as the team has enjoyed good success here.  
Updated - Nov 14, 2021 4:02 pm
4.2K Views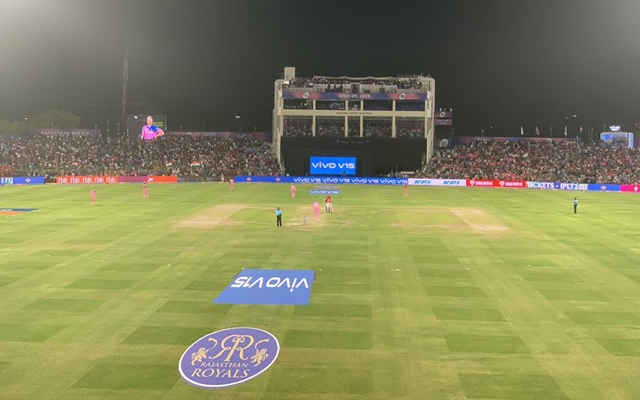 Follow us on Google News
India is all set to host New Zealand for a three-match T20I series followed by two Test matches. The first T20I game is scheduled to take place on November 17 at the Sawai Mansingh Stadium, Jaipur. Going by the statistics, this venue has favored India as the team has enjoyed good success here.
From 12 ODIs and a one-off Test match, India has won eight and has managed to pull a draw in one of the matches. However, the team will return to play at this venue after nearly  eight years and thus, these results do not prove quite prominent.
The first T20I between India and New Zealand will mark some high-profile debuts as Rahul Dravid will take over as India's head coach and Rohit Sharma will lead the time as the full-time T20I skipper. Ahead of the highly anticipated match, the central zone pitch curator Taposh Chatterjee has opened up on how the wicket is expected to play. He said that they have protected the pitch well and that the strip at the center will be used for the game.
"As we were aware of the match date, we have protected the pitch from overuse and underuse to ensure the juice remains and the pitch is not slow. It has been tested during Colvin Shield, Under-19 matches, practice matches for the state senior team, and senior women challenger trophy.
The simple reason behind using the fifth strip was to make sure that the seats are not killed and the dressing room is easily visible. These permutations and combinations have to be kept in mind. Since it is only one match, we could make it possible. During the IPL, we invariably have to keep rotating the wickets to avoid overuse," the pitch curator said as quoted by TOI.
It is a no-brainer that T20 matches bring in a lot of excitement and thrill that keeps the fans at the edge of their seats. The on-lookers are all raring to witness high-scoring games. The pitch curator reflected on these points and said, "People should get value for money they spent on tickets to watch a T20 match. The expectation is of witnessing good high-scoring matches. So keeping that in mind, a wicket has to be readied. In T20s, if there is no consistent bounce, it cannot be a high-scoring pitch or if there is lateral movement, it becomes difficult to score.
Follow us on Telegram