'Scary scenes' – Twitterverse reacts as auctioneer Hugh Edmeades collapses midway through IPL 2022 mega auction
The unfortunate incident took place when the bidding of Wanindu Hasaranga was on in the second round
Updated - Feb 12, 2022 4:28 pm
8.1K Views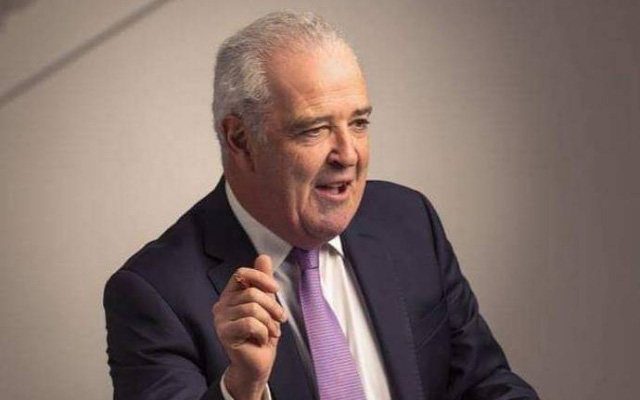 Follow us on Telegram
An unfortunate incident took place in the first day of the Indian Premier League (IPL) 2022 mega auction. Auctioneer of the event, Hugh Edmeades collapsed out of nowhere and fell off the stage, bringing the auction to a halt. The incident took place when the bidding of Wanindu Hasaranga was on in the second round. The Sri Lankan all-rounder, had fetched INR 10.75 crore, and was set to collect more.
At that very moment, the auctioneer collapsed and everyone in the hall suddenly stood up and there were concerns on their faces. Fortunately, it has been learnt that Edmeades is fine. Although a physical fall did take place, there's no internal damage. Notably, Edmeades, who has been the IPL auctioneer since the 2019 season, is a popular figure. Hence, as soon as the worrying development broke out, 'recover well' wishes poured in him for him from different corners. IPL 2022 Auction Live Updates.
Hugh Edmeades the auctioneer is fine but a bit shaken
"Our auctioneer is stable. The medical guys are attending to him. He should be back for the next set," read a statement from the Board of Control for Cricket in India (BCCI). Meanwhile, the halted event is scheduled to resume at 3:30 PM IST.
Meanwhile, Edmeades was excited ahead of the mega auction as he predicted many records will be shattered. He even suggested that the 20-crore barrier would be crossed this year. "With each franchise being given an increased purse of Rs 90 crore, it is likely that individual prices will also increase. I don't have a specific figure in mind, but I would be surprised if the Rs 20 crore barrier is not broken this year," Edmeades was quoted as saying by InsideSport.
"During my 38 years as an auctioneer, I have taken plenty of two-day auctions, but admittedly, none lasting a potential 12+ hours. However, I am not at all fazed by the prospect of being on my feet for up to six hours each day. Mentally and physically, I will be splitting the sessions into "bite-size pieces" and taking the opportunities to regroup during the breaks in the auction," he had added.
Meanwhile, the initial half of Day 1 auction saw Shreyas Iyer, Harshal Patel and Hasaranga bagging over 10 crore. Many big names are yet to come in the list and it would be interesting to see how the auction event pans out.
Meanwhile, let's look at how Twitterati reacted to Hugh Edmeades' collapsing: 
Really hope and pray hugh is safe🙏🙏

— Sheldon Jackson (@ShelJackson27) February 12, 2022
Hope the Auctioneer is fine #IPLAuction

— S.Badrinath (@s_badrinath) February 12, 2022
Scary scenes to watch the Auctioneer collapsing on live screen. Hope Hugh Edmeades is safe and alright. Prayers for his well being. #IPLAuction

— Yusuf Pathan (@iamyusufpathan) February 12, 2022
Update from ground zero! Hugh Edmeades the auctioneer is fine but a bit shaken! Was a physical fall no internal issues with him #CricbuzzLive

— Gautam Bhimani (@gbhimani) February 12, 2022
Sending prayers to the IPL auctioneer Hugh Edmeades 🙏#IPLAuction

— England's Barmy Army (@TheBarmyArmy) February 12, 2022
Oh damn… that looks terrible. Hope the IPL auctioneer Hugh Edmeades is okay. Collapsed from the stage, by the looks of it. #IPL2022Auction has to be on hold.

— Saurabh Somani (@saurabh_42) February 12, 2022
#IPLAuction Auctioneer Hugh Edmeades has been attended by the medical team in the premises and will continue the auction after an hour's break.

— Venkata Krishna B (@venkatatweets) February 12, 2022
Relief. Hugh Edmeades is fine #IPLAuction

— Cricketwallah (@cricketwallah) February 12, 2022
Hope the IPL Auctioneer Hugh Edmeades is ok. A little prayer for him 🙏 #IPLMegaAuction2022

— Preity G Zinta (@realpreityzinta) February 12, 2022
Can we have an update on Hugh Edmeades, the auctioneer, @DisneyPlusHS/@StarSportsIndia?

He is a human being, you know, not a machine.

— Abhishek Mukherjee (@ovshake42) February 12, 2022
Relief. Hugh Edmeades is fine #IPLAuction

— Cricketwallah (@cricketwallah) February 12, 2022
Bloody hell, auctioner Hugh Edmeades appears to have collapsed on the dias. Pray it isn't serious

— Cricketwallah (@cricketwallah) February 12, 2022
Hope the IPL Auctioneer Hugh Edmeades is ok. A little prayer for him 🙏 #IPLMegaAuction2022

— Preity G Zinta (@realpreityzinta) February 12, 2022
#IPLAuction eer #HughEdmeades has collapsed..

Hope he is safe.. pic.twitter.com/eTz9uh4PVV

— Ramesh Bala (@rameshlaus) February 12, 2022
Hope Hugh Edmeades is well.#IPLAuction pic.twitter.com/cRH0e2o6iz

— CricTracker (@Cricketracker) February 12, 2022
I really hope Hugh Edmeades is okay. He just fell off the podium. Omg!

— srikrishna 🏏 (@1998Srikrishna) February 12, 2022
Wishing a speedy recovery to Auctioneer Hugh Edmeades, from our entire #OneFamily 💙#MumbaiIndians #AalaRe #TATAIPLAuction #IPLAuction

— Mumbai Indians (@mipaltan) February 12, 2022
IPL Auctioneer Hugh Edmeades has collapsed at the stage. Hope he is fine. Auction stopped for now.#IPLAuction

— Prasenjit Dey (@CricPrasen) February 12, 2022
Hope Hugh Edmeades is fine. His health far more important. The rest can wait.

— Nikhil 🏏 (@CricCrazyNIKS) February 12, 2022
Update!

IPL Auctioneer Hugh Edmeades is fine! ❤️❤️

— Vinay (@vinaystarz) February 12, 2022
 
Follow us on Google News