SCG staff swept and repainted batting crease before Steve Smith scuffed it
This video should close the matter once and for all.
Updated - Jan 13, 2021 12:31 pm
42.6K Views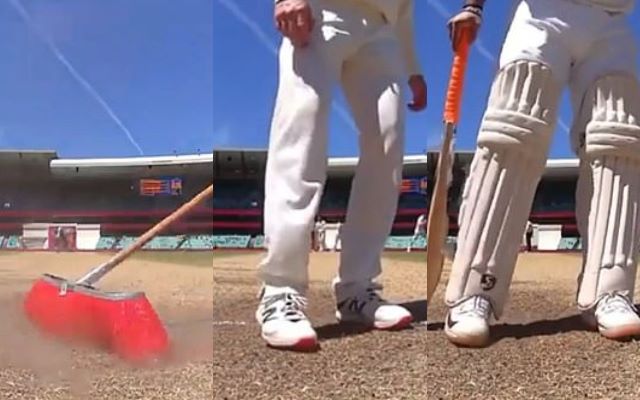 Follow us on Telegram
During the final day's play of the Sydney Test, star Australian batsman Steve Smith was seen shadow batting and scuffing Rishabh Pant's guard. Later, Pant came back after the drinks break and marked his guard again. This led to the people on social media criticize the former Aussie captain with some of them even calling him a 'cheater' as a video of the same went viral.
Some critics and former players have also called Smith's act as 'silly'. However, a fresh video has surfaced on the internet which clears that Steve Smith wasn't removing Pant's guard. This video shows what happened moments before the Aussie came to crease and did what he did. 
Video reveals the actual truth of the matter
The video which was found on Twitter shows that the ground staff of Sydney Cricket Ground was sweeping the area near the crease with hard brooms before Steve Smith walked towards it and started shadow batting. Considering this, we can say that when he arrived there, Pant's guard was already gone because of the scuffing.
The entire footage of this incident was not telecasted in Australia. But, it was seen during the telecast of the match in other countries.
Here's the video:
Wow….full footage of the scuffing controversy. I mean, I won't even take sides, see it and decide for yourselves if your brain allows you obviously.

Some people on social media really need to grow up !! pic.twitter.com/kOJSpdI6gp

— Don Mateo (@DonMateo_X13) January 12, 2021
The situation had gone to an extent that people on social media had started comparing this to the infamous ball-tampering incident, which caused Steve Smith to be sacked as the captain. But this video should close the matter once and for all.
The incident took the shine away from Steve Smith's magnificent innings
Australian captain Tim Paine had defended Steve Smith arguing that if he did something which was wrong, then the Indian players would have protested or said something. He also argued that Smith is always shadow batting and what he did was completely unintentional and not done deliberately to mess with the opposition. 
"He was certainly not changing guard, and I'd imagine if he was then the Indian players would have kicked up a bit of a stink at the time. That's something I have seen Steve do many times in Test matches and Shield games I've played with him. When he's in the field, he likes to walk up to where he bats and visualise how he's going to play," Paine had said in an interaction with the media. 
Smith had played two superb knocks in the Sydney Test. He came back to form with a 131 in the first innings followed by an 81 in the second. He was also named the man of the match but this incident somewhat overshadowed his batting brilliance.
Follow us on Google News