Shahid Afridi admits to tampering with the ball by biting it in his autobiography
Afridi admits he meddled the ball in search of swing which he described as a desperate situation.
Updated - May 6, 2019 1:32 pm
1.8K Views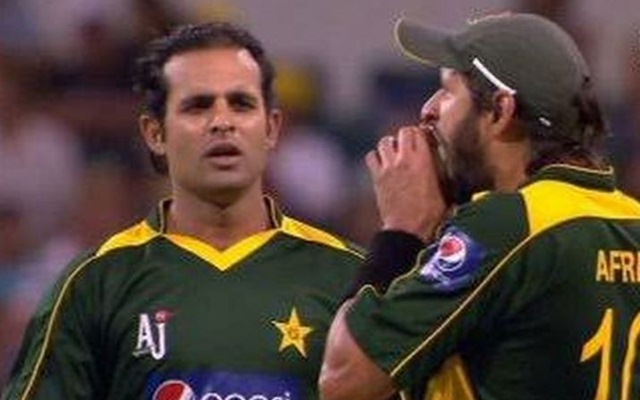 Ball tampering issue has been always there since the advent of international cricket, but more focus on it came in 1992-93 when Pakistani fast bowlers mount pressure with their reverse swing on a tour to England and since then many players have done the dirty deed, from Michael Atherton to Faf du Plessis, to more famous trio of Steve Smith, Cameron Bancroft and David Warner.
The trio is famous due to their deed been captured on the cameras, but they were not the first to be caught while tampering, but it was Pakistan's Shahid Afridi who was seen biting the ball during an ODI game in Pakistan and now he has admitted in his just-released autobiography 'Game Changer'.
Afridi admits to tampering with the ball in 2010
While the great bowlers like Wasim Akram, Imran Khan, Waqar Younis were accused of scratching one side of the ball with fingernails, soda bottle caps and whatnot to attain reverse swing, they have taken the secret to the magic which makes the ball swerve and swing like a snake, with them into retirement.
But Afridi in his autobiography, he has manned up and written that in 2010, when he became the Pakistani captain for the first time, he did bite the ball to ensure his bowlers could swing it. Afridi admits he meddled the ball in search of swing in what he described to be a desperate situation. He mentions that he bit the ball several times so as to dent it and end up with a rougher surface on one side, in order for the bowlers to get reverse swing.
Whether his bowlers did get the swing or not, Afridi became an instant sensation on YouTube when the video of him biting the ball like an apple went viral and not only that, he was also banned for 2 T20I matches, as he was charged with an article 2.2.9 offence of the ICC Code of Conduct which relates to "changing the condition of the ball in breach of Law 42.3 of the Laws of Cricket".
Here is the infamous video of him biting the ball