Shahid Afridi confirms that he scored the 37-ball hundred with Sachin Tendulkar's bat
Afridi also reveals that he had dreamt of hitting Murali and Jayasuriya for sixes the night before.
Updated - May 6, 2019 1:32 pm
3.1K Views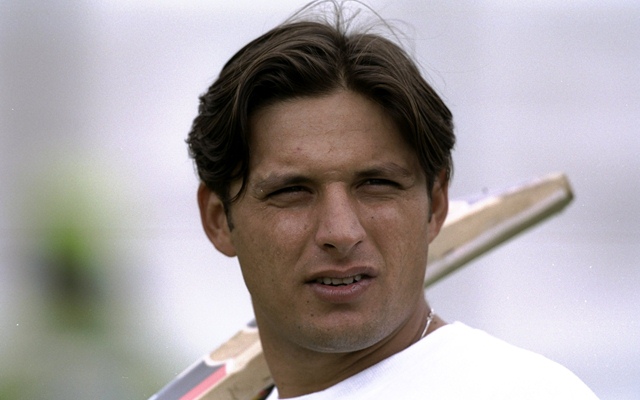 Follow us on Google News
Shahid Afridi was in the spotlight while playing just the second ODI match of his career way back in 1996, when he slammed the then fastest century off just 27 balls, against Sri Lanka in a four-nation tournament in Nairobi, Kenya. He broke the record held by Sanath Jayasuriya, who had made a century in 48 balls and Afridi's record stood till 2015.
The now retired from international cricket, Afridi recently released his autobiography "Game Changer". It has been setting the world on fire with spicy revelations about his real age, the spot-fixing scandal, his own admission of ball tampering and now, an excerpt from the book has put end to a rumour that has been prevalent since his debut.
Yes! It was Sachin Tendulkar's bat
It was long said that Afridi scored his whirlwind century with a bat that was gifted to him by Waqar Younis and which belonged to the Indian great Sachin Tendulkar. It was presented as fact but was never confirmed by the all-rounder himself. But in his book, Afridi detailed how he got his hands on the bat of Indian batting master.
It seems, Sachin had given his bat to Waqar Younis to take to Sialkot, one of the world-famous bat manufacturing places in the world, and get a new replica custom-made. "But guess what Waqar did before he took it to Sialkot? He gave it to me before I went in to bat. So effectively, that first century in Nairobi by Shahid Afridi was made with Sachin Tendulkar's best bat. Go figure," Afridi mentioned in his book.
The then 21-year-old (not 16 as claimed before) Afridi ended up making 102 in 40 balls with six fours and then world record 11 sixes with a strike rate of 255 and rocketed him into stardom. He was promoted in the batting order to take advantage of the first 15 overs of field restrictions and this innings gave him the moniker of "Boom Boom" Afridi.
Furthermore, Afridi revealed that he had dreamt of hitting Murali and Jayasuriya for sixes the night before, "'I had a dream that I was slamming Jayasuriya and Muralitharan and Dharmasena for sixes,' I said. 'Big, huge sixes.' 'Let's pray it happens, brother,' said Shadab'," writes Afridi.
Sanath Jayasuriya went for 94 runs in his 10 overs and picked three wickets, while Murali fared a bit better with figures of 1/73.
[interaction id="5cae03514d45ddec77b1cb4f"]
Follow us on Telegram