Shahid Afridi at his hilarious best, trolls himself at an event
Just like my batting, I won't take up much of your time: Afridi
Updated - Sep 26, 2017 11:30 am
303 Views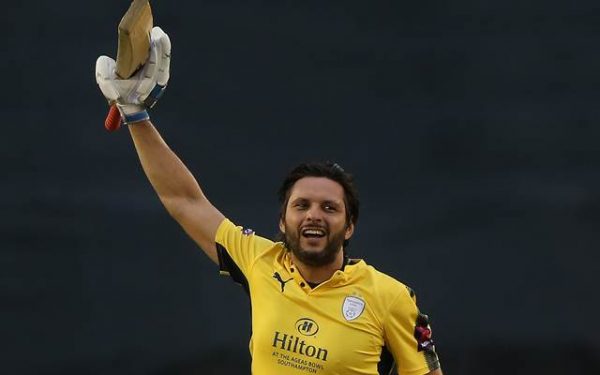 One of the strangest love-hate relationships in the world is that of Pakistan veteran all-rounder Shahid Afridi and his batting. You never know what you're going to get when Afridi takes guard. This is one of the reasons why he has held the reputation of being the most dangerous batsman in the recent times.
For almost a couple of decades, the dashing Pakistani allrounder held the record of scoring the fastest ton in One Day Internationals. He smashed a game-changing ton against Sri Lanka which he completed in 36 balls only. He took the world by storm with his destructive power and flashy strokeplay.
Here's the clip
During the initial stages of his career, he used to open the batting for Pakistan with one of the most respected batsmen Pakistan has ever produced by the name of Saeed Anwar. Anwar in tandem with Afridi forged a formidable partnership which was highly successful for Pakistan.
There was also another dimension to Afridi's game and that was his leg break bowling. He bamboozled many a batsman with his fierce pace coming from close quarters. Slowly but steadily, it was his bowling which eclipsed his batting and during the twilight of his career, Shahid Afridi was primarily a world-class leg-spinner for the men in green.
The sight of Afridi taking strike under a mounting pressure of required run rate and top edging the ball in his attempt to send the ball out of the park, thereby, giving a catch to fielders in the deep, had become a norm. In fact, he has the second most number of ducks in ODI cricket with as many as 30 knots.
It was only a few days back when he smashed yet another ton in just 42 balls, after retiring from all forms of cricket, in the recently concluded Natwest T20 Blast for Hampshire. Perhaps he also has the longest six in ODI cricket when he smashed Tsotsobe out of the park at Bloemfontein.
Here's the clip
This made Afridi one of the most unpredictable batsmen and in a recent event in Pakistan, he took an opportunity to mock his batting. Shahid Afridi while addressing the audience claimed "Assalamualaikum, just like my batting I won't take up much of your time", thereby, leaving us in splits.
Here's the clip
Shahid Afridi to the audience at a recent event "Assalamualaikum, just like my batting I won't take up much of your time" pic.twitter.com/H6L0dNd2Ek

— Saj Sadiq (@Saj_PakPassion) September 25, 2017