Shikhar Dhawan caught doing the 'Naagin' dance on camera
Naagin dance became popular in the Nidahas Trophy.
Updated - Mar 20, 2018 10:35 pm
432 Views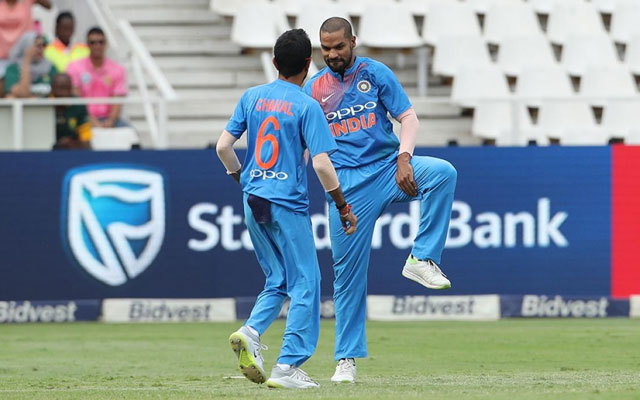 In a recent video that is becoming popular on the social media, team India cricketer Shikhar Dhawan is seen having a bit of fun on the camera. The video shows Dhawan do a very popular dance move of the recent times. The fans are loving the video and the response on the same has been quite good thus far.
In general, the last few days have been very thrilling for the cricket fans. The World Cup Qualifiers are proving to be a very closely contested tournament. Team India beat Bangladesh in a thrilling final. It was a last ball six that sealed the fate of the Indian team in the match. Also, the PSL has reached the business end of the tournament. All in all, there has been no shortage of quality cricketing action.
While the action on the field with the bat and the ball has been making the news, there have been other factors grabbing news headlines as well. Among the various such things, the popular celebratory move of the Bangladesh cricket team has been making a lot of headlines. The players of the Bangladeshi side were seen celebrating with the 'Naagin' or snake dance during the Nidahas Trophy.
Certainly, many felt that they went a little overboard with their celebrations after a win over Sri Lanka in the last league game of the tri-series. The celebrations irked the opposition players and hence, some of the Sri Lankan players were also spotted doing the same moves in the series trying to mock the Bangladesh team players.
And now, in a video surfacing the social media, Shikhar Dhawan is seen doing the same dance as well. Dhawan tried his hands at the dance move during the final game of the Nidahas Trophy. A promotional video of the series featured all such dance moves and it included a brief Shikhar's version of the dance as well. Apart from him, Mushfiqur Rahim is seen doing the dance and also the fans are seen coming up with their moves as well.
Watch the video here:
— Sam sharma (@SMmPMm) March 18, 2018
For the latest cricket news, follow CricTracker.