Shoaib Akhtar wanted to hit Matthew Hayden back in his playing days
The duo have faced each other in five tests, with Hayden losing his wicket to the pacer three times – all in the 2004 home series
Updated - Jul 26, 2017 8:31 pm
2.2K Views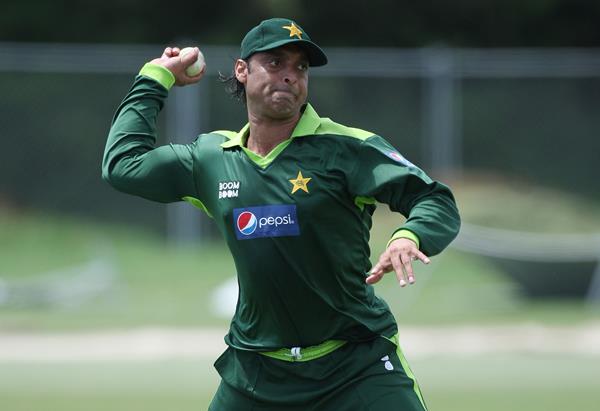 Follow us on Google News
Pakistan's famed pacer, Shoaib Akhtar recently revealed via social media that he had a burning urge to hit Australian opener, Matthew Hayden back in their playing days. The brewing rivalry between the duo was known to spill over more often than not in high-tension matches, making it one of the most talked about animosities in cricketing history.
The pair had several altercations in the early 2000s, ranging from the 2002 series where Hayden scored his famous "desert storm" century in Sharjah to Pakistan's 2004-05 tour of Australia.
Akhtar, fondly known as the "Rawalpindi Express" has been adjudged "the most difficult bowler" by the likes of MS Dhoni. Not only could he bowl immaculately at the consistent speed of a bullet, but his fiery aggression often intimidated the batsman into playing a loose shot.
However, Hayden was an equally tough-spirited cricketer. The former Queensland opener's on-field acrimony with Akhtar dates back to a tour match on Pakistan's visit in the summer of 1999-2000.
Shoaib tweets his admission of wanting to hit Hayden
Akhtar recently posted a meme which claimed 19 batsmen had been retired hurt after being hit by deliveries from his searing pace of bowling and that he'd enjoyed bowling in that fashion to one particular batsman. He invited his followers to guess the name of that cricketer, and later revealed it to be the left-handed Matthew Hayden, whom he'd "wanted to hit badly".
Did u know about this fact that have injured more batsman,s then any 1

which i never enjoyed it but apart-from 1 guess who is it ?? pic.twitter.com/N9wJ8axV8s

— Shoaib Akhtar (@shoaib100mph) July 24, 2017
It was Matthew Hayden I wanted to hit badly during my playing days & I did that many times during test & practice games&now we r best mates.

— Shoaib Akhtar (@shoaib100mph) July 25, 2017
The duo has faced each other in five Tests, with Hayden losing his wicket to the pacer three times – all in the 2004 home series, and all cheaply amid plenty of verbals. One of the most heated face-offs between the two was in the 1999-2000 test when Hayden had been playing for Queensland.
In the second innings, Shoaib had sledged Hayden relentlessly with a fierce opening spell. At one point, he even put his thumb to his nose and waggled his fingers and poked his tongue out as he approached the crease in his run-up. However, Hayden had the last laugh in the situation as he scored a mammoth innings of 128 runs, comprising 15 boundaries and a six.
Shoaib Akhtar also added in his social media message that he and Hayden are nowadays "best mates". The pair was last seen indulging in some playful banter in the lead-up to their first T20 match against each other, in the Cricket All Stars event in the US set up by Shane Warne and Sachin Tendulkar.
Follow us on Telegram