Shoaib Malik teases his brother-in-law Mohammad Asaduddin as he shares throwback picture on Instagram
Asaduddin got married to Sania Mirza's sister Anam Mirza last year.
Updated - Mar 19, 2020 4:51 pm
1.2K Views
Cricketers often take it to social media platforms to pull each other's and their friends' legs. And, same was the case with the Pakistani veteran cricketer Shoaib Malik, who teased his brother in law, Mohammed Asaduddin, son of former team India captain, Mohammed Azharuddin on Instagram.
It has been six months since the duo of Mohammed Asaduddin and Anam Mirza got married. Anam Mirza is the sister of Shoaib's wife and India's star tennis player, Sania Mirza. The couple was labelled as Hyderabad's Shloka Mehta and Aakash Ambani as the bride belongs to the Mirza family, which is a royal family from Hyderabad, while the groom was the son of the former team India captain, Mohammad Azharuddin, who is one of the most successful captains the team has seen till date.
Almost six months after the marriage, Anam shared a picture of one of her wedding dresses and captioned it 'All the trials before THE day. #BridalTrials'. Following this up, was her husband, Asaduddin, who posted a picture on his Instagram handle, from his honeymoon trip to Europe.
He captioned it as 'Missing the cold weather of Finland #lapland #ice.' The pictures got a lot of comments from the public, but the one which stood out the most was of his brother in law, Shoaib, who commented, 'Brrrrrrrrrr', taking a dig on the fact that Asad was missing things that had happened just six months before.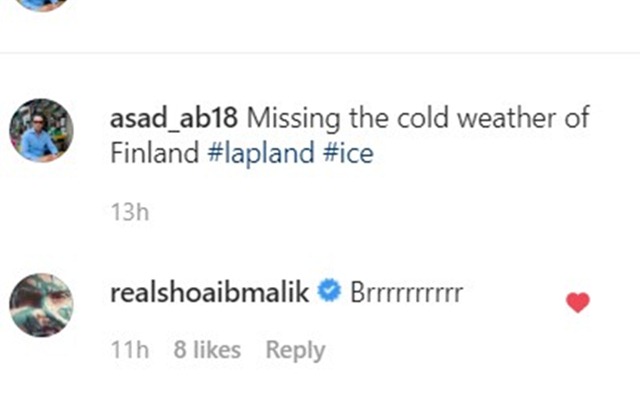 Shoaib Malik had a decent PSL 2020
Shoiab Malik has been seen as a serious man on the field, playing the game with utmost discipline and attention. And, seeing a lighter side of his on Instagram, must bring his fans some delight. He was a part of the recently called off Pakistan Super League (PSL) and was playing for the Peshawar Zalmi in the tournament.
His run was decent with the bat, as he managed to score 239 runs in the 6 innings he played. He has shown glimpses of what he is capable of with the bat, in spite of the fact that his age has started to take a toll on his performances, as he is nearing the age of 40 years.