Should Ashwin be in scheme of things for 2019 Cricket World Cup?
The time has come for the selectors to groom the likes of Chahal, Axar and Kuldeep for the 2019 World Cup.
Updated - Apr 27, 2018 4:42 pm
964 Views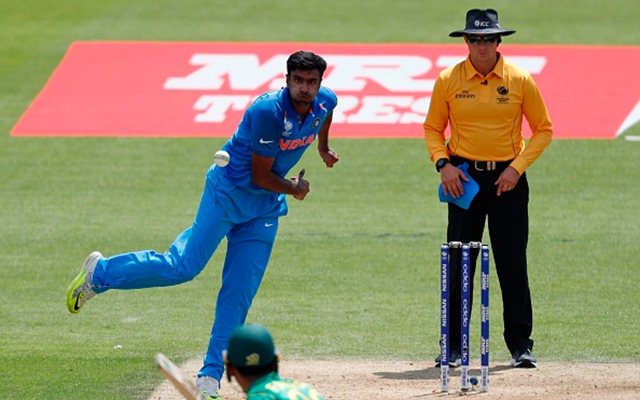 Follow us on Google News
The India squad for the limited overs series against Australia was announced on Sunday and Ravichandran Ashwin wasn't picked yet again. Both Ashwin and Ravindra Jadeja were 'rested' according to the selectors. Ashwin wasn't a part of the Sri Lanka series as well and he was not the No. 1 spinner during the Champions Trophy in June. Currently, he is playing County cricket in England for Worcestershire to hone his bowling skills overseas ahead of India's tours to South Africa, England, and Australia in 2018. So does it really make sense now to bring him back in the ODI set up with other spinners like Axar Patel, Kuldeep Yadav and Yuzvendra Chahal doing extremely well? Also, will it be appropriate to drop these players despite being consistent enough?
Fitness issue with the off-spinner
With the advent of T20, fielding has become one of the key aspects as the game has evolved in the last couple of years. Virat Kohli has always insisted that fitness is one of the major hurdles for the players to get into the squad. He expects cent percent efforts from his team on the field, especially in limited overs cricket.
Ashwin has never been a swift fielder on the ground if he is compared with the likes of Ravindra Jadeja, Kohli or even for that matter Mohammed Shami and Umesh Yadav. He is one of the slow fielders in the Indian set up and the skipper always has to hide him on the field. Mostly he is seen fielding at short fine leg or short third man but never at key positions like point, long on, long off where a player has to be athletic. Also, at the age of 30, it will be tough for Ashwin to improve his fielding and play all formats. So the case of him playing only the longest format of the game and not the limited overs only strengthens.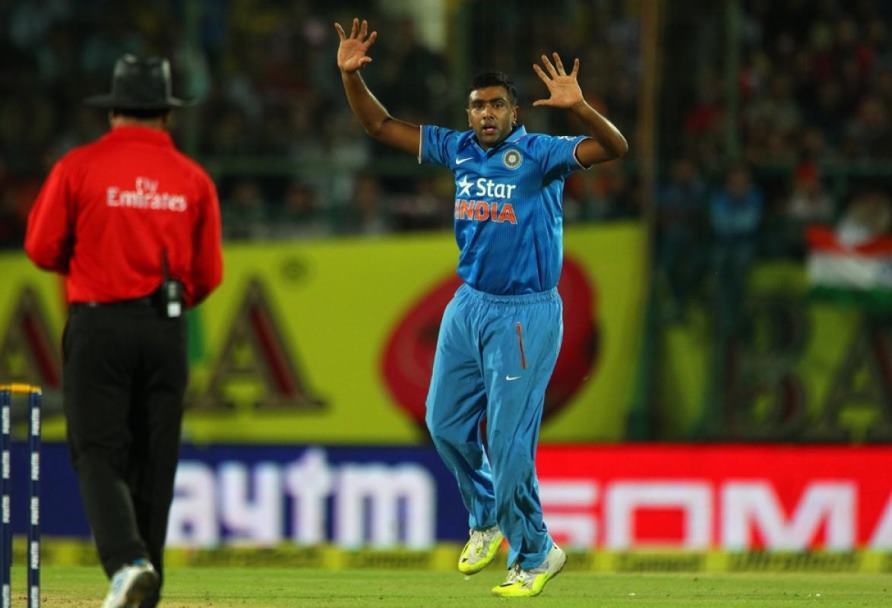 Ashwin not the preferred spinner in ODIs anymore
Ravichandran Ashwin, undoubtedly, is the best spinner for team India in Tests and he was invincible in the grand home season when India managed to win each and every Test series. But when it comes to One Day Internationals, he has struggled a lot since ICC Cricket World Cup 2015. He tries too many things while bowling which leads to pressure being released on the opposition or leaking too many runs in crunch games.
Since 2015 World Cup, Ashwin has not played regularly in the ODI squad for India. He has only been part of 15 matches out of 42 which India has played. His performance in these matches is not convincing either. He has picked only 17 wickets at an average of 40.58 and an economy of 5.36. While the economy looks decent, the average is poor for a leading spinner. This suggests he goes into the defensive mode in the limited overs when the captain is expecting him to pick wickets.
When we analyze more on his performances, the struggle is more perceptible. Out of the 15 matches, he has been part of the playing XI only 4 times in India. In these 4 games, he has conceded runs at an economy of 6.37 per over and has picked only 4 wickets at an average of 50.5. In 11 away games, the numbers improve a little bit but not drastically. Also, he has not completed his quota of 10 overs five times in completed matches. Once he was injured while bowling and the other game was washed out. Ravichandran Ashwin even conceded runs at more than run a ball in 6 matches among which thrice he didn't bowl 10 overs.
Here are the statistics of his bowling post-2015 ICC Cricket World Cup: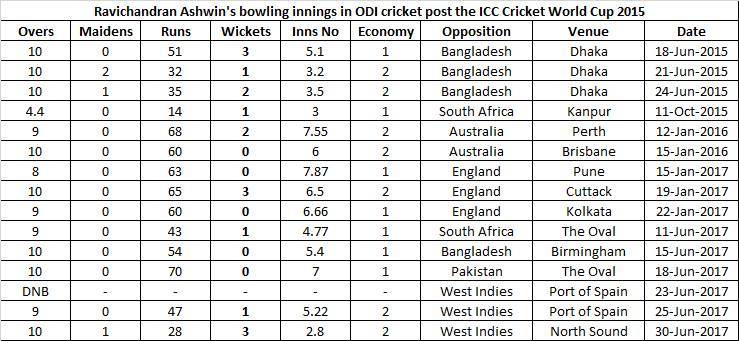 Spinners in Ashwin's absence
India has played with as many as 6 spinners and part time spin of Kedar Jadhav in Ashwin's absence in the last two years. Out of them, the chances of Harbhajan Singh making his return to the Indian side are close to nothing. Axar Patel, the left arm spinner, has picked 25 wickets in 21 matches at an economy of 4.32 and an average of 32.44. Also, the wrist spinners – Amit Mishra, Yuzvendra Chahal and the newbie Kuldeep Yadav – have done exceedingly well.
Chahal and Kuldeep have played 7 matches each to pick 11 wickets at an impressive economy of 4.14 and 3.97 respectively. Another striking statistics is their average which is 24.09 for Chahal and 20.81 for the chinaman bowler. Even Mishra has done well foxing 19 wickets in just 9 games with a fiver in the decider against New Zealand, but the way team management is favoring young leg spinner Chahal, it looks tough for Mishra to come back. Jadeja too has not been convincing in this period and could only scalp 12 batsmen in 17 innings at a poor average of 67.83 and conceded runs at 5.25 per over.
Other spinners in absence of Ashwin:

Ashwin no more a match-winner in ODIs?
India has won more games in absence of Ashwin which proves he is no longer a match winner in the limited overs format for India. Since the 2015 World Cup, India has played 15 games with Ashwin and could only win 7 matches and have lost the same number of games. On the other hand, in his absence, India has tasted victory in a whopping 19 ODIs out of 27 and have lost just 8 of them which points to only one fact that Ashwin doesn't make any significant difference to the Indian team in 50-over cricket.
Here is how India has fared with and without R Ashwin:
All the aforementioned reasons justify that India should look beyond R Ashwin in ODIs and when there are bowlers like Chahal, Kuldeep, and Axar in the wings, they could be groomed for the World Cup. Also, the off-spinner has never been a certain starter in the playing XI overseas as in the Champions Trophy he was included in the playing XI in the third league game against South Africa. The young spin attack led by Jadeja will surely bode well for India in future.
For Ravichandran Ashwin though, it is not the end of the road as he can continue honing his skills overseas by playing in County cricket. He has to be appreciated for making use of the free period and his will to do well overseas in Test cricket. Playing only 5-day format will only help him as he will get enough rest between the series and he can come back every time fresh and fitter.
Surely the time has come for the selectors to stop terming the non-selection of Ashwin as 'rest' and discuss his limited overs future with him.
Follow us on Telegram