Siddharth Kaul is blessed with a sharp mind, feels mental conditioning coach
Kaul has been a top domestic performer for the last few seasons and has been rewarded for his persistence.
Updated - Nov 28, 2017 11:10 pm
100 Views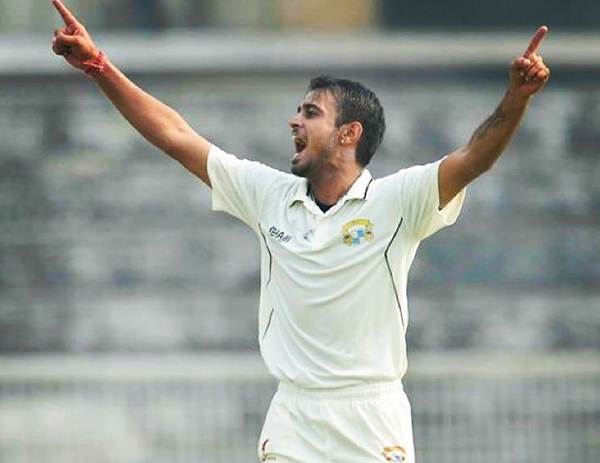 The BCCI announced the 15-man squad for the upcoming ODI home series against Sri Lanka on November 27.  Apart from Virat Kohli's exclusion, there were two major changes with Siddharth Kaul and Shreyas Iyer getting their maiden ODI call-up. While the latter might have been roped in as a replacement to Virat, former's inclusion was the result of a great domestic season and a successful stint for the Sunrisers Hyderabad at the IPL 10 taking 16 scalps in his 10 appearances for the franchise.
Kaul, the young re from Punjab, takes us eight years back in history to recollect the U19 World Cup 2008. This was the time when he made his first huge appearance in the cricket world at the big stage. His last ball wicket that helped India win the championship in the final is the only alive imprint in our heads.
The 27-year old who was thought to be the next big thing in Indian cricket alongside his contemporaries Virat Kohli and Ravindra Jadeja would regret not making it to the national team earlier.
Tough to keep the inspiration coming
It was a tough time for the pacer as he faced many hardships when things didn't go his way. To keep himself in place Siddharth began working with renowned mental conditioning coach Amit Bhattacharjee, who also performs the role of a mental coach to Punjab's Manan Vohra, along with international chess master Sayantan Das, golfers Ajeetesh Sandhu, Ayan Gupta among others.
"Siddharth was technically sound. He never worked with mental trainer," Amit told TOI in a chat on Tuesday.
Amit didn't want to leave any stone unturned in praising the fast bowler. He believes that the pacer is blessed with a very sharp mind and told about what took him to keep young lad in proper mental health.
"Dead man therapy is one aspect and behavioral pattern mind mapping is another exclusive therapy I did with him in addition to bio mechanics. In behavioral mind mapping, we turn anxiety into excitement, free from past, relax naturally and aim to use tension appropriately.
Dead man therapy is a special meditation technique in which you disconnect Psyche (mind) and Soma (body) and it will help you turn fear into knowledge. The outcome is – you think with greater clarity, become more focused and articulate, and have perspective that is forward looking and future minded," Amit revealed. Apart from that, Siddharth has also been making use of Buddhist breathing techniques.
He also mentioned how at this young age it is important to gain control oneself because in pressure situations the level of adrenaline becomes too high and the individual tends to lose restraint and gets prone to commit mistakes.
"During matches, Siddharth does a few exercises which sooths the pressure points. What those exercises or stretches do is making him remain calm during crisis situation," Amit mentioned.
Would relish the opportunity
It has been quite a long wait for the young lad but Nevertheless, it's an opportunity he would relish upon and try to make a mark in the Indian team.
Team India plays its first ODI against the Lankans on December 10 at Dharamsala, it will be for the first time that Rohit Sharma will captain the national side and if combinations and conditions permit, Siddharth may get an ODI debut first up and the youngster would love to embrace the occasion.
Written by Kartik Bansal