'Smile is the best revenge' – Bangladesh U19 skipper Akbar Ali
Akbar also lauded the Indian players and their support staff for being appreciative.
Updated - Feb 14, 2020 1:10 pm
252 Views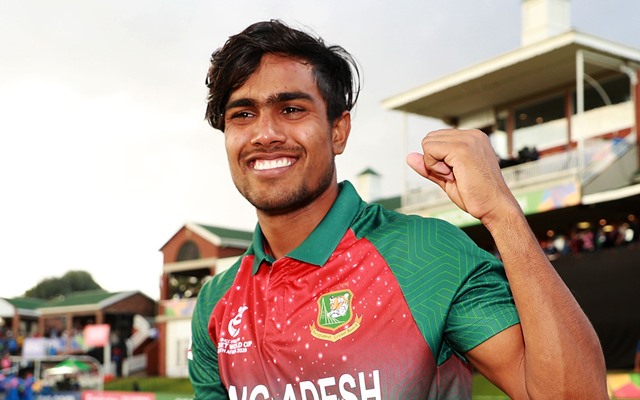 Follow us on Telegram
The U19 World Cup final in Potchefstroom between India and Bangladesh turned out to be a heated affair. But Akbar Ali, the Junior Tigers' skipper, kept his cool and guided his team through to glory under severe pressure. On Finals Day, the youngster churned out 43 unbeaten runs as saw Bangladesh to victory. Loss of wickets in clumps didn't perturb the captain either.
The fact that he played 16 dot balls on the trot in the run-chase was a testament to his sheer patience. Akbar also doesn't prefer to get swayed by sledging from oppositions. Rather, he has learnt to return the favour with a smile, which he believes to be the proper response.
"I read somewhere smiling is the best revenge. The more they sledge us I try to laugh and give them opposite effect," Akbar was quoted as saying to the media before leaving for Rangpur, his hometown, on Thursday.
I try to hide my feeling, says Akbar Ali
The Bangladesh cricketers were pumped up in their maiden final of an ICC event. The exuberance of youth also seemed to have gotten to few of their batters, who threw their wickets away, playing rash strokes. But Akbar is someone, who doesn't let his emotions flow.
"Everybody gets excited but I try to show my excitement in the field as less as possible. My team also can say that but I try to hide my feeling in front of everybody," he stated.
After Rakibul Hasan hit the winning shot, a scuffle broke out between players from both the teams. Later, the ICC had to intervene and five cricketers were punished. Despite the ugly scenes, Akbar lauded the Indian players and their support staff for being appreciative.
"When we returned to the hotel we stayed two day closely with the Indian players at the hotel and we gossiped a lot with them. India players and coach appreciated us," he added.
From a personal front, Akbar was waging a battle of mental trauma after the demise of his sister before the match against Pakistan. His family didn't let him know initially about the news as they thought it would end up diverting Akbar's focus from the game.
Follow us on Google News