'Somebody stop him please' – Fans lash out at Gautam Gambhir for terming MS Dhoni 'lucky captain'
According to Gambhir, Dhoni was 'lucky' as he already had a brilliant team under him, making his job easier.
Updated - Jul 12, 2020 1:21 pm
11.1K Views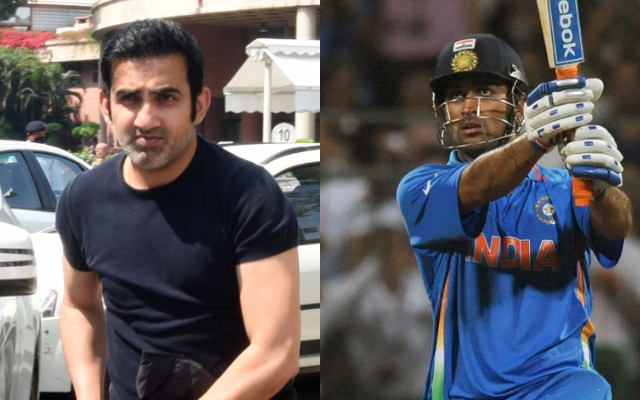 Follow us on Telegram
Former India opener Gautam Gambhir is someone who never shies away from expressing his opinions. Be it about cricket or politics, Gambhir, many a time, has dished out several bold statements over a particular matter.
The left-hander raised a few eyebrows again due to his recent comments on former India skipper MS Dhoni. Not many people would raise a finger to argue that Dhoni is one of the most decorated skippers in the history of Indian cricket.
Along with Sourav Ganguly, the Ranchi stalwart is credited for revolutionizing Indian cricket, especially in terms of winning the silverware. Dhoni the only skipper in the history of the sport to have won three ICC trophies– T20 World Cup (2007), ODI World Cup (2011) and Champions Trophy (2013).
Sourav Ganguly had to work very hard for it: Gautam Gambhir
However, according to Gambhir, Dhoni was 'lucky' as he already had a brilliant team under him, making his job easier. Dhoni had the likes of Sachin Tendulkar, Virender Sehwag, Virat Kohli and many more stalwarts in his armoury, according to Gambhir. Comparing Dhoni's captaincy with Ganguly, Gambhir said that 'Dada' had to work very hard to achieve success.
"Dhoni has been a very lucky captain because he got an amazing team in every format. Captaining 2011 World Cup team was very easy for Dhoni because we had players like Sachin, Sehwag, myself, Yuvraj, Yusuf, Virat, so he had got the best teams, while Ganguly had to work very hard for it, and as a result, Dhoni won so many trophies," Gambhir said on Star Sports' show Cricket Connected.
Furthermore, Gambhir also opined that Zaheer Khan was the reason behind Dhoni's success in Test cricket. Gambhir credited Ganguly for promoting Zaheer through the ranks and making him a world-class bowler.
"The reason Dhoni became such a successful captain in Test cricket is because of Zaheer Khan. He was a big blessing that Dhoni got, for which credit goes to Ganguly. According to me, Zaheer has been India's best world-class bowler," added Gambhir.
The left-hander was a crucial part of 2011 World Cup final against Sri Lanka. Gambhir (97) and Dhoni (91*) were the architects of India's triumph as India clinched the coveted trophy by winning the final by six wickets.
Gambhir's comments riled up many die-hard Dhoni fans, who have eagerly been waiting to see the wicketkeeper-batsman back in action. Despite staying away from the sport for a year now, there has been no decrease in Dhoni's popularity and fan-following. Gambhir's recent comments, filled with animosity, enraged many Dhoni fans as they bashed the former India opener upside down on social media.
Here's how fans reacted:
" MS Dhoni just lucky captain ": Gambhir…

Let check indian team odi record just before MS become captain

— ranjan chakraborty (@ranjanchakrabor) July 11, 2020
Gautam Gambhir before CB series 2008

Match 37
Runs 1043
Avg. 30.67
Sr 75.14

Yes Dhoni was luckey captain…he push at no 3 some 30 avg player…

— ranjan chakraborty (@ranjanchakrabor) July 11, 2020
Gambhir trolling Dhoni about what lead to MS winning trophies.
Well that's quite bold coming from someone whose sole achievement is a Partnership along with dhoni itself.

— High IQ Gooner (@abhikaccording) July 11, 2020
Gautam Gambhir has only got two people in his life he is gonna talk about.

1. MS Dhoni
2. Arvind Kejriwal

— Kshitij (@HoldsToLove) July 11, 2020
He never gets tired talking low abt dhoni 😴 focus & grow up in politics atleast https://t.co/RmBUrWwUZY

— CricFan (@M_a_h_iiii) July 11, 2020
in 2007 india as an underdog team..

2013 youngster's team.with no experience and experts had no faith on this team…

2008 Cb series : dropping senior and won it by risk of his own career.

2011: Better team but he made it and manage it well.#Dhoni #gambhir #Cricket https://t.co/AcIqMuqixm

— Dhwanit trivedi (@Dhwanittrivedi) July 11, 2020
When you have everything in your hand, it's upon you on how to handle it. MS did it brilliantly. And all you have done has badmouthed him all the time since you didnt get that MOM in the final. https://t.co/QjDlgdb341

— Kshitij (@HoldsToLove) July 11, 2020
Okay. Bye. When you haven't played for india over a year and people just talk about you all the time, you know you're special.

GG is absolute doughnut lol. Badmouthing MS all the time. 🤣 https://t.co/QjDlgdb341

— Kshitij (@HoldsToLove) July 11, 2020
This is the most irrelevant comment ever made. Steve Waugh & Ricky Ponting also captained formidable Aussie teams. Do their accomplishments pale in comparison to Mark Taylor's? They were all good players and captains. Unreasonable nonsensical comparisons shouldn't be given space. https://t.co/ByMRN78TnO

— Exam Mode Now… 🤞🤞🤞 (@ExamOverCricket) July 11, 2020
Somebody stop him please!! https://t.co/e4K1bKzlVL

— V!$HAL JA!N (@vishjain61) July 11, 2020
#Dada worked hard as a Captain & as well a player, Always respect him.

But Dhoni got a team & made it amazing in every format.
Respect him also.

— နհɾίနհαίʆ (@ShrishailAppu) July 11, 2020
Gautam Gambhir on every Single Day#Gambhir #Kohli #Dhoni https://t.co/IG0RA5ma4D pic.twitter.com/iK0GdJnsy4

— ramsay 🖤 (@Joeys_Chandler) July 11, 2020
Follow us on Google News