Sourav Ganguly vs MS Dhoni – Who's the better captain?
India has been fortunate to have had two great captains over the last two decades, with personalities as different as fire and ice, but two men who have been great role models.
Updated - Jul 22, 2020 9:28 pm
2.2K Views
'And Dhoni finishes off in style. A magnificent strike into the crowd. India lift the World Cup after 28 years, the party has started in the dressing room and it is an Indian captain who has been absolutely magnificent in the night of the finals.'
These words from Ravi Shastri are perhaps etched in every Indian's mind. Under MS Dhoni, Team India regained glory and was crowned World Champions after a long wait. Dhoni is often regarded as one of the smartest cricketers to have played the game. His tactics and ability to read the game have been second to none.
Making Joginder Sharma bowl the last over in the T20 World Cup final in 2007, Promoting himself in the 2011 World Cup Final or preserving his spinners for the last couple of overs in the Champions Trophy final in 2013, there are innumerable examples of his tactical nous.
Sourav Ganguly, on the other hand, is the man who is credited for bringing Indian cricket out of the slump it had fallen into following match-fixing allegations against Indian players in 2000. He injected young talent and led the Indian team successfully through a transition phase. Ganguly was someone who believed in backing the players he selected. He brought out the best of a number of youngsters who then went on to become successful cricketers. He was a passionate cricketer who wore his heart on his sleeve and completely changed the face of Indian cricket.
Dhoni and Ganguly both are regarded as excellent captains. But there has also been a long-standing debate as to who has been the greatest Indian captain between both of them. There are plenty of supporters on either side. Let's try to answer this question today.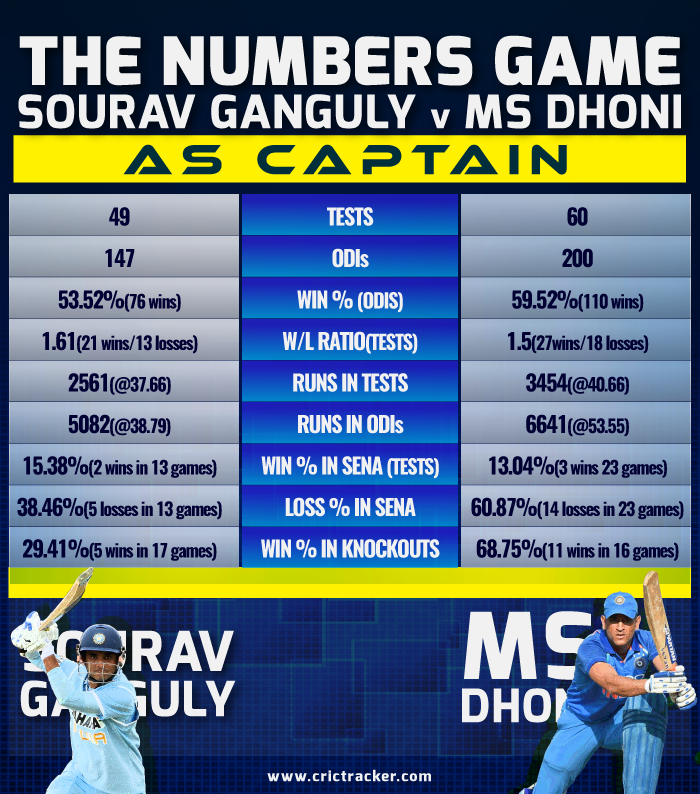 The numbers tell an interesting story. While Dhoni had a very successful tenure as ODI captain and led his team to several knockout wins, Ganguly's team failed to cross the line several times. On the other hand, Ganguly had a significantly better win/loss ratio in Tests, especially in SENA (South Africa, England, New Zealand, Australia) countries which are used as an important metric to judge the performance of teams from the subcontinent.
Let's dive a bit deeper to understand these numbers. Ganguly had a young team in limited-overs cricket. Yuvraj Singh, Virender Sehwag, Harbhajan Singh, Zaheer Khan, Dhoni himself, players who played a pivotal role in bringing the World Cup home in 2011, made their debuts under Ganguly.
While they were talented, their inexperience and inability to handle pressure situations in knockout matches could be an important reason for the number of losses. On the other hand, Dhoni had the same set players under him but who were now well experienced and could handle difficult situations.
In Tests, Dhoni has a very mediocre SENA record. He led through the phase when India was whitewashed 0-4 in a matter of months by England and Australia. His average record in Tests as compared to ODIs can perhaps be attributed to two main reasons.  Dhoni was a spinner's delight. He maneuvered and utilized spinners extremely well and brought the best out of them in home conditions. But he was not as aggressive using fast bowlers, and not having a seasoned pacer in Tests apart from Zaheer Khan post-2011 really made life tough for him overseas. Dhoni was also guilty of letting the game slip away at times and not being proactive enough.
On the other hand, Ganguly was among the first Indian captains whose team put up a contest in SENA countries regularly and even drew a series in England and Australia. He was a lot more aggressive than Dhoni in Test matches but also had in his armory the experience of Javagal Srinath and the explosive talent of the young Zaheer as well as Ashish Nehra and Irfan Pathan.
Cultural Impact
It is impossible to estimate the impact of a captain by looking for answers in only numbers. Hence it is necessary for us to look beyond. Cricket is very different from a sport like football. Unlike in football where the manager calls the shots, in cricket, the captain plays a pivotal role in establishing the identity of the team.
Dhoni and Ganguly were very different types of captains but have left behind a legacy not just in terms of the teams they created but also how they impacted the lives of millions in the country.
Ganguly was aggressive, in your face captain, not many Indian captains could be bracketed under this category before him. Indian captains up till then had been somewhat reserved. Ganguly changed all that. The swinging of the jersey on the Lord's Balcony after winning the NatWest Trophy final in 2002 was an indication of the change in the team's identity as well as that of the youth of the nation. Ganguly was bold and not afraid to give it back. He was respectful but not submissive and these qualities were now a reflection of not just the team but the country. He set the example and made it clear that this was New India.
Dhoni is perhaps the coolest and calmest Indian captain ever. He never let any emotion get the better of him. He was also the man who helped the Indian team become good chasing side, learning to bat under pressure. Dhoni's greatest cultural contribution though was that he inspired others to take risks. A lot of success in his career came because of the certain unconventional and risky decisions he took. Some paid off, some didn't, but the cult of Dhoni was established due to this ability of his.
Conclusion
The number-crunching perhaps suggests Ganguly was a better Test Captain while Dhoni was a better limited-overs captain. However, it is extremely difficult to quantify their impact as captains beyond the wins and losses. India has been fortunate to have had two great captains over the last two decades, with personalities as different as fire and ice, but two men who have been great role models. Who do you think is the greatest Indian captain?