'Sourav Ganguly will not let the Test cricket die' – Shoaib Akhtar opposes four-day Tests
Akhtar said that the four-day Test is a conspiracy against Asian teams and also highlighted that Sourav Ganguly will not let this happen.
Updated - Jan 6, 2020 3:05 pm
2.3K Views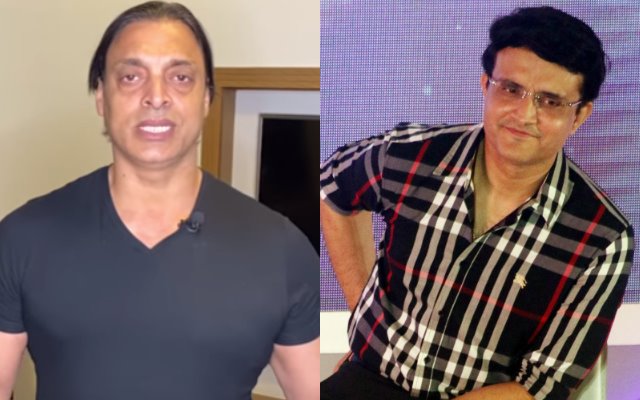 International Cricket Council (ICC) has been coming up with new plans to make the game of cricket ever-so thrilling and exciting. However, their recent proposal of staging four-day Tests in the future received negative feedback from the cricket ecosystem. There were talks about the concrete possibility of four-day Tests and even the ICC cricket committee highlighted that they will consider reducing Test matches to four days from five for the 2023-2031 cycle.
It should be noted that the ICC cricket committee is set to discuss the issue next year as ICC and member boards eye for options in a bid to free up a jam-packed international schedule which will also reduce player workload. If the plan becomes successful, then the ICC administrators would make use of the available time for shorter formats of the game.
England and Wales Cricket Board has backed ICC's proposal for four-day World Test Championship matches from 2023. A four-day Test concept is not a new thing, with the last game played between England and Ireland at the start of 2019. For the unversed, South Africa and Zimbabwe also played this format once in 2017.
Four-day games were given green light by the ICC in 2017 but when it comes to elite level, the format has been restricted to matches between the big powers and less established nations. Recently, BCCI President Sourav Ganguly added that it is too early to make a comment on ICC's proposal to make four-day Tests mandatory as part of the World Test Championship from 2023.
Shoaib Akhtar opposes the idea of playing four-day Tests
Meanwhile, former Pakistan fast bowler Shoaib Akhtar has now opposed the concept of playing a four-day Test because he thinks that it may hamper the future of Test cricket. He said that the four-day Test is a conspiracy against Asian teams and also highlighted that Sourav Ganguly will not let this happen.
"The idea of play four-day Test match is rubbish and no one should be interested in this. Sourav Ganguly will not let this thing happen as he is an intelligent man with a lot of cricketing experience. He will not let the Test cricket die," Shoaib Akhtar added in a video posted on his YouTube channel.
The Rawalpindi Express also said that the world cricket body, International Cricket Council will not be able to implement the four-day Test without India's cricket body, BCCI's approval. "The ICC can not implement a four-day Test without BCCI's permission. I want more people from Pakistan, India, and Sri Lanka to come forward and give a strong statement about this. I want legendary cricketers from my country to voice their opinion," he said.
Many big names like Sachin Tendulkar, Gautam Gambhir, Glenn McGrath, Ricky Ponting, and Virat Kohli have opposed the four-day Test idea. "Sachin Tendulkar and Virat Kohli came up with a very strong statement which I love about them. I wanted to voice my opinion when it comes to saving Test cricket. It is very important for each one of us to raise a voice and make sure that we save the longest format of the game," he added.
Watch the video here