South Africa cricketers to undergo self-isolation for 14 days after returning from India
Board has asked all the players to undergo self-isolation and distance themselves from their closed ones.
Updated - Mar 18, 2020 4:07 pm
2.1K Views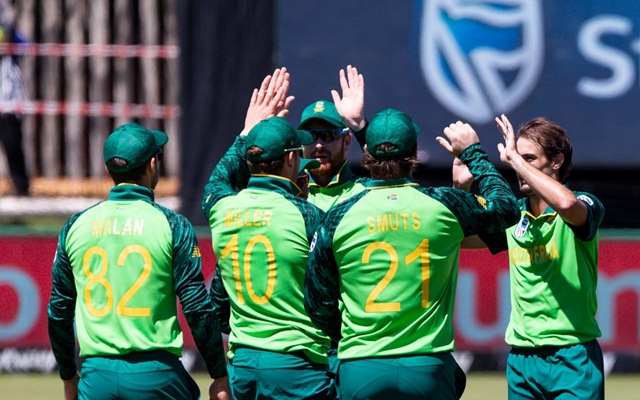 Follow us on Telegram
Coronavirus outbreak has left every individual's life in disguise. It is being spread at a very high rate across the globe with no proper vaccination available as yet. On Tuesday, the South Africa cricket team reached their home from India as the three-match ODI series got postponed due to COVID-19 pandemic. And, there is news that all the players have been kept in self-isolation amid the threats of disease.
South Africa had travelled to India for playing a three-match ODI series. The first game was scheduled to be played at Dharmsala that got washed out due to rain. But before the 2nd game could be played, BCCI postponed the series until further notice looking forward to the alarming situation in the country.
South Africa medical officer gives an update 
Now, when the team returned from India, the board has asked to undergo self-isolation for 14-days. Dr Shuaib Manjra, the medical officer of South Africa Cricket team has said that the board had organized risk management ahead of the tour. After that, the chances of players getting infected with COVID-19 are quite less. They are well aware of the fact that the world environment changed quickly while the players were on their tour. So, they have asked all the players to undergo self-isolation and distance themselves from their closed ones.
"CSA had engaged in a risk assessment before the tour. We deemed the risk to be very low. While on tour the world became a different place and we had to take cognizance of the fact that there was a change in the global environment. We've educated the players about the disease. We've recommended that all players self-isolate and social-distance themselves for a minimum of 14 days to protect people around them and their communities," Dr Shuaib Manjra told ESPN Cricinfo.
Meanwhile, it is not just the ODI series between India and South Africa got affected due to the threatening disease, but, events like Indian Premier League 2020 also got postponed to mid-April due to the same. All the international tours across the globe have been postponed or either got canceled amid the COVID-19 pandemic.
Follow us on Google News