South Africa to host England, Sri Lanka, Australia and Pakistan in 2020-21 home season
Sri Lanka will tour South Africa to play traditional Boxing Day and New Year Tests.
Updated - Oct 28, 2020 1:15 pm
3.2K Views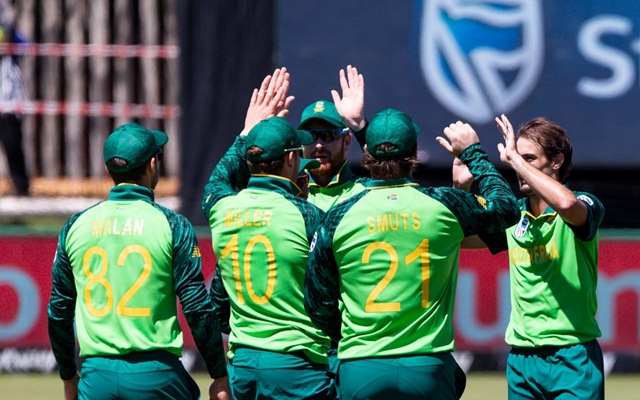 The season for all the bumper series has just kicked off, and everything is in line after the completion of IPL 2020. Cricket South Africa (CSA) has announced a big 2020-21 international home season. The Proteas team would be hosting England, Sri Lanka, Australia, and Pakistan in the same order. All the fixtures related to this series would either be a part of the ICC Cricket World Cup Super League (CWCSL) or the ICC World Test Championship (WTC) as per CSA.
As per the latest announcement, the home season would flag off by a three-match T20I series and as many ODIs against England. The two series would be held in Cape Town and Paarl. After the successful conclusion of the series with the English team, the host nation will host Sri Lanka for a two-match Test series in Centurion and Johannesburg in 'the traditional Boxing Day and New Year's Test match windows.'
Post this, Australia would land in South Africa in February 2021 for a three-match Test series. It would be followed by a three-match ODI and T20I series in April. CSA is still to announce full-fledged fixtures for all these home series.
All the matches in South Africa to be held behind closed doors
CSA's acting CEO Kugandrie Govender was delighted to announce the home season. He also praised the people working behind the scenes to make it possible and also cleared that all the matches will be played behind the closed doors. "We are delighted to announce the schedule of men's international cricket for the home season. It is an absolute pleasure to deliver more good news for our cricket-loving fans to consume, following last week's confirmed tour against England and domestic season launch.
"The COVID-19 pandemic predictably forced many changes to the ICC Future Tours Programme (FTP) and the traditional sequencing of scheduling matches in South Africa this season. This is why I am particularly proud of today's announcement.
"It comes as a result of many hours of dedication, negotiation, and hard work by individuals behind the scenes to ensure that our fans have an exciting line-up of cricket to look forward to throughout the summer, and, although the matches will be played behind closed doors, we will have enough entertainment to make them feel as though they are a part of match-day activities." he was quoted as saying by India Today.