South Africa vs India 2021-22, 3rd Test – Who Said What
South Africa won the Cape Town Test by seven wickets to clinch the series 2-1.
Updated - Jan 14, 2022 6:38 pm
571 Views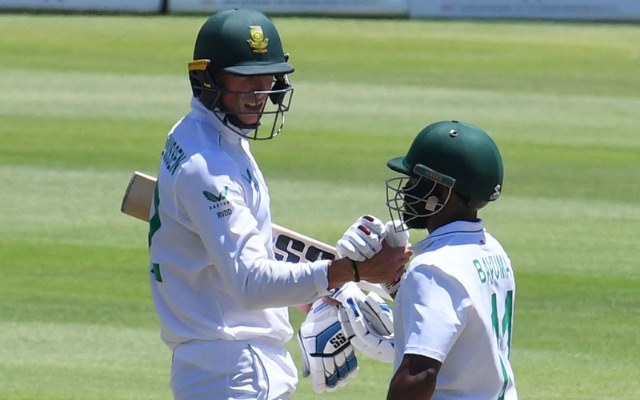 Follow us on Telegram
India's dream to clinch their maiden Test series victory in South Africa remained unfulfilled as they squandered the advantage of what once looked like a tone-setting victory in the hosts' fortress Centurion. A resilient home side, however, did the near-unthinkable, defeating India in consecutive Tests in Johannesburg and Cape Town to defy all predictions and forge a bounceback for the ages to ensure that Virat Kohli's brigade could not add to their admirable recent overseas record another victory.
The visitors had their backs against the wall going into the fourth day in Cape Town, and South Africa did not let the opposition bowlers do anything to change that narrative even as many had their hopes pinned on India to manage and inflict a collapse.
India managed to create a couple of chances, but ended up being denied once by DRS and then when Cheteshwar Pujara could not hold onto a chest-high catch in the slip cordon off the bowling of Jasprit Bumrah to send back Keegan Petersen on 59. Petersen had started positively in the morning and notched up his third half-century in the series – second in the Test – before chopping on Shardul Thakur for 82, by when a victory was all but sealed for his team.
The contentious DRS call had come against Rassie van der Dussen, who failed to connect a drive in the 37th over against Mohammed Shami. The noise as the ball went past the edge of the bat led Indian to appeal vociferously, although umpire stood unmoved before Kohli decided to take the call upstairs. Replays showed the bat to be hitting the ground at the same time the ball went past the edge, leading the third umpire to upheld the on-field decision.
Indian bowlers managed inducing plenty of false responses but wickets eluded them with South Africa knocking off runs without much fuss. Going into Lunch, they had seven wickets, all of which remained intact eventually with Temba Bavuma and van der Dussen staying unbeaten to clinch the series 2-1.
Losing skipper Virat Kohli:
It's a great spectacle of Tests for everyone to watch; hard-fought series. Great first game but SA did amazingly well. In both Tests they won, they were clinical with the ball in crunch moments. Lapse of concentration cost us key moments and they seized those moments; absolutely deserving winners in the end. As I said, one of the challenges we've faced touring abroad is make sure capitalising on momentum, when we've done that we've won Tests away from home. When we haven't, they've cost us quite bad. Have had a few collapses that have cost us important moments and Test matches. It's batting; can't pin-point any other aspect. People talk about pace and bounce, considering their heights, they were able to get much more off the wickets in all three Tests. They applied pressure long enough for us to make mistakes. It's the understanding of conditions for them which they know very well. The batting has to be looked into, no running away from that. Having collapses every now and then not a good thing. Obviously very disappointed, we know how far we've come as a team. That people expect us to beat SA in SA is testimony to how far we've come. We haven't done it, that's the reality, accept it and come back as better cricketers. Got to credit the opposition where due. I think the way KL batted as an opener was heartening, Mayank got stuck in on a couple of occasions, bowling was outstanding, few crucial knocks from the guys in the middle period, Rishabh's knock in this Test was special, Centurion win was special too. Take the positives and move ahead, come back as better cricketers.
Winning skipper Dean Elgar:
Pretty elated, I think it will sink in in a day or two, maybe this evening. Couldn't be prouder of the group. The guys responded brilliantly. After the first loss, had a lot of hope knowing we can still win this. Asked the players to respond in a better nature, better way and they responded brilliantly. Extremely happy. Challenging your players within the group, need character to stand up. The way our bowling unit delivered throughout the series is brilliant. I threw down the challenge after the first game and the guys responded brilliantly. Got a young, talented group. Every day in this environment, we're gaining this experience. Unreal to see how a group that doesn't have the repertoire or names can gel together as one. Extremely proud of this group. If you want to operate at a high performance level, have to have tough chats. If guys don't like it, it's up to them to deal with. I've got old-school mentality with new-school twist. Laid down challenges to senior players as well, great to see them take it on board and deliver. Would like to think I gave us the best message for us to go out and perform. Us as a close group, we've been hurting a little bit and it's something for us to feed off. We played as a unit, if you can do that, if you have guys moving away, it's challenge to pull them in. I think as a unit, we've grown massively over the last two Tests. I'm already thinking of the next series. Lot of positives, but in order to grow, need to curb the challenges we have
Player of the Match Keegan Petersen:
I don't know how I feel, it hasn't sunk in yet. Happy, emotional but just grateful to have had the opportunity. I took every little positive I can from every innings and build on that. It's been a tough journey, not easy. Have had to stick to my guns and fight it out. It's been a long journey, can't really tell the whole story right now. It's not been easy even coming into Tests; challenging wickets, changing conditions, have had to deal with what has been in front of me. We've always had to tough it out against a high-quality bowling attack, high-quality team. Just spending time at the wicket is crucial. Evident longer you bat, easier it gets. I enjoyed every moment of it..
Follow us on Google News