'Spirit of the game also says whatever happens on ground, stays there' – Sehwag holds Dinesh Karthik accountable for Ashwin-Morgan spat
Virender Sehwag expressed that Dinesh Karthik shouldn't have revealed what happened on the field between Ashwin and Eoin Morgan.
Updated - Sep 30, 2021 10:55 pm
25.6K Views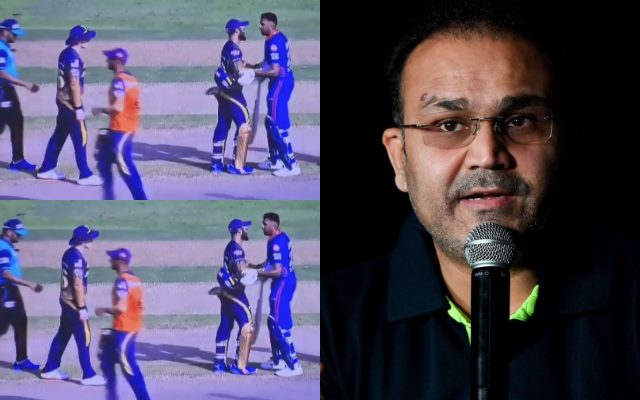 Follow us on Google News
The row between Ravichandran Ashwin and Eoin Morgan has got a lot of opinions from everywhere in world cricket. The debate has reached a heated point. But, two days after the incident happened, Ashwin broke his silence clarifying his stance on the matter. Former Indian cricketer weighed in with his opinions.  
Ashwin through his tweet said that he had not seen the ball hitting Rishabh Pant, but even if he did, he would've gone for a run, because that is well within the rules of the game. Sehwag made some observations and also added a bit. Firstly, he said that Morgan should have asked Ashwin once whether he had seen the ball or not. 
Then, Sehwag spoke about the run-out incident of Ashwin that had happened in the 2012 Tri-series in Australia. Sehwag was the stand-in skipper for the match against Sri Lanka when Ashwin attempted to run-out non-striker Lahiru Thirimanne. The former opener said he wanted to keep his appeal but it was Sachin Tendulkar who convinced him to take the appeal off. 
What R Ashwin did was right, he did not break any rule: Virender Sehwag
The former cricketer further noted that the Indian off-spinner might not have taken a run had he seen Rishabh Pant. Though, Ashwin in his tweet made it clear he would still go for a run, Sehwag believes that in a moment like that, many cricketers, included himself, won't take the extra run. Ashwin was upset with Morgan calling him a disgrace. 
"I think what he [R Ashwin] did was right. He was well within his rights and under the law of the game. He hasn't changed any law or broken it. If he doesn't come in the middle, he can run. I have even done that", Sehwag said on Cricbuzz Live. He further held Dinesh Karthik responsible for what happened. According to him, he shouldn't have revealed what happened on the field. 
After the incident, Karthik went on to say that Morgan wasn't too pleased with the fact that Ashwin wanted to take a run after the ball had ricocheted off Pant. "I consider Dinesh Karthik the biggest culprit in all this. If he had not talked about what Morgan said, there would have been no such uproar. If he had said, "It was nothing much, just an argument, it happens in the game, move on," then it would have come out in that sense only. What was the need for an explanation that someone thinks this or that?", Sehwag said.
"What happens inside should remain inside. If more things from the inside start coming out, I can guarantee every match will have something like this that will cause an uproar. The spirit of the game also says that players should leave what happens inside the ground as is and move on," he added.
Follow us on Telegram