Sri Lanka flag removed from Lankan balcony upon MCC request
Updated - Jun 13, 2016 5:53 am
46 Views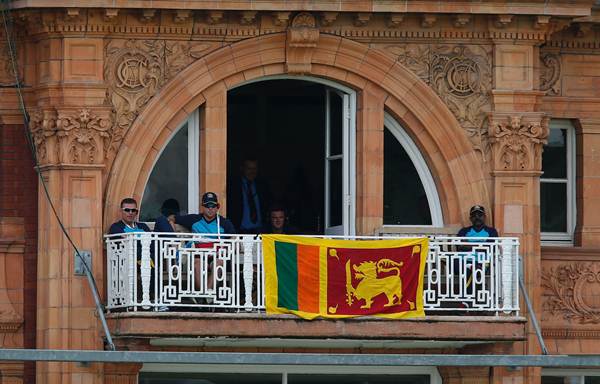 The Marylebone Cricket Club popularly known as the MCC has requested the Sri Lanka team management on the ongoing England tour to take down the flag hoisted on the balcony of their dressing room. The flag was tied to the balcony in support of the Lankan side that had been presumably hard done by the Decision Review System.
Nuwan Pradeep bowled Alex Hales in the 46th over of England's innings but was denied the wicket when to umpire Rod Tucker immediately deemed the bowler to have overstepped. Replays showed a fraction of Pradeep's boot had in fact been behind the line. In spite of an apology from Sri Lanka coach Graham Ford has stated that the ICC should review the DRS system and take an appropriate call to the next action to be taken.
"I guess the ICC are going to have to look at it," Ford said. "It just seems strange that with the technology that is available you can get a line call wrong. The line doesn't move, and surely we can get to a point where that problem can be taken out of cricket. You'd think the best solution would be for the umpires to worry about what's going on down the other end and for technology to look after the line call."
Ford also conceded that umpiring was a tough job to do. "Umpiring is a ridiculously hard job anyway," Ford said. "Take one bit of pressure and one little problem away from them. The eye specialists all tell you that it's very difficult to be focusing on something a metre away and then focus on something 22 yards away within a split second. Maybe take that problem away from them and let them get on with the decision-making."
Thilanga Sumathipala , the president of the SLC has stated that the board planned on launching a complaint to the ICC directly. "The management on tour is very sad about that decision and it will be reported to the ICC," he said.
"The flag is a symbol," Sumathipala said. "It is a mark to say we are not happy with the decision. To show solidarity and fight back."