Sri Lanka v India, 3rd Test – Who Said What
From Virat Kohli to Dinesh Chandimal, here is what players said after India's 3-0 win.
Updated - Aug 14, 2017 4:17 pm
338 Views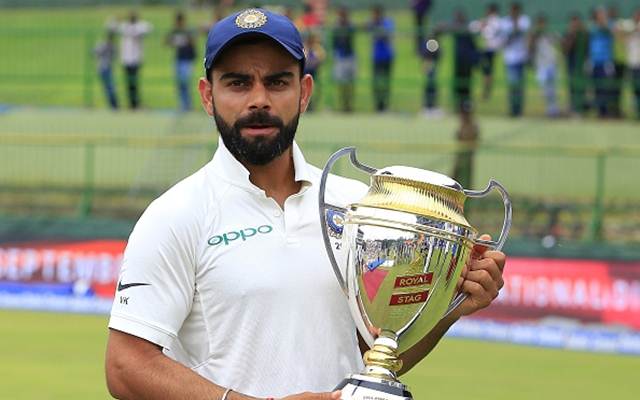 Follow us on Google News
The writing was already on the wall and the outcome is same that the Indian cricket fans had expected before the series. Virat Kohli and his classy players have simply outplayed, thrashed and humiliated the Sri Lankans in their own backyard. They have won all three Test matches of the series quite comprehensively, thereby making a clean sweep in the series.
The dismantled Lankan team could hardly offer any resilience. Some rare personal brilliance came from the Lankans, once from Kusal Mendis, other time from Malinda Pushpakumara, but they failed big time as a complete unit. On Monday, India registered the white wash by winning the third Test by an innings and 171 runs. Opener Shikhar Dhawan had a great time in the island, thereby cementing his role in the Indian Test team.
New head coach Ravi Shastri began his second innings on a positive note as Kohli once again showed how ruthless his boys can be. KL Rahul and Cheteshwar Pujara also had a good outing, chipping in with brilliant knocks from time to time. The debutant Hardik Pandya's name must be mentioned, as he had a superb first Test series, scoring a century in his third Test and becoming the Indian to score maximum runs in an over in test cricket, after hitting Pushpakumara for 26 in an over.
Cheteshwar Pujara said: 
"We have been scoring good runs together (with Rahane). We've played enough cricket together. We've played for Indian Oil and even there we've had big partnerships. When it comes to preparation, he always believes in it. Once we tick-marked all the boxes in preparation, then we trust in our abilities. The best part about this batting unit is that we trust in our processes. We've got a couple of overseas tours coming up. We'll be playing Sri Lanka in India, but after that we are going to South Africa and in 2018 we'll go to England. We definitely would like to succeed and win series overseas too. I'd like to play some more county matches. Those county games did help me. As a batsman you improve on those challenging pitches."
He might continue his English county stint with Nottinghamshire, which helped a lot to get back to his usual flair.
Ajinkya Rahane said:
"I played the wrong shot I had to admit, I used my feet well in the last game and I think I played a bad shot in this game. The best part about him (Sanjay Bangar) is he keeps things really simple he always backs us and asks us to go and express ourselves on the field. The guys who aren't doing well, he takes them out for dinner and makes them feel better. Couple of days off and then I'll think about my one day plan. We have got a very good bunch. For me it is about keeping it simple and doing my best for the team."
He was in awe of one of the architects of the massive victory, Sanjay Bangar.
Sanjay Bangar said: 
"Its an honor to be working among the talent that we possess. The work ethic and the kind of effort they put in…you can't ask for more. Fine-tuning the techniques, maintaining the confidence and letting them have a free mind-set really worked for us. You need to plant a seed if you feel something might work for a player.

Whether he is wiling to take it on board, there are players who will accept it and there are players who takes a bit of time to adjust, ultimately it's their choice to take it on board and adopt it in their game, The ability and hunger is really, really great. It all depends on who is flexible and who is not. There are a lot of areas we are really working on; like using the crease and taking a particular guard. All those things happen during the game. If there is a technical point or strategic point for a particular player to overcome a challenge, I think that helps"
Shastri's deputy was pointing out the areas on which his team has been practising, which has led them to such a big victory.
Kuldeep Yadav said:
"Nice feeling, there were expectations form family and friends, happy that the match went through nicely. I think Kookaburra ball is more helpful for my style of bowling, the ball tends to spin a lot more when compared to the SG ball. Looking forward to the ODI series, every game is important for me. There will be no excuses, a couple of practice sessions with the white ball will be helpful. Virat Kohli was very supportive, we both planned together and went through with the best possible ideas."
The young chinaman spinner heaped praises on his skipper for having the faith in him.
Man of the match Hardik Pandya said:
"I am glad that I got my first hundred here, I didn't have a first-class hundred before coming here. The situation was pretty good for me when I went in and I knew that I could back my instincts. I have bowling as well and Test cricket is not an easy place to come and take a fifer. I have to keep working harder. I am pretty alright to bat wherever the teams wants me to. This team is pretty amazing. Everyone backs me to do well."
Hardik was simply ecstatic with his dream debut series.
Man of the series Shikhar Dhawan said:
"Before this series I was in Hong Kong enjoying the holiday (smiles). Unfortunately one of our openers was unfit and I got a chance to come over here and by the grace of god things went very well for me and got the Man of the Series award. I am enjoying my batting right now. I enjoy playing this was, this is my natural game (playing positive cricket). I have to keep performing well because we have tough competition for all the slots, so that is a great sign for Indian cricket. It keeps me on my toes."
Dhawan shared a light-hearted moment by pointing out how the unexpected series panned out for him.
Sri Lankan skipper Dinesh Chandimal said:
"You can't control the toss, but this was a tough series. Credit to India for playing outstanding cricket throughout the series. Our batting and bowling was below par. We need to stand up as a team. They scored 600 in each innings, so that is why we decided to play five bowlers. We have to be patient and concentrate harder (when batting or bowling). If we can do that, I am sure we will do as a team and comeback stronger for the Pakistan series."
His team will now face UAE in october.
Indian skipper Virat Kohli said:
"Good win for us. Very happy with the overall performance. Always feels nice to have convincing wins, pretty good day for us. The regulars have performed, but the biggest positive would be Hardik's inclusion and the way he shaped up in these three Test matches. The kind of confidence he showed the with the ball and the maturity with the bat, it really gives us a lot of boost and the balance. The usual suspects are always there and thereabouts.

We are a young side, we look forward to play Test cricket, we look forward to play every single Test match with the same kind of excitement and that is the only way you can be ruthless. We like to be prepared before hand and be proactive rather than being reactive.

We have age on our side and we have an opportunity to play together for five, six years for the country. All of them are super talented players (talking about the Sri Lankan team), that is why they are playing for the country. They beat Australia 3-0. Sometimes the side has momentum, sometimes they don't. It's all about keeping the belief going and not losing motivation because of a few results. That is what we believe in as a team as well."
The happy leader acknowledged the efforts of all his players and said that as a side, they are never bogged down because of a few results which did not go their way.
Follow us on Telegram