Sri Lanka vs South Africa: Sri Lankan fans troll AB de Villiers for his comments about the tour
The South African team is struggling in the ongoing Test against Sri Lanka and the fans had a message for AB de Villiers.
Former South African captain AB de Villiers who retired from all forms of international cricket in May this year still had a placard dedicated to him in the ongoing Sri Lanka vs South Africa Test. The Proteas are in the island nation to play two Test matches, five ODIs and one-off T20I. Though AB isn't a part of the team having retired already a couple of fans had a plug back placard for him as a reply to his old comments.
The South African team is struggling in the first Test match. Sri Lanka rolled out a rank turner at Galle as the ball started to turn from the very first day. On the back of Dimuth Karunaratne's hundred, the hosts posted 287 runs in the first innings. When the South Africans walked out to bat on day 2, life was really tough as Rangana Herath and Dilruwan Perera posed questions none of their batsmen apart from skipper Faf du Plessis (scored 49) had answers to.
As a result, they were bowled out for just 126 in their first innings and trail by 166 runs which could prove a decisive lead for the Lankans. A couple of Sri Lanka fans turned up to the stadium with a smile and rather trolling look on their face. They held a placard which read "Off-season Plz come AB…"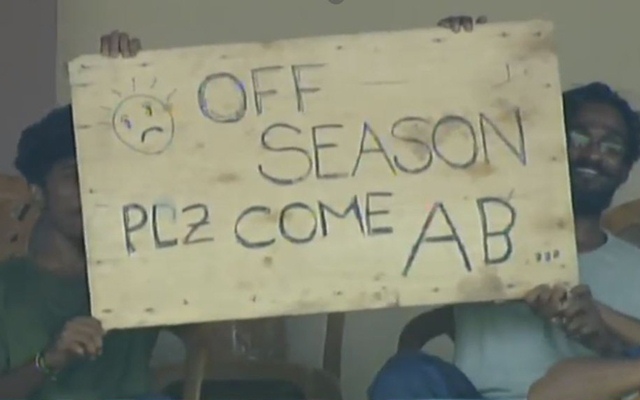 For reference, AB de Villiers had appeared on an AIB podcast during the IPL, there the hosts Tanmay Bhatt and Gursimran Khamba asked Virat Kohli the Royal Challengers Bangalore skipper why does Team India still play Sri Lanka. All of them had quite a laugh on it and AB said, "That's become the off-season."
Virat replied, "Ya we count it like off-season because there's no time difference either, its like half an hour."
AB further added, "And you never lose to them. So it's off-season."
Now that South African Test team is facing a really tough situation in the very first Test the fans had their moment and trolled AB back for the comments.
Here is the video:
Here is how Twitterati reacted to the incident:
@ABdeVilliers17 Hey AB, ur team having an off-season in SL? @imVkohli

— iNDY (@MrIndyka) July 13, 2018
Is this off season @ABdeVilliers17 well you think about it #offseason #SLvSA

— inshaf ali (@inshaf_official) July 13, 2018
@ABdeVilliers17 #SLvSA 1stTest #Galle pic.twitter.com/FgJjkYb2sk

— Madushan Thilakartne (@madsh99) July 13, 2018
Karma is a boomerang!!😆😆

— Milfer Ali Mowlana (@milfer_ali) July 13, 2018
Off season ABD… it's OfF sEaSoN…

— Gihan Ernest (@ErnestGihan) July 13, 2018
Missing @ABdeVilliers17
I think he will understand what actually off season means..
😂😂

— Afnan56 (@Afnan56official) July 13, 2018
Why can't you come back and play @ABdeVilliers17
🙄 https://t.co/CZIrH5KsEk

— ARAVIND (@ARAVIND_KALLIS) July 13, 2018
PHOTO: @ABdeVilliers17 called out by Sri Lanka fans. #SLvSA pic.twitter.com/pxB8pc0Da6

— SA Cricket magazine (@SACricketmag) July 13, 2018
We remember that you have told that playing with srilanka off season.During IPL one of TV show i belive now you got the answer the off season how doeas look like!!! Never under estimate any one

— Masoomi (@masoomi777) July 13, 2018
A message to @ABdeVilliers17 from the cricket fans at Galle.. #SLvSA #Cricket #Offseason pic.twitter.com/03c4fU1M3z

— Nibraz Ramzan (@nibraz88cricket) July 13, 2018
@ABdeVilliers17 seems like South Africa is playing off season cricket in Sri Lanka 😜😀😂

— Imran Habib (@imbadham) July 13, 2018
— Kanchana Lahiru (@Kanchanalahiz) July 13, 2018
Acording to AB de Villears South Africa is playing an off season test match at Galle now… 😂😂😂

— hglbuddhika (@hglbuddhika) July 13, 2018
Karma is a bitch @ABdeVilliers17 , An Off Season Practice session is going on ATM

— SAUMYA ATTANAYAKE (@Saumya_Att) July 13, 2018
Off seasons starts 48-5, off seasons baby 😂😂

— Bharatha Rathnayake (@17bha) July 13, 2018
Getting hammered by the off-season boys eh?@ChandikaHathuru

Would have loved to see your face bud. Good thing you retired early

— Randheer Liyanage (@Randheer_97) July 13, 2018
The off season seems to be going well for @OfficialCSA! @ABdeVilliers17? #SLvSA

— Chandika Hathurusinghe (@ChandikaHathuru) July 13, 2018
2nd Day lunch…
Off season bro… 😂😂😂

— Buddhika Madushan (@hgbmadushan) July 13, 2018
@ABdeVilliers17 Playing against Sri Lanka is like going for Vacation!…

— hashan chandrasekara (@HashanChan) July 13, 2018