Some star players to feature in Singapore Cricket Club's tournament next month
India's Madras Cricket Club is one. They are also the defending champions and winners of the tournament in 2014 as well.
Updated - Aug 2, 2017 1:52 pm
1.4K Views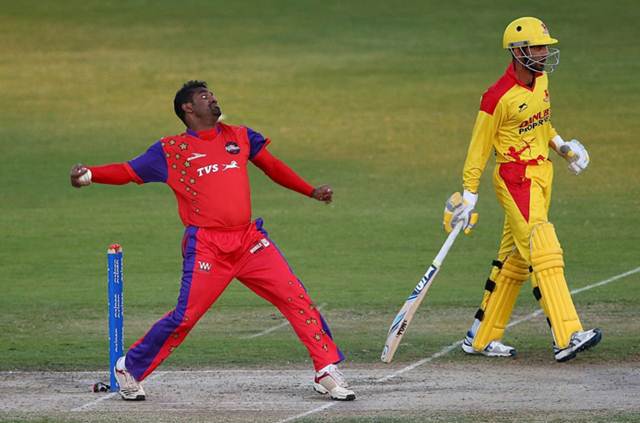 The Singapore Cricket Club will be hosting three T20 matches on August 11, 12 and 13. Along with Sri Lankan spin wizard Muttiah Muralitharan, other players from Sri Lanka, South Africa, Australia and India among other countries will also play the short tournament next month. Although this is a club tournament played once every two years, this time around they have invited some big names from the world of cricket, which can expand the recognition of the Singapore Cricket Club.
India's Madras Cricket Club is one. They are also the defending champions and winners of the tournament in 2014 as well. Players from the club include Shadab Jakati, Balachandra Akhil, among others. Sri Lanka's Sinhalese Sports Club is another invitee, and the players include Muttiah Muralitharan, Ferveez Maharoof, Dasun Sanaka, Sachithra Senanayake and others. Australia's SCG and MCC will also play the tournament, along with Hong Kong's Kowloon Cricket Club too.
The participation of the world's highest wicket taker Muralitharan was confirmed by his wife. "He will be going to play some matches in Singapore and will return to Sri Lanka only in the last week of August," Xtratime quoted Madhi as confirming. The website also quoted SCC's chairman saying that the ICC has approved the tournament. "We have received an official stamp of approval from ICC for the first time. Singapore Cricket Association has also approved the T20 tournament," Pushpendra Nath Sharma, the club's chairman, said.
Not a fund raising tournament 
The chairman also cleared that the event is not a fund raiser nut in fact they raised funds from other sponsors for the tournament to take place. They want the name of the club to grow.
"It is not a fund raising event for any charity. We have raised funds from various sponsors in order to make the tournament happen, despite economic slow down. This is primarily a reciprocal club tournament, however this year we have invited a few teams and international players in order to raise the calibre of SCC's T20 and to promote Singapore as a hub for international cricket. This is also the first time that SCC has signed international marquees to play for the club, such as Muttiah Muralitharan, Ed Cowan etc," Sharma further stated.