Statistical comparison of Ravi Ashwin with Anil Kumble and Harbhajan Singh after 76 Tests
In this article, we are going to compare the numbers of Ashwin, Kumble and Harbhajan at the end of 76 Tests.
Updated - Mar 15, 2021 5:07 pm
84.9K Views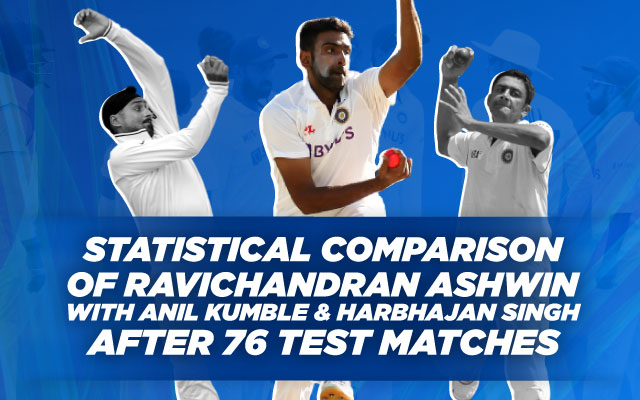 Indian off-spinner Ravichandran Ashwin was the hero of the recently completed second Test between India and England. In his home ground, Ashwin hit a glorious century and picked up 8 wickets to seal the deal for the hosts. India needed one of its most experienced players to deliver after losing the first Test, and Ashwin did not disappoint at all. India dominated the visitors completely in the match claiming victory by 317 runs. 
Ashwin was adjudged player of the match for his all-round performance. This was the 76th Test match of his career and is now only 6 wickets away from reaching the milestone of 400 Test wickets. He also surpassed Harbhajan Singh in this match in terms of picking up most wickets in India and is only behind former leg spinner Anil Kumble. In this article, we are going to compare the numbers of Ashwin, Kumble and Harbhajan at the end of 76 Tests.
Record till 76 Tests
Among the three spinners, Ashwin has taken the most wickets at the end of 76 Tests. He has claimed 394 wickets in the longest format, while Kumble had 349 wickets and Harbhajan took 323 wickets. Ashwin also has a much better average and a great strike-rate as well in contrast to the other two. Ashwin has taken 29 five-wicket hauls in the longest format and is at fifth spot in the world among spinners.
Home record till 76 Tests
Indian pitch conditions traditionally favour spinners, and all the three spinners have made most of the opportunity they got at home. Ashwin and Kumble have almost similar averages at home, while Harbhajan lags behind. Ashwin has comparatively played more matches at home in his first 76 Tests and picked up more wickets (271) as well. He has recorded a much better strike-rate at home and has picked fourth most 5-wicket hauls (23) at home in World.
Away record till 76 Tests
Ashwin has been superior in away records as well and has taken 123 wickets in 31 Tests at an average of 31.78. Harbhajan and Kumble have similar averages though the former has a better strike rate. Countries like Pakistan, Bangladesh, Sri Lanka, and West Indies suit spinners well among others. Ashwin has a wonderful average of 22.32 in Asia, while for Kumble and Harbhajan, it is 27 and 32.01 respectively.
Record in fourth innings
The performances in the fourth innings are always match defining and determine the fate of the Tests. Both Ashwin and Kumble have a magnificent record in the fourth innings for India till their 76 Tests, with the former picking up six 5-wicket hauls. However, Harbhajan falls behind in this regard.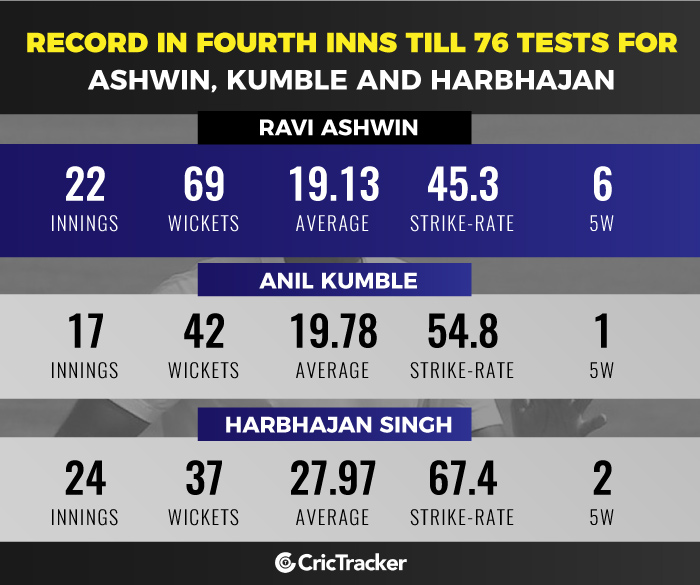 Overall Record in SENA countries
Most of the spinners have always found it difficult to perform in South Africa, England, New Zealand, and Australia. Similar is the case with these three Indian spinners with all having very ordinary strike-rate. Ashwin has failed to pick up a 5-wicket haul in SENA countries in his 76-match career till now.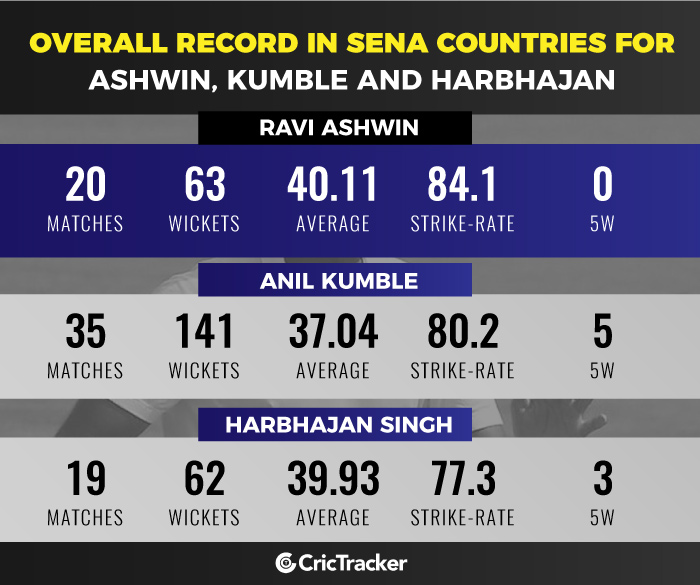 Hunting in Pair
Harbhajan and Kumble played a majority of their matches together forming a lethal spin attack for India. They took 501 wickets in total playing together 54 matches, most by any spin bowling pair.
On the other hand, Ashwin has an able partner in the form of Ravindra Jadeja. Both of them have played 39 Tests together claiming 393 wickets in aggregate. Their wicket/match average of 10.08 is the most by a bowling pair in the world with a minimum of 300 wickets.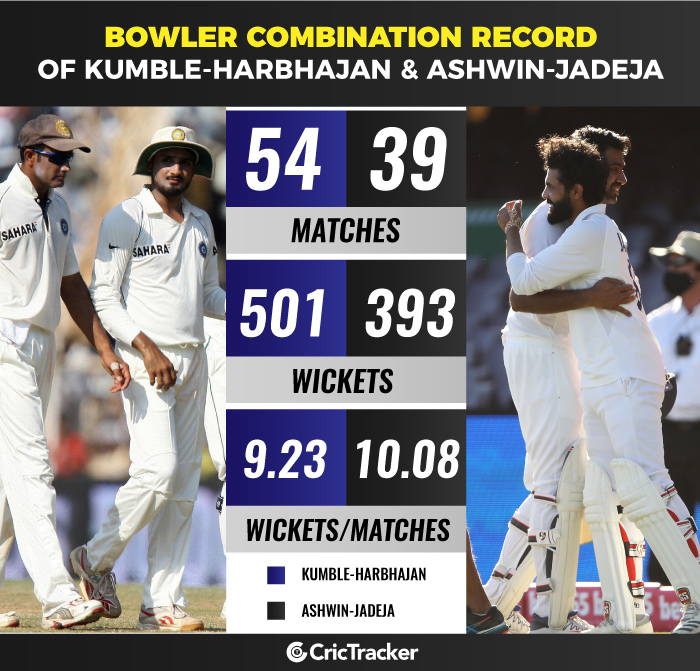 Follow us on Telegram