Stats: 16 year-old Aquib Khan takes a 5-wicket haul for Uttar Pradesh in Ranji Trophy
Aquib Khan took 5/42 against Himachal Pradesh in the 9th round of Ranji Trophy.
Updated - Feb 16, 2020 5:47 pm
120 Views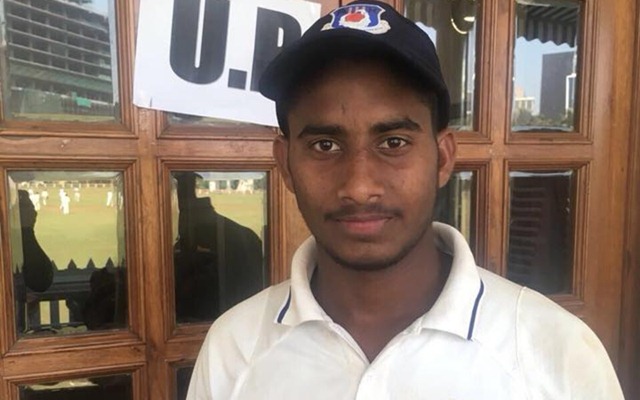 Uttar Pradesh's campaign in Ranji Trophy 2019-20 came to an end with a big defeat against Himachal Pradesh at their home ground in Lucknow. They lost the match by a huge 386-run margin which is their biggest defeat in first-class cricket in terms of runs. However, despite the record defeat, Uttar Pradesh can take a positive from this match. Aquib Khan, who took a 5-wicket haul in the first innings, could turn out to be decent support in the coming years for the line-up comprising of Ankit Rajpoot, Yash Dayal and Saurabh Kumar.
Himachal started off well scoring 66/1 in 19 overs after asked to bat first on a spicy track. The medium-pacer Aquib turned things around dismissing three of Himachal's top four batsmen which included the wickets of the set batsmen Raghav Dhawan and Akash Vashist. He returned to take the last two wickets of Himachal's innings to complete his maiden 5-wicket haul in only his 2nd first-class match. He made his debut against Baroda last month and failed to pick up a wicket.
Aquib Khan was only 16 years and 49 days old at the start of the match, making him the youngest player to claim a 5-wicket haul in first-class cricket for Uttar Pradesh. The previous youngest player was Praveen Gupta who picked a fifer at the age of 16 years and 334 days during the 2003/04 season. Praveen took 5/143 in the first innings of the match against Delhi which was only his 3rd FC game. Aquib, in fact, is the 6th youngest player with a Ranji Trophy 5-fer and the 7th youngest Indian with a 5-wicket haul in FC cricket.
The youngest is Suthar Bhagwandas who was 15 years and 188 days old in the game for Madhya Pradesh where he took 5/32 against Vidarbha. Radhakrishnan, who is considered to be the 2nd youngest, doesn't have a verified date of birth. His birth year is recorded as 1945 but there is no report of his birth date and hence, January 1st is considered as the birth date for records. Had Radhakrishnan born before the 2nd week of July in 1945, he could have been the youngest Indian to take a 5-wicket haul in this format.
Aquib Khan currently is the 2nd youngest Indian pacer to claim a 5-wicket haul in first-class cricket. Bihar's Biren Ghosh took his maiden 5-fer against Orissa during the 1961/62 season bowling left-arm pace. Aquib was seen bowling medium-pace with an average speed around 115 kmph in the match against Himachal where he troubled the visiting batsmen by maintaining the line outside the off-stump. Biren and Aquib are the only pacers in the top ten list of youngest Indians with a first-class 5-wicket haul.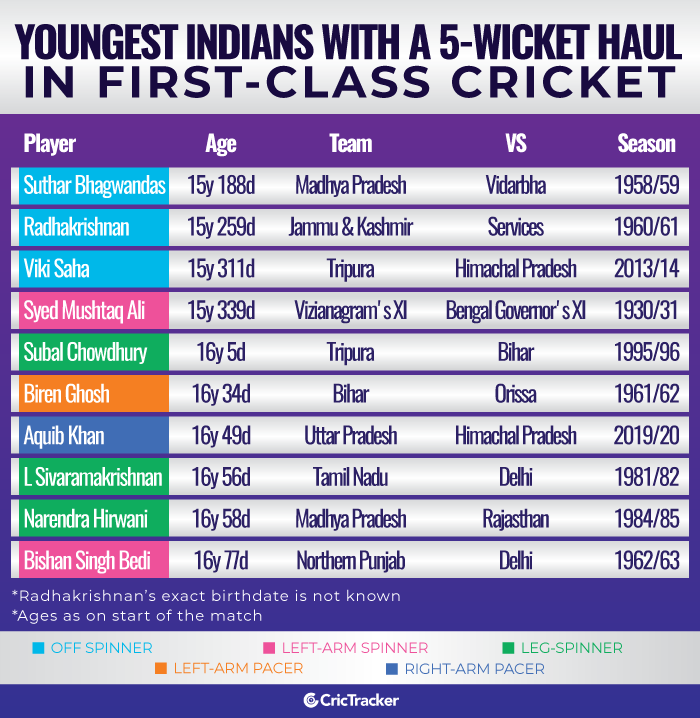 (Stats as on February 15, 2020)