Stats: Captain Virat Kohli finishes the tour of England with 894 runs
Virat Kohli amassed a total of 593 runs during the five-match Test series that helped him end the tour with 894 runs.
Get every cricket updates! Follow us on :
Virat Kohli has been batting in a different zone altogether since he has taken over the captaincy responsibility. It seems to have helped him to move towards becoming a Test great. In the process, Kohli erased the nightmares of the previous tour of England from 2014 with a record-breaking act this time. The Indian skipper was consistent throughout the England tour across all formats. However, it came to an end for him with a golden duck which abruptly stopped him from adding more runs to his tally in the Test series and the tour overall.
Kohli amassed 593 runs during the five-match Test series that helped him to end the tour with a total of 894 runs. His tally was aided by as many as seven fifty-plus scores across 16 innings. The 894 runs that he has registered in this series are the 2nd most runs in International cricket by any captain on an away tour. South Africa's Graeme Smith aggregated 937 runs in 16 matches during the 2003 tour of England which was also his maiden tour as the captain of South Africa.
Most International runs by a captain on an away tour: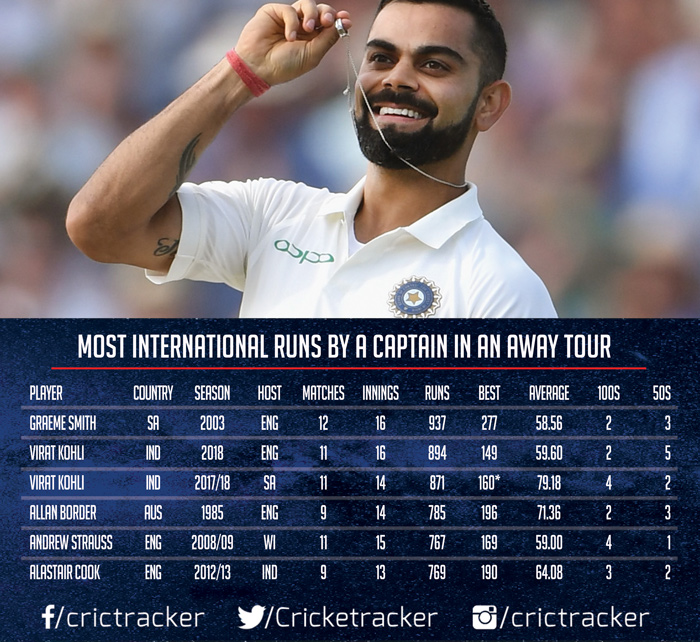 Earlier this year, Virat Kohli scored 871 runs in only 14 innings during the tour of South Africa thanks to the four centuries he scored. The majority of runs he made on that tour were accumulated in the ODIs where he got over 500 runs and that made him the first player to score as many runs in a bilateral ODI series. No player other than Smith and Kohli have scored more than 800 International runs on an away tour while leading their team.
Australian skipper Allan Border made 785 runs in 14 innings during the 1985 tour of England which was the only instance when a captain scored over 750 International runs until Mike Atherton's 753 runs in West Indies during the 1993/94 tour. In terms of runs produced against the home team, Kohli occupies the top two spots with his successful tours of SA and England this year. Smith's tally of 937 runs in 2003 tour was aided by 134 runs against the other teams.
Most International runs by a captain on an away tour against the home team: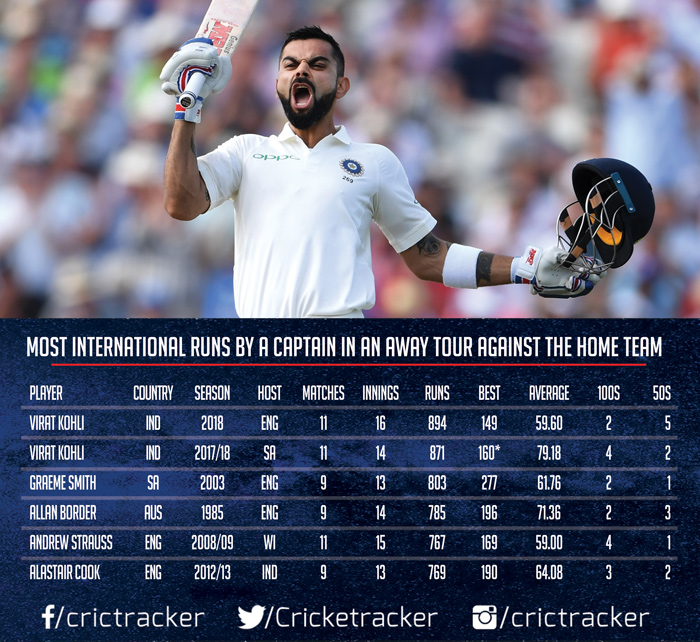 (Stats as on September 11, 2018)