Stats: Fastest and Slowest Indian bowlers to 100 ODI wickets
Bhuvneshwar Kumar joined the list recently accomplishing the feat in the first ODI against Australia.
Get every cricket updates! Follow us on
Every time a batsman or a bowler reaches a career milestone it is a good time to reflect on the past performances and the players who've previously accomplished the same feat. Generally, when the landmark of the number of wickets or runs is reached, the quickness becomes a measure and often a comparison is brought up in terms of the quickest players to do it. When Indian pacer Bhuvneshwar Kumar castled Australian skipper with a very good nip-backer in the first ODI at the Sydney Cricket Ground (SCG), he reached a landmark of 100 ODI wickets.
He became the 19th Indian overall and 12th Indian pacer to accomplish the feat. However, he is the fifth slowest to get to the landmark. The 28-year-old Uttar Pradesh lad took 96 matches to reach the 100 wickets in 50-overs format. He added another one to his tally to finish the game with 101 wickets and averages 38.11.
Former India skipper Sourav Ganguly took the most number of games (308) to scalp 100 ODI wickets. His former teammates Sachin Tendulkar and Yuvraj Singh are next on the list of slowest to 100 wickets. They took 268 and 266 respectively to get to the milestone.
The current Indian coach Ravi Shastri is placed fourth on this list as he took exactly 100 matches to pick up 100 ODI wickets. Bhuvneshwar is placed fifth on the list. However, he is the only full-time bowler as all the others were either all-rounders or top-order batsmen.
Here is the list of slowest Indian bowlers to 100 ODI wickets: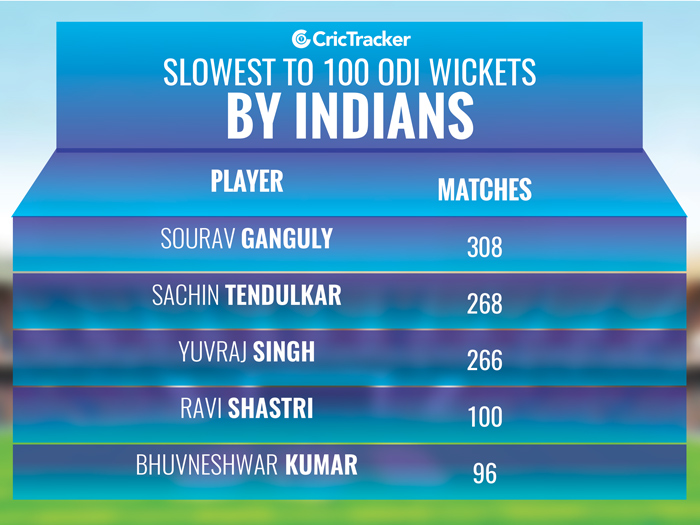 Irfan the fastest Indian:
As far as fastest to 100 ODI wickets are concerned, it is left-arm pacer Irfan Pathan who holds the record, having reached the landmark in his 59th game which was back in 2006. Ishant Sharma is the only current player to feature in the top five of this list of fastest Indians to get 100 ODI wickets. He is fifth on the charts as he accomplished the feat in 70 games. The other players who are above Ishant are Zaheer Khan (65 matches), Ajit Agarkar (67 matches) and Javagal Srinath (68 matches).
In recent times, Rashid Khan became overall the fastest bowler to reach the landmark of 100 ODI wickets in the world as he got there in a mere 44 games. Mohammed Shami is another player who is on the verge of a similar record. He has taken 94 wickets in 53 ODIs and has a bright chance of breaking the India record.
At one point in his career, he had a chance to break Mitchell Starc's world record of 52 matches. However, the Bengal pacer has featured in only six ODIs since the 2015 World Cup.
Here is the list of fastest Indians to 100 ODI wickets: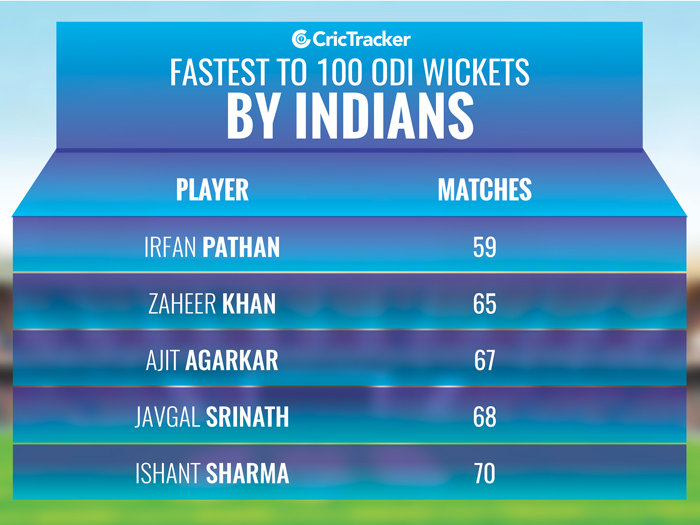 (Stats and data as on January 12, 2018)