Stats: Indian players involved in most dismissals in Test innings
Updated - Dec 21, 2016 5:52 pm
73 Views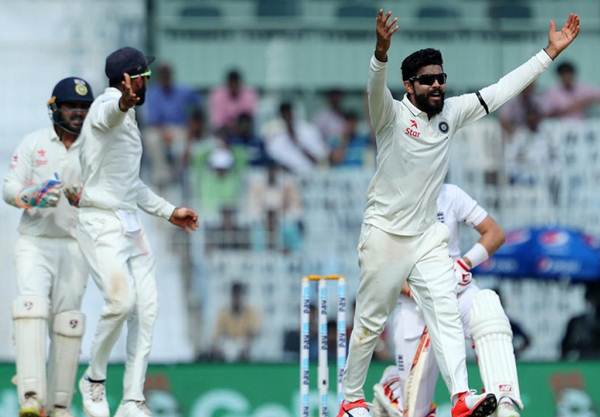 India's Ravindra Jadeja was instrumental in carving an innings win for his team in the final Test against England at Chennai. What looked like a 3-0 series win for India ended up being a 4-0 one, kudos to Jadeja's 7/48 in the final innings. Jadeja was thoroughly consistent with both bat and the ball throughout the series.
Another important aspect of his show was his fielding. No wonder, why the Saurashtra all-rounder was seen all over the scorecard in the England 2nd innings. His name featured in as many as 9 dismissals out of the 10 on the scorecard. His feat has now got him in the elite list of Indian players involved in most wickets in a Test innings. Before Jadeja, three other Indian players had their names involved in 9 dismissals in an innings. This stat excludes the run outs.
Anil Kumble, the former Indian cricketer and the current head coach of Team India, leads the list with 10 dismissals. Obvious enough, the match dates back to 1999 when Kumble became only the second cricketer to take all 10 wickets in an innings after Jim Laker. Kumble had scalped 10/74 against Pakistan at Delhi on the day. He had his name feature against each of the dismissal.
The next in the list is former Indian cricketer Subhash Gupte. Playing at Kanpur against West Indies in the 2nd Test in 1958, Gupte had finished with figures of 9/102 in the West Indies first innings. The only dismissal that did not see his name feature was of LR Gibbs, who was cleaned up by VB Ranjane.
Playing at the same venue of Kanpur a year later in 1959, Jasubhai Patel bagged 9/69 against Australia. Had Chandu Borde not bowled O'Neill on 16 and Jasubhai had bagged that wicket as well, he would have had a perfect 10 to his name.
Legendary Indian all-rounder Kapil Dev had returned with figures of 9/83 in the Ahmedabad Test against West Indies in 1983. His efforts had seen West Indies bundle out for 201. The only wicket that did not belong to him was of opener Desmond Haynes. Balwinder Sandhu was the beneficiary. After the fall of his wicket, it was all Kapil Dev in the scorecard.
Now, Ravindra Jadeja has his name in the elite company. Although he did not bag a 9-for, he had a seven-wicket haul to his name to go with 2 catches. He scalped 7/48 and took catches of Jonny Bairstow and Adil Rashid to complete his 9 figure. Amit Mishra cleaning up Liam Dawson was the only wicket that eluded his name on the scoreline.
List of Indian players involved in most dismissals in a Test innings:
| | | | |
| --- | --- | --- | --- |
| Dismissals | Player | Opponent | Year |
| 10 | Anil Kumble | v PAK | 1999 |
| 9 | Subhash Gupte | v WI | 1958 |
| 9 | Jasubhai Patel | v AUS | 1959 |
| 9 | Kapil Dev | v WI | 1983 |
| 9 | Ravindra Jadeja | v ENG | 2016 |
Stats updated till 21st Dec 2016.