Stats: Is Virat Kohli the unluckiest captain ever in terms of toss record?
Virat Kohli has lost the toss 10 times in the last 12 ODI matches.
Updated - Mar 31, 2021 5:09 pm
25K Views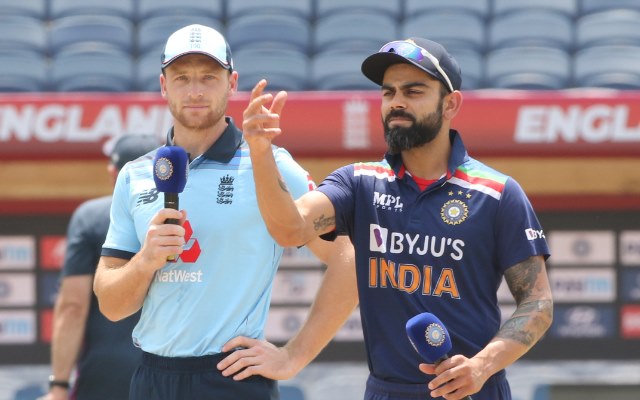 Follow us on Telegram
India are playing against England in the three-match ODI series at MCA Stadium, Pune. For the third consecutive match of the series, Indian captain Virat Kohli failed to win the toss. In fact, on this whole tour, Virat has won just 2 tosses in 12 games. His record in the last 12 ODIs is also miserable, where he has been successful in winning only 2 tosses. We do know that there is an equal probability of a coin turning on a particular side but the Indian skipper has been eluded in this case.
Toss record in International matches:
Virat Kohli has now led India in 200 matches in international cricket including the third ODI against England. He is only the third Indian captain after MS Dhoni (332) and Mohammad Azharuddin (221) to reach the landmark. However, among these 200 games, Virat has won the toss in only 85 matches and lost as many as 115 tosses. His toss win/loss ratio of 0.74 is the worst among Indian captains who have led for at least 100 games.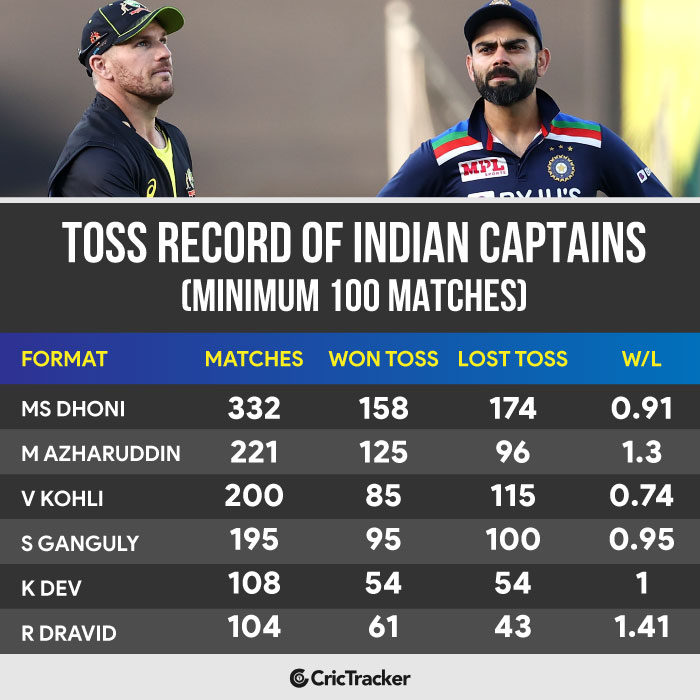 Record in different formats:
Among the three formats, the coin has favoured Virat Kohli most in the longest format where he has a win/loss ratio of 0.82. However, this is still below average in terms of the general ratio. In T20Is, Virat has won only 18 tosses in 45 matches. He has the worst ratio in the shortest format among the major Indian captains including MS Dhoni and Rohit Sharma.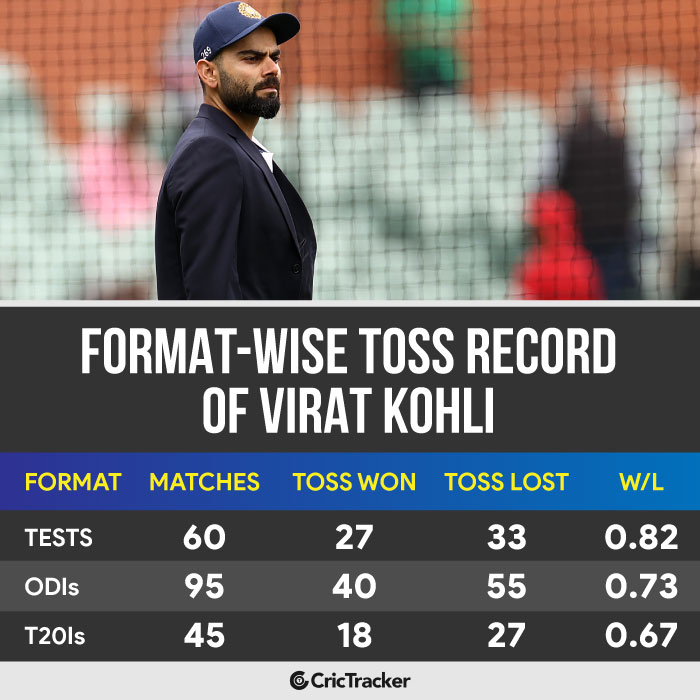 Comparison with current captains:
Among the current international captains who have led their side for at least 20 matches, Virat Kohli has the lowest win/loss ratio in terms of tosses. Kieron Pollard, the West Indies captain in limited-overs cricket, has the best ratio of 1.13 among the current leaders. English captain Eoin Morgan also possesses a ratio of above 1 in terms of toss record.
Is Virat Kohli the unluckiest captain ever?
There have been 44 players till now who have captained for 100 or more games in international cricket. And among these players, Virat Kohli is again at the bottom spot in terms of win/loss ratio. The list given below contains 5 captains with the lowest toss win ratio among those 44 players. Former West Indies captain Richie Richardson is just some decimal points behind Virat in this regard.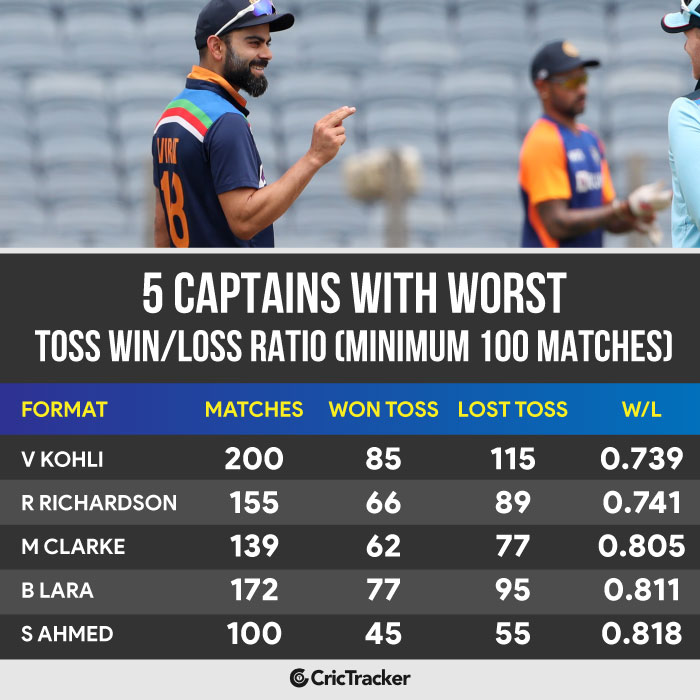 Result in big matches:
Virat Kohli was made full-time ODI and T20I captain before the Champions Trophy 2017. In the final clash against Pakistan, he won the toss but his decision to field first backfired as India collapsed for 158 runs in a 339-run chase. Later in World Cup Semifinal against New Zealand, India lost the toss and were asked to field first. The Kiwi team won this game by 18 runs and knocked India out of the marquee tournament.
Follow us on Google News