'We don't do that here' – Twitter trolls Virat Kohli for not winning the toss yet again in third ODI in Pune
Virat Kohli has overall lost the toss 115 times in his 200 international matches as India skipper.
Updated - Mar 28, 2021 5:37 pm
3.5K Views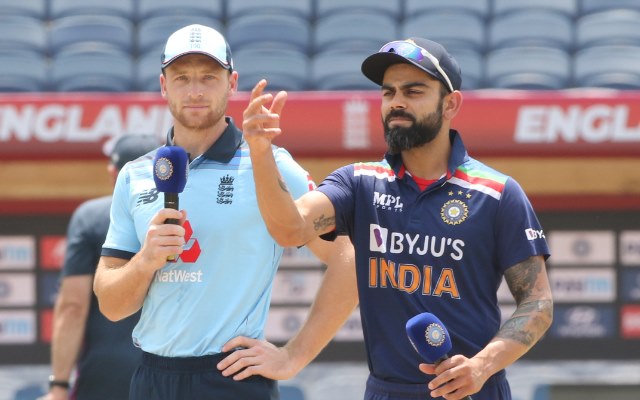 Follow us on Telegram
India and England are currently involved in the third and final ODI of the three-match series in Pune. The series is locked at 1-1 and just like T20Is, it has all come down to the decider. Toss has also played a crucial role so far on this England's tour of India and the hosts' skipper Virat Kohli's poor record at the toss continued even in the last ODI.
Chasing has been the template in the white-ball leg of this series and though India won three matches (two T20Is and first ODI) defending a score, England haven't budged and continued to opt to bowl. They showed their strength with the bat in the second game as it was a six-hitting fest. A total of 34 sixes were hit in the game with the visitors smacking 20 alone.
Hence, with the series up for grabs, it was important for India that they win the toss and chase down a score on a flat MCA Stadium pitch in Pune. But once Jos Buttler called it correctly, there were smiles all around as Virat Kohli lost it again and as expected had to bat first.
Even Kohli admitted that the toss has gone out of his control right now. "I would've bowled first again, but it seems like the toss is completely out of my control right now," he said.
Kohli and toss – A story to forget
Not that Virat Kohli won many tosses earlier. In the ongoing ODI series, he has lost all the tosses while in the Test and T20I series, the 32-year-old won the toss only twice. Rather in the last 12 ODIs, Kohli has won the toss only twice and lost it on 10 occasions.
Virat Kohli is also playing his 200th international match as captain and in terms of toss record, he has lost it 115 times and won 85 times. Having said that, the Indian captain prides on going against the odds and winning the match and the Indian team has done it so many times now. Meanwhile, Twitter was busy trolling Kohli for not winning the toss when needed the most.
Here's how Twitter reacted:
Kohli's luck with the toss –#INDvENG pic.twitter.com/RnMs42ImDn

— Nikhil 🏏 (@CricCrazyNIKS) March 28, 2021
Toss result of Indian team in this series:

Lost
Won
Lost
Lost
Lost
Won
Lost
Lost
Lost
Lost
Lost
Lost

How unlucky is Kohli – just won 2 Toss in 12 matches. #INDvENG

— Johns. (@CricCrazyJohns) March 28, 2021
Kohli's toss-losing streak is challenging Rahul Gandhi's election-losing streak.

— Vinayak (@vinayak_jain) March 28, 2021
My crush says she will accept my proposal whenever Kohli wins the toss

To isme mai uski na samjhu

— div💛 (@div_yumm) March 28, 2021
The only coin that can save Kohli today on toss : pic.twitter.com/Zo9Iftyqus

— Haunted Memer 👻|| MI 💙 (@HauntedMemer) March 28, 2021
Someone said kohli thinks the toss is the ipl trophy.

— Rohan🔰 (@Utdsheep) March 28, 2021
Winning the toss
.
Kohli: pic.twitter.com/hYYEH1JupU

— Prasanna (@prasannavs99) March 28, 2021
Virat Kohli again losing the toss : pic.twitter.com/DRhL3nKshe

— Mr. Stark (@Mr_Stark_) March 28, 2021
Kohli saving all the toss luck he can for WTC Final. Good thinking, skip. #INDvENG

— Manya (@CSKian716) March 28, 2021
Someone should start " Days since Kohli won a toss" account as well

— 🍁 (@FourOverthrows) March 28, 2021
Virat Kohli toss win record vs England
Tests: 2/14
ODIs: 3/10
T20Is: 3/11
Overall: 8/35

In this entire tour, he won just two tosses in 12 matches.#INDvENG

— Deepu Narayanan (@deeputalks) March 28, 2021
Virat Kohli again losing the toss #INDvsENG Meanwhile me right now: pic.twitter.com/lDbhBhmDR6

— Ssrfan (@Ssrfan478780364) March 28, 2021
~Modi ji searching ways how India can win the toss under virat kohli#INDvsENG pic.twitter.com/1V88rqtJ27

— Mohit Singhania♻️ (@doctor_chandler) March 28, 2021
Why does Kohli even bother coming out for the toss

— Chet (@chet_ag) March 28, 2021
Follow us on Google News