Stats: KL Rahul finishes the Test series with 14 catches
Coming into the Test series, India had fears of dropping a bulk of catches in the slips.
KL Rahul couldn't meet the expectations from him as a batsman in the ongoing Test series against England as he failed to manage a fifty in the first four Test matches. In the final Test match at The Oval, Rahul scored a breezy 37 in the first innings and is unbeaten 46 at the end of the fourth day in the 2nd essay. However, the best contribution from Rahul in this series was when he magnetised the ball into his hands while on the field.
Coming into the Test series, Indians would've feared the catch drops in the slips which could potentially cost them matches. With the way things panned out in the first match, they had more reasons to be really worried. Their fears subdued as the ball gravitated towards KL Rahul stationed at second slip. The Karnataka player, who could also keeper wickets, turned out to be a reliable choice for the slip cordon as he claimed seven catches in the third match at Trent Bridge in Nottingham which India won by a huge margin.
The 26-year-old claimed as many as 14 catches including three in the final match of the series. He dropped only one catch in this series that of Moeen Ali on the 3rd day of the ongoing Test which hardly affected the team. His tally of 14 catches in this series are the most for an India fielder in a Test series. Rahul, in this process, surpassed his state-mate with the same name, Rahul Dravid. The former Indian skipper took 13 catches during India's tour of Australia in 2003/04.
KL broke the Indian record when he claimed the catch of Ben Stokes in the 2nd innings of the final Test. His 14 catches in the series are the joint 2nd most by any fielder in a Test series. Australia's Jack Gregory took 15 catches in the 1920/21 Ashes series which is the most by any fielder in a Test series while Greg Chappell took 14 catches during the 1974/75 home Ashes series. Alastair Cook, in his last Test appearance, can climb up as he has taken 13 catches in the series thus far.
Most catches by a fielder in a Test series: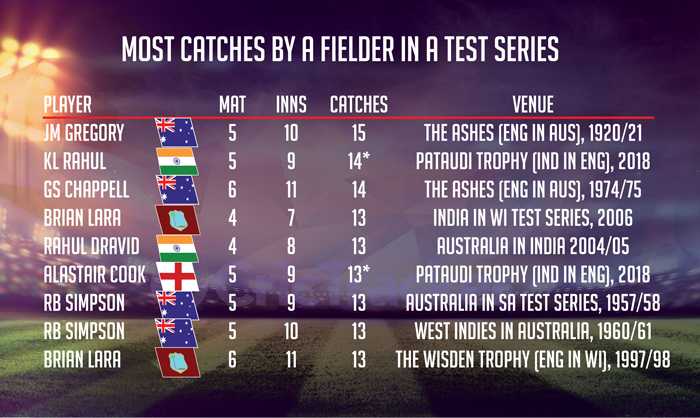 (Stats as on September 10, 2018)