Stats: Players who took the least days between five Test double centuries
This record was previously held by one of the best batsmen that the game has witnessed- Sir Donald Bradman.
Updated - Nov 26, 2017 9:19 pm
3.3K Views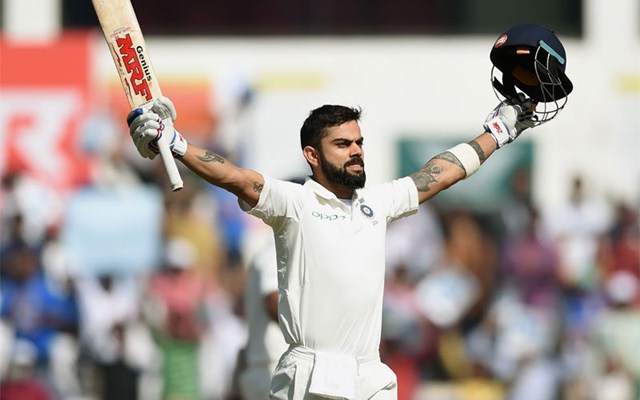 India took on Sri Lanka in the second Test at Nagpur and the pitch on Day 1 suggested that the bowlers would continue to enjoy bowling in the series, and that was the case on Day 1 as the Indian bowlers ran riot and bowled out the Lankans inside 80 overs.
However, the pitch took a drastic turn on Day 2 and 3, as the surface settled in making batting easier and that coupled with the brilliant batsmanship from Team India meant nothing but tough toils for the visitors. Murali Vijay and Cheteshwar Pujara were not the only centurions in the Test, with Virat Kohli emerging from their shadows to score a magnificent double century.
This double marked his fifth in Test cricket, the most scored by an Indian captain. Kohli never looked in trouble on the pitch, where Vijay and Pujara found timing particularly hard on Day 2. The Indian skipper broke another record, taking the fewest days between the first and the fifth double century.
The record was previously held by Sir Don Bradman
This record was previously held by one of the best batsmen that the game has witnessed- Sir Donald Bradman. Sir Don had scored his first double century on 30th July 1930 and scored his fifth a year later on 27th November, making it 515 days in between. The list also has the legends like Rahul Dravid, Kumar Sangakkara and West Indian legend Brian Lara. While Sir Don takes care of both the second and the third place, Sri Lanka's Sangakkara holds third.
Sangakkara scored his second double ton on 16th May 2004 and had to wait 1153 days before completing his sixth double ton on 13th July 2007. Dravid also took 1241 days to get from his first double ton to his fifth. Lara had a gap of 1247 days and there is a drastic difference between Kohli's and Lara's in terms of the number of days.
How many days did the Indian skipper take?
The Indian skipper scored his first double ton on 22nd July 2016, and in a year and a half (492 days), the right-handed batsman has completed his fifth double ton in Tests. Kohli's double ton in the first innings helped Team India take a huge lead of 404 runs as they are now in the best position to win the match.
Here is the list of players and the time they took between five double centuries: