Stats: Rohit Sharma hits the most sixes in a Test match
Earlier, the record of hitting most sixes in a match was under the name of Wasim Akram for hitting 12 sixes.
Updated - Oct 5, 2019 9:31 pm
2.3K Views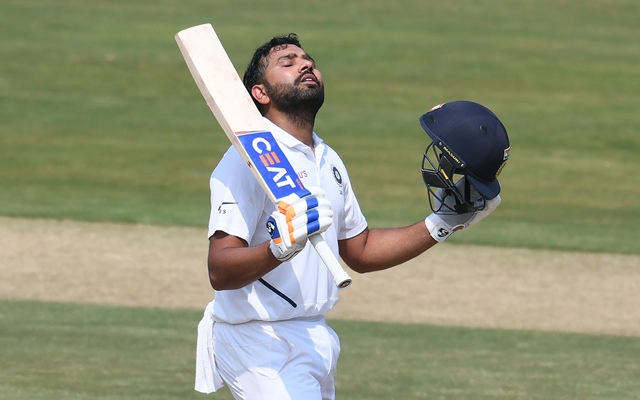 Rohit Sharma, the Indian cricketer, who is also known as the Hitman in the limited-overs has made a lethal entry as an opener in Tests for India. Although selectors have taken a long time to prefer Rohit for this position in the team, it looks like the frustration that was building up under the 32-year-old has worked for him.
Since his arrival in international cricket, Rohit has always been neglected for Tests but this was the first time for him against South Africa as an opener and the top-order batsman used it to break some big records that were unbroken from more than two decades.
Rohit's replication as an opener in the longest format of this sport is not less than a miracle, a player who plays with an average strike rate of 90 in limited-overs format has coped up and has played according to the conditions of the match. He scored a brilliant century in the first innings that includes 6 sixes and 23 fours and in the second innings he went for a consecutive second ton with 7 sixes and 10 fours by the time his knock came to an end he had already broken the record of hitting most sixes in a Test match by a player. It took 23 years for a player to break that record.
Rohit Sharma now holds the record for hitting most sixes
Many big players like Sachin Tendulkar, Virender Sehwag and Brian Lara who are known as the greats in the history of Test cricket were unable to get their hands on this remarkable feat but it was the 32-year-old Indian lad who did it in his maiden Test as an opener. Rohit got 303 runs including both the innings of the match.
Earlier, the most sixes in a Test record was held by Wasim Akram against Zimbabwe in 1996 where he went for 12 sixes in an innings during his relay knock of 257 runs. This list also includes the big names of Mathew Hayden, Brendon McCullum, Nathan Astle and Ben Stokes who can be seen on an equivalent spot when it comes to hitting the most sixes in a match as they went for 11 sixes each in a match against their respective opponents.
Most sixes by a player in a Test