Stats: Sarfaraz Khan ends Ranji Trophy 2019-20 with a batting average over 150
Sarfaraz Khan aggregated 928 runs across 9 innings in the Ranji Trophy 2019-20.
Updated - Feb 16, 2020 5:34 pm
1.3K Views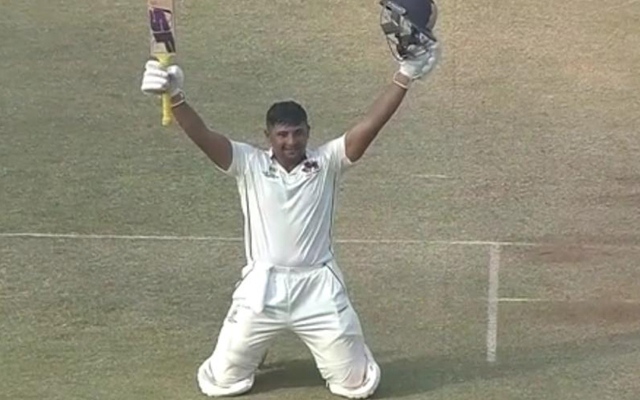 For the second straight season, Mumbai has managed to win only one match outright in the Ranji Trophy after having won more than one match in 17 successive seasons. One of the major reasons for their underperformances was missing a few key players due to national call-ups and a non-existent bowling attack.
The unavailability of players due to the 'A' tours and International series helped Sarfaraz Khan get a chance after warming the bench during the first three matches of the tournament.
The 22-year-old made most of the opportunity with an unbeaten triple century followed by an unbeaten double ton when Mumbai were in a do-or-die situation. In this process, he scored 605 runs across three innings between two dismissals.
He concluded the season with a 177-run knock against Madhya Pradesh where he fell 23 runs short of a record 3rd double ton in this season. In overall, Sarfaraz Khan aggregated 928 runs across 9 innings he batted in six matches in the 2019-20 season.
Sarfaraz had a batting average of 154.66 in this season which is the 3rd highest for any player in a single edition of Ranji Trophy. (Min: 750 runs) During the 1976/77 season, Ashok Mankad aggregated 827 runs in 8 innings at an average of 206.75 with he struck four tons and a fifty.
Earlier in the 1944/45 season, Rusi Modi aggregated 1008 runs from only seven innings where he struck five tons and a fifty. His average during that season read 201.6 as he was unbeaten twice.
Had Sarfaraz Khan completed 1000 runs in this season, he could have been the 2nd fastest to 1000 runs in a single edition of Ranji Trophy. Rusi Modi got there in only 7 innings while representing Bombay in the 1944/45 edition. WV Raman and S Sriram completed 1000 runs in only 9 innings for Tamil Nadu in 1988/89 and 1999/00 respectively. During the 2018/19 edition, Sikkim's Milind Kumar also reached 1000 runs in 9th innings.
In fact, the 928 runs by Sarfaraz Khan are the most for Mumbai in a Ranji season since Shreyas Iyer's 1321 runs in the victorious 2015-16 campaign. Shreyas batted 18 innings in that season which is twice the number of innings Sarfaraz got to bat in 2019-20.
Except Rusi Modi (1008 in 7 innings, 1944/45) and Sarfaraz, the remaining Mumbai/Bombay players with 900+ in a Ranji season played at least 16 innings. Wasim Jaffer (1260) and Ajinkya Rahane (1089) breached 1000-run mark in the 2008/09 season where they played 10 matches.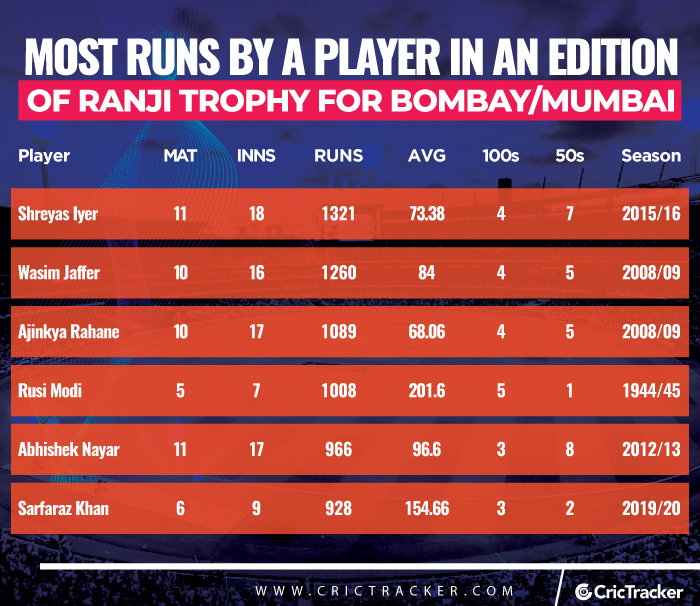 (Stats as on February 15, 2020)