Stats: South Africa's lowest totals in Test cricket since readmission
South Africa aggregated 199 runs in this Test across their two innings which is less than Dimuth Karunaratne's 218.
Updated - Jul 14, 2018 5:07 pm
106 Views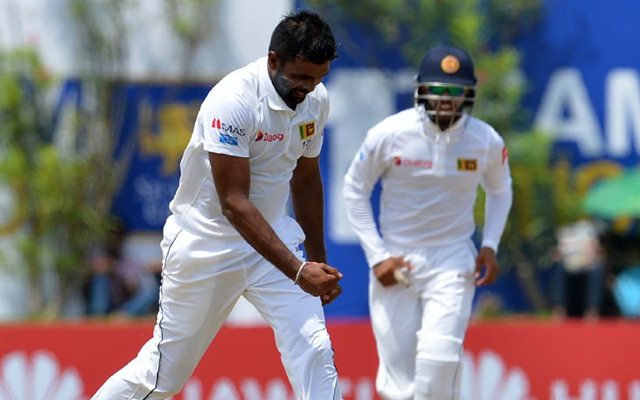 South Africa's struggle in the Asian conditions continued as they fell into Sri Lanka's spin web in the first of 2-match Test series in Galle. They registered a huge 278-run defeat at the hands of the hosts which is also their first defeat in more than six years to Sri Lanka. The Saffers were bundled out for 126 in response to Sri Lanka's 287 in the first innings powered by Dimuth Karunaratne's marathon innings.
They managed to keep Sri Lanka to 190 in the 2nd innings but chasing a target of 352, they were bowled out for just 73 runs. Thus, South Africa registered their lowest total in Test cricket since their readmission to Test cricket in the year 1992. South Africa's previous lowest total in Test cricket in these 26 years was 79 against India in the 2015 Nagpur Test match. This is also their lowest total in this format in more than 60 years.
Lowest totals in Test cricket for South Africa since their readmission: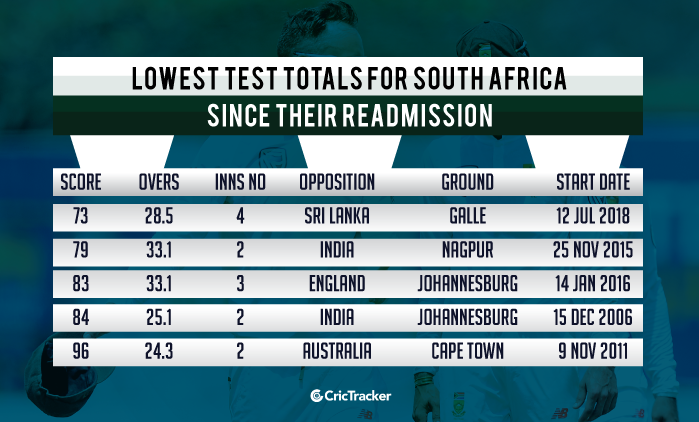 South Africa aggregated 199 runs in this Test across their two innings which is 19 runs lesser than what Karunaratne (158* and 60) made before getting out for the first time in this match. This was also the first time South Africa made less than 250 in a Test since 1992. They were restricted to a total of 264 in consecutive Test matches by India in Nagpur and Delhi during 2015. This is also the first time that Sri Lanka dismissed their opposition conceding less than 200 across both the innings of a Test.
The total of 73 by South Africa is also the 2nd lowest total for any team against Sri Lanka. Bangladesh were bowled out for just 62 in the first innings of the 2007 Colombo Test. South Africa's total is also the lowest for any team in Galle surpassing Zimbabwe's 79. Only two teams were bowled out for 73 and lower totals in Test cricket in Sri Lanka.
Lowest totals for any team against Sri Lanka in Test cricket: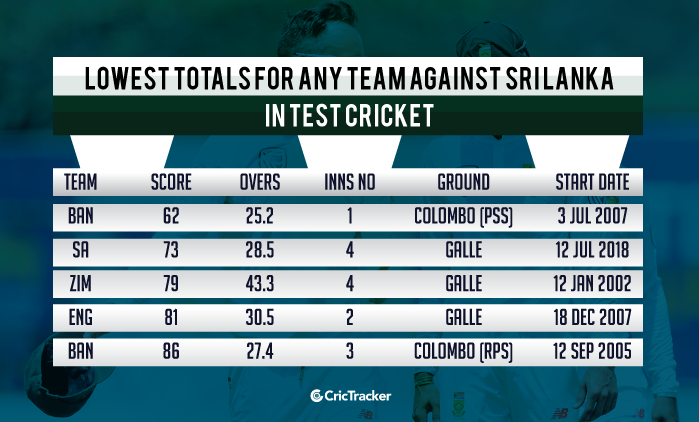 (Stats as on July 14, 2018)